I have some trametes versicolor(turkey tail) fruiting on my privet. I have only had experience in growing these mushrooms before for medicinal remedies . I seem to remember they eat dead wood unlike something like honey fungus which will eat the live wood.I may be wrong and they may move into the live wood unless they already are. It had a lot of rot in it when i dug it up and noticed mycelium under the bark.Has anyone any experience with this. Do i try and kill it and how or do i let it take its course and eat the dead wood.

Smithy

Member





I may be wrong but ive heard that Privet is one of the few species that will survive an attack of Honey Fungus. If your privet is a specimen you would rather not lose though, is it worth taking the risk?
Privet are very susceptible to rot. Once you have a large shari, you can just assume that rot will eat into your tree. You can slow it down, by cleaning out ALL of the soft, pithy wood and treating with wood hardener and then NEVER watering so the trunk and deadwood get wet again, but all that does is slow it down.
_________________
Jim Lewis - lewisjk@windstream.net - Western NC - People, when Columbus discovered this country, it was plumb full of nuts and berries. And I'm right here to tell you the berries are just about all gone. Uncle Dave Macon, old-time country musician

JimLewis

Member





Well here is what my privet looks like today. When doing some carving on it last i could see that there was mycelium growing under the bark ,and having grown this mushroom commercially before i knew it was well in there. I must say i was quite surprised when i saw all the mushrooms but I do find it quite beautiful as it is a remarkable mushroom.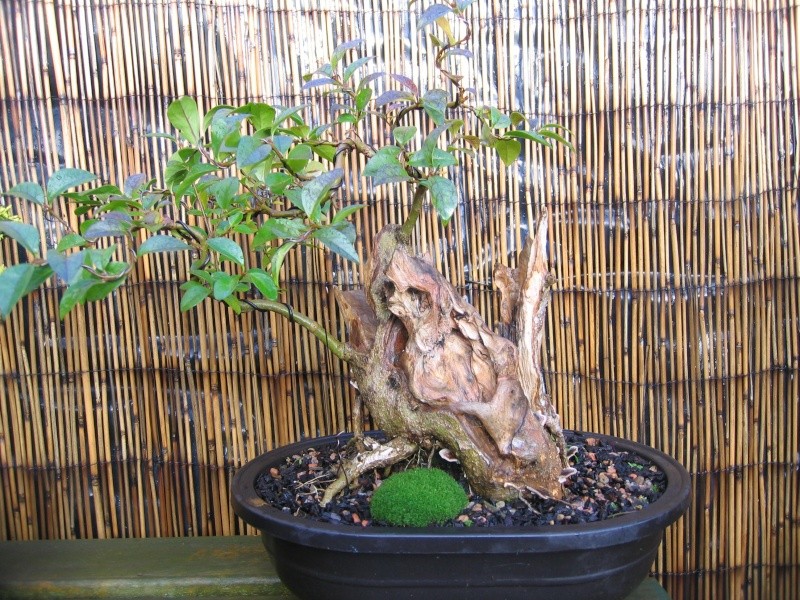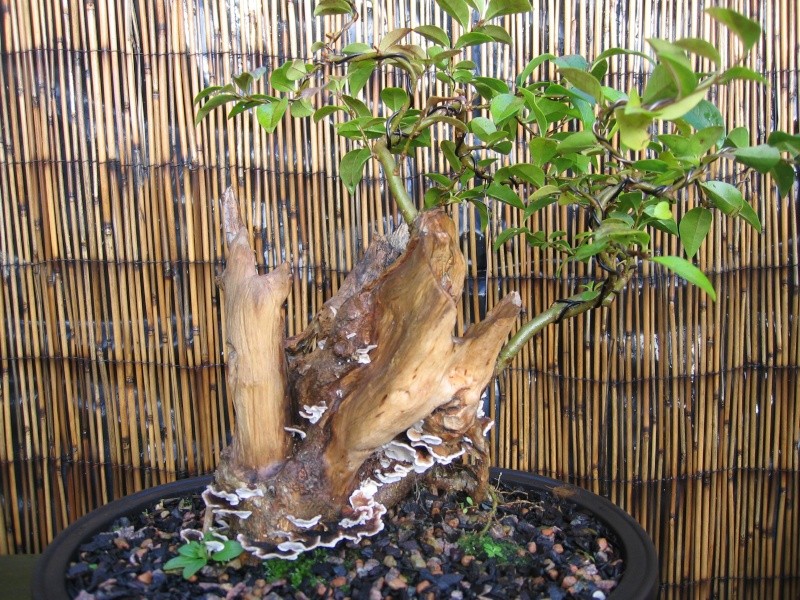 Smithy

Member





Interesting. I have newer seen this on a bonsai before, and it doesnt harm the tree I guess?

Regards
Morten
morten albek wrote:Interesting. I have newer seen this on a bonsai before, and it doesnt harm the tree I guess?

Regards

Morten
As far as i know they usually fruit on dead wood but i think if the tree is weak they will eventually kill it. It was in there when i dug it up as it was very rotten in parts. Time will tell if it lives.


Smithy

Member





It's really quite beautiful.
A strong tree can limit the spread of a wood decay fungus such as this; a weak one can't. Keep the tree well fertilized and well-watered.
eventually the tree is the second one who is laughing, u are the third.
It will not last. fungi are hard to control and you have to get rid of every little detail of it.
I do timber in houses, when i see some it means a whole lot of work!!!!

The strange part is it lives on the living part isn't it?
To bad the tree isn't in show condition, real eye catcher this thing is now!
Nature in it's full glory, lovely......not for you dough

grtzz machiel

littleart-fx

Member






---
Permissions in this forum:
You
cannot
reply to topics in this forum