Hello My Friends Members IBC Forum ,
Image of a landscape stone and its Daiza following ... is " good seats on its Daiza " ???
Please let me know your opinion ...
Thank you very much .
Hưng - Trần .
Well Hung that looks nice!, real nice!.
"Wonderfull Wedding" for Suiseki and Daiza.
Good work, good results can be seen easily.
Nice style, color, shape and angel, IMHO
seen as groom and bride at alter from behind.
Bride's wedding dress train to the left at bottom.
"Happily Everafter"...

Stoner, I like the concept of wedded bliss you came up with.

As I see the daiza, I see 3 feet. I really would like to see another one very close to the center with just a small space in between so that it echoes the two figures.

dick benbow

Member





Well Ya Ok!, wait what? Huh? Oh No!...

Hey Dick when it comes to Daiza's less is more!
Feet are placed only where they are needed,
or were called for by the stone. ...

stonener
* Well But ya "
some guys like feet!
" *...
Hello Stonener ,
Dick Benbow ,
and all Members IBC Forum ,
Thanks for your comments ... I feel exciting by the hints and your imagination . When full light ... I see this as a landscape stone can describe 2 peaks of the mountains and a valley between them ...
_
_
Thank you your share and your opinion .
Sincerely .
Hưng - Trần .
Hello Hung Tran,
Some thoughts,
Interesting stone, the left mountain peak is going straight up and the right peak is moving sidewards,
almost questioning, or not yet prepared to go upward to.
Or is the right one giving space for the left one to shine?
This all gives the stone a dynamic character.
The peaks are equal strong but the duality is interesting as they tell both a different story.
The daiza you chose is dynamic and imaginable for me, it lifts the stone upwards.
Only as an experiment i made a thinner daiza with more contra movement specially on the right side,
the difference is dramatic i feel, the stone is now lifting its self.
Sunip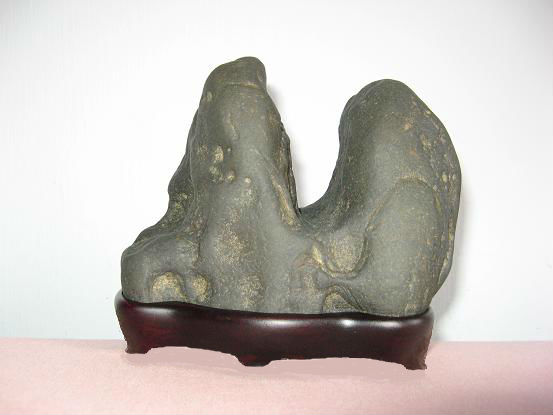 ---
Permissions in this forum:
You
cannot
reply to topics in this forum