Page 2 of 2 •
1, 2

Norma wrote:Thank you, Morten. Several of us had this discussion at our club's yearly judged show this past weekend. The BEST of SHOW winner was moved to the large tokonoma and some thought Sara Rayner's Rocky Mountain juniper should be shown on the left and others were sure the right. Your imaginary line from the center of the base to the top is very clear and easy to remember. Here's a photo of the awesome tree.

Norma
Norma.
Did Sara express her view at the direction? If so ..

It looks to me as if the juniper has been styled to be viewed as a right - left tree, but the trunk / apex shows it to be left- right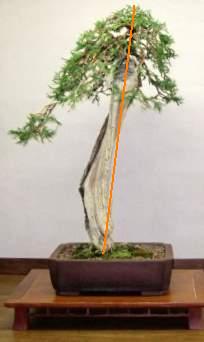 The tree just might be viewed by some as viewable from both sides of the scroll, if you get the middle line at the right angle and perhaps rotate a few degrees alining apex and trunk base? Perhaps a slight restyling of the apex might allow a r-l display?
Is this an example of the early styling decisions, not taking the trunk direction into sufficient account.
Artistic freedom is to be encouraged and supported, but it should first understand the guidelines it bends and perhaps breaks, to truly effectively challenge the tradition / artistic norms.
I'm just off to check my early styling decisions............


Jeremy

Member





Hi Jerry,
We talked to Sara at the Tuesday general meeting and she displays her accents to the right of the tree. The photo was taken between crowds of people at Minnesota State Fair . Almost two million people attended this year's Fair, which is one of among 5 of the largest in the USA. The quality of the club's bonsai were excellent but very few show scrolls with their entries, partly because of the difficulty of achieving a clean display with the canvas curtain backdrops.
I really admire what your club is doing in display

Norma

Norma

Member





Page 2 of 2 •
1, 2

---
Permissions in this forum:
You
cannot
reply to topics in this forum