Thought Id post a few pics of some of the suiseki that my son and I have collected for members to give their opions on. Ive put what I think they represent but would like other peoples views on them.
deformed skull / the scream
mushroom
gorilla / dog
mountain range
Hi Darylh!
Welcome aboard,
How old is your son, what's his name?
Which did he collect? and or did you find?
I have found that children easily spot shapes, images & figures.
Where did you discover them, look as if from same general area.
Material looks good, nice shapes, decent color, what size are they?
That last one looks like Easter Island, can see the large face stones in a row on the shore!
Wish my dad had been interested, would now have much better collection...

stonener
*what's the white stuff?*
Last edited by stonener on Mon Apr 08, 2013 5:37 am; edited 2 times in total (Reason for editing : +, -, +)
Hi Stonener
My sons called Koby and is 10. I cant remember which he found tbh but this is one he found and is one of his favourates, its a mountain with the sun above it, its not as clear now its dried out.
We found them on the bed of a small dried out river in Yorkshire. The white stuff is some spare filter sand from an old pool we had.
Well Darylh, Looks like Koby's a natural viewing stone hunter!
good eye, though so. We can learn from children, Pablo Picasso did!
You can wet these stones when every you view them again.
water retention is a very important quality in sui(water)seki(stone), rule.
Trying not to use too many Japanese terms, but it's their art form.
Sand is a good idea, but not so white! tone it down.
Try collecting an even color from that dried out river bed,
look for it at the very edge, uniform in size and fine, bring back a bucket full.
Small pillows can be filled with sand, and repeatedly used to display your finds easily.
or if you can find a small ceramic tray(suiban), maybe Koby can make one in school.
yours stones are worth the effort, study IBC together for projects,
and suiseki knowlege, just keep it fun...

stonener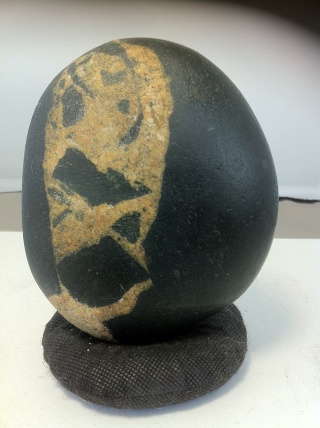 boogie man comes in dreams at night, so on a pillow...
Last edited by stonener on Mon Apr 08, 2013 11:44 pm; edited 1 time in total (Reason for editing : +)
Thats a very interesting stone.
I will possibly be taking him out collecting again this weekend so fingers crossed
"
eyes wide open
"
always work better...

times of our lives!
stonener
Hey Darylh!
I started looking for stones 35 years ago on school bus trip.
My frist one, Does it remind you of somebodys?
after looking at Koby's, reminded me of mine.
Took a while to track it down, but...

on a beach in Northern California, sun rise
Last edited by stonener on Tue Apr 23, 2013 11:09 pm; edited 1 time in total (Reason for editing : +)

BigDave

Member





YA!
wait! what?
no!...

well ok then.
stonener
*it must be a riddle?*
HA ha Stonererer, you are funny

okay Sorry hijack...back to

Darylh, cool stones...yea



BigDave

Member





GOT IT! THE RED BARON!
right!!!
now that I see it with your eyes, ya...

Learned something new from you also BigDave
"Hijacked" had confused it with "along those lines" or
simply "joining or chiming in", will remember to start a new thread each time.
OK as you say back to Darylh & Koby's way-cool stones...

stonener

---
Permissions in this forum:
You
cannot
reply to topics in this forum