Adam_San

Member





Hm.. I have been thinking about building one for about half a year now. Mine will be a lean-to greenhouse, and is going to cost more than this, but way less that the 1000+E varieties. My guestimate now will be about 200E in wood and glass. Depending on the finish, another 50 buck in paint may be needed
I was thinking about getting left-over glass from a greenhouse builder; When they take apart old greenhouses, they often have stacks of glass one can buy for a few dollars a pane. 12 panes is what I would need. I will then get rough-cut pine 7*10cm (3-by-4's) from a local sawplant, as well as some slats of 1by 3. With a planer (Is that what is is called?) I will create glazing profiles in them, as deep as the glass is thick. The slats IO bought I will use to secure the panes in the profile. In the end, something like this:
http://www.greenhousenation.com/images/santa_barbara/santa-barbara-standard-lean-to-greenhouse.jpeg
Big benefit of a lean-to: It will receive some heat from the house and provide extra insulation for the house. As it is built against a stable brick wall, the whole structure should be more stable than a free-standing structure (Considering I am not a carpenter, I think this is wise..). Main problem.. In winter I do not feel like building something outside. And in summer I will have tomatoplants in that spot so I cannot work there


leatherback

Member





If this is for winter storage, keep in mind that you do not really want a standard "greenhouse". They are designed to create and trap heat. Something you really don't want. What you want is a nice even cold, but not frigid. (unless you are growing tropicals.) You also don't want bright sun, trees don't need or want a lot of sun in winter, and that's also what causes all the heat buildup in a standard greenhouse setup. If you do go with a standard greenhouse, I would suggest buying shadecloth that can cover most of it. Or some sort of paint to apply to it. I myself have a cold house made of a material called solexx, it's translucent instead of transparent.
We purchased the frame kit online somewhere for $99 and augmented as we saw fit. The collected windows and door were all free. The Palram roof added some cost as well as a lot of decking screws. It measures 14'x8' and has 2 upper windows and a rear window on hinges. It could be a little tighter but in our Atlanta climate we're ok with a small heater in there.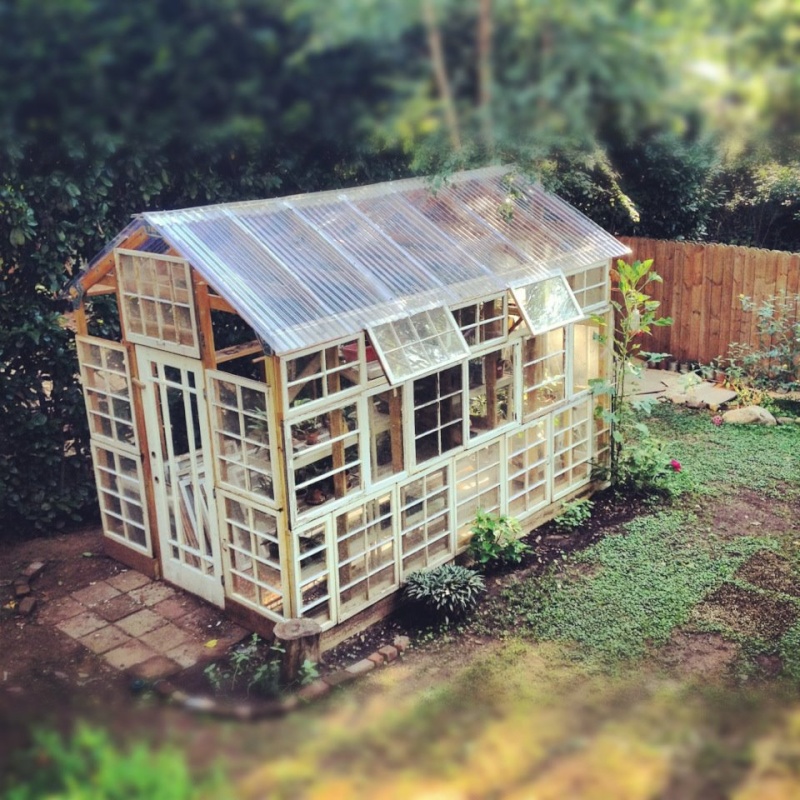 ---
Permissions in this forum:
You
cannot
reply to topics in this forum