I'd like to share the latest post to my blog with you here on a transformation of a cork bark black pine with a typical problem--an ugly graft union that was obvious and also caused problems with taper. I go into detail about this on my blog, here's the link:
http://brendenstudio.wordpress.com/2013/03/21/cork-bark-black-pine/
And a photo of the subject before work started: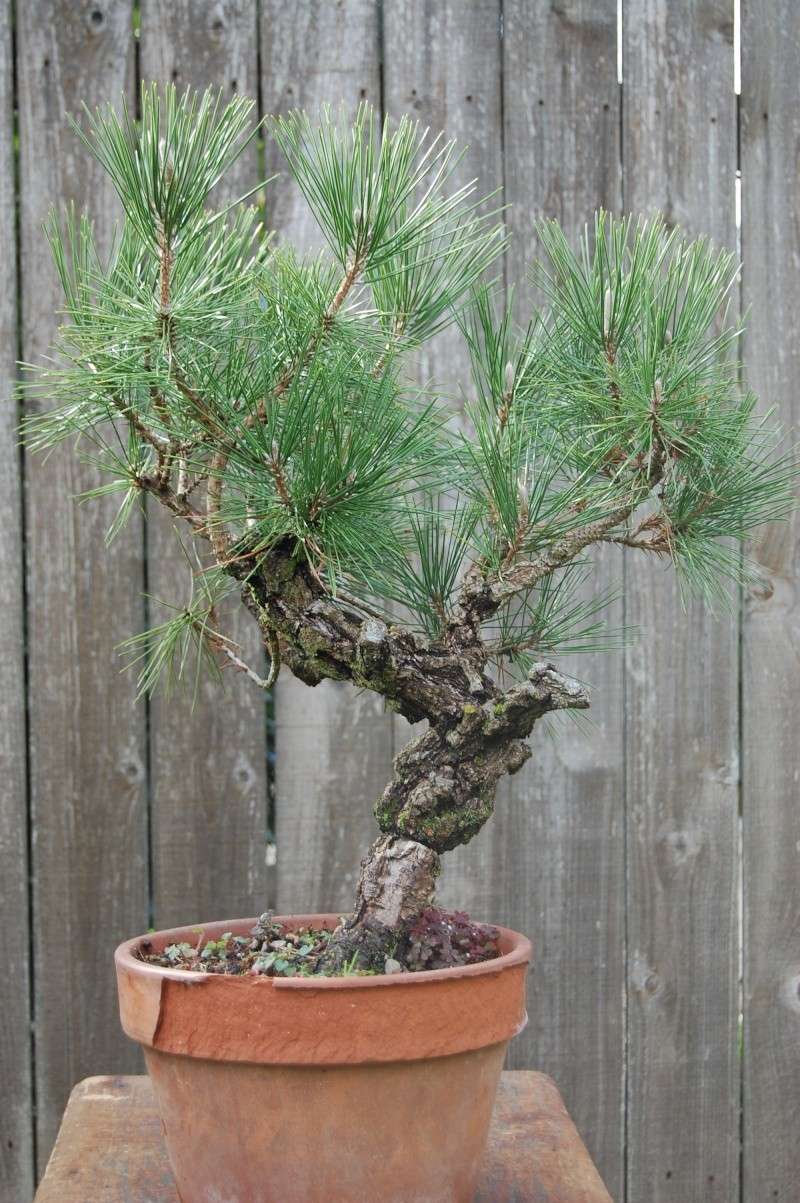 Followed the link and read through your essay. An interesting solution, and I agree it was definitely the fastest method to fix the graft union problem.
Another method I propose that would take a good bit longer, but may possibly offer a much better overall solution, would be to make some thread grafts using seedling black pine trees at that graft junction. Planting the pine tree down into a deeper pot where the soil level was slightly above the new thread grafts/junction area would then be the idea. Over a few years, you could get a nice, future nebari for the base that way, and when the thread grafts took well, you could slowly remove more and more of the original black pine trunk stock - ultimately leaving your black pine thread grafts to provide all of roots for the tree and buttress the trunk base with a nice, radial-shaped root pattern.


Auballagh

Member





Yes, this was another option Scott Elser was proposing for the tree, now that you mention it

Good Call!
An elegant solution to a problematic tree. I like it. Browsed through some of your other blog entries too, you have some really nice stuff Greg. Thanks for sharing!
Thanks lackhand

Spread the word!
gregb wrote:Thanks lackhand

Spread the word!
I definitely will, and I signed up to follow your blog too. And being a poor college student, I just might end up with a tree in a tuna can myself!

Hi Greg, I've been following your Brendenstudio Blog for a over a year now. Great blog!

I love what you did, A really nice quick solution that allows you to enjoy the cork bark of the tree. Good thinking. I made the mistake of picking up a grafted pine or two from a vendor that was propagating for the garden trade, and yikes, the graft unions are a long ways from the roots. Previously I had only purchased grafted pines from bonsai professionals like Brent Walston and did not realize how unique the low, down in the root zone, grafts were in the garden trade. It is definitely worth spending the money to get nice low grafts.

But you came up with a very serviceable solution.

One thought. After the tree is growing vigorously in this new pot, maybe a couple years down the road, why don't you do an air Layer right at ground level. I have had some success air layering cork bark black pines. Usually in my climate it takes 2 years to get good roots, but you could conceivably do the air layer without even having to repot it in the process, just take off the top couple inches of mix, then do the air layer, then back fill the pot, leaving the lower portion of roots undisturbed. Just a thought, it might be easier to layer a set of roots than thread graft.

Leo Schordje

Member






---
Permissions in this forum:
You
cannot
reply to topics in this forum