Hello My Friends - Members IBC Forum ,
I have described the morphology of MOUNTAIN STONE we see is very simple ...
I send to you to hear comments from you .
Thank you very much .
Hưng - Trần .
1.
2.
3.
I have made pleas in the past to be able to see these wonderful stones presented in a display. I would like to see how a simple form might work with a simple tree or kusamono. Maybe this stone could be used with a rugged tree for contrast. White is hardly ever used as a color on a suiban or sand. how do you see what form this stones would take while being exhibited?
Know that i do appreciate your effort to share with us your photos. thank-you


dick benbow

Member





Hello Dick Benbow ,
These are described MOUNTAIN STONE , they have a flat bottom so that I will make for them the subtle and fit DAIZA ...
Now , I put them on the sand ( in the SUIBAN ) and take pictures ... and then I send to you , is to have the opportunity to chat , discuss and learn from sharing your opinion ( please understand for this ... )
Thanks a lot for your advice .
Sincerely ,
Hưng - Trần .
Hey Guys! Hung & Dick
I too do the same and show my rocks when first discovered!
Always excited to share and ask if others agree with what I think I see
Many times before I decide to make a stand, which may take months.
Not all I find are worthy of a daiza's cost or time invested or I would be broke!
Every now and then Sunip or Peter will give a suggestion as to how better designed!
Then I move forword with creating or alter it, because most times I'm not so good!
To have others see is important to me, as I am not an expert by any means.
Opinions are always welcomed especially if they are constructive

stonener
Hello Hung Tran
Peace offering a new day.
Sunip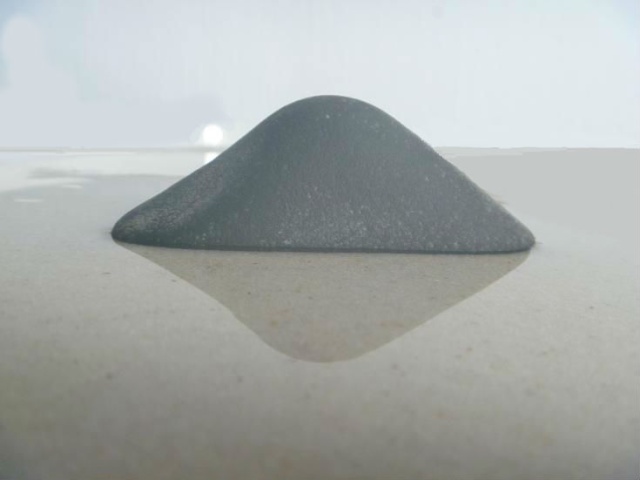 Hello Sunip .
Stonener My Friend ,
Dick Benbow ,
and all Friends - Members IBC Forum ,
Peace and happiness for all of us .
In this article , I want to talk about The simple characteristic morphology ( shape ) of Suiseki stone ...
Thanks for your ideas shared .
Sincerely ,
Hưng - Trần .

trantanhung_nt wrote:
In this article , I want to talk about The simple characteristic morphology ( shape ) of Suiseki stone ...
Hưng - Trần .
Hello,
Because of this characteristic these stones can be classified as far distant mountain?
Sunip

I think that simplistc shapes lend themselves nicely to displays with other objects. Quite often we see bonsai as the main subject or suiseki stones, but not usually together. Especially if both are dominant. So, a simplier stone
actually works better in a group presentation.

dick benbow

Member





My Friend Hung,
Yes we can discuss your topic, great to learn from each other.
but would need to focus on one stone at a time.
If you would post size,
and front, back, top and side pictures,
including the bottom.
of each stone.
This way detailed information and opinions will be better understood.
Your suiseki are always very nice quality, easily appreciated classical forms.
with or without water and/or sand...

stonener
*let me please choose this one!*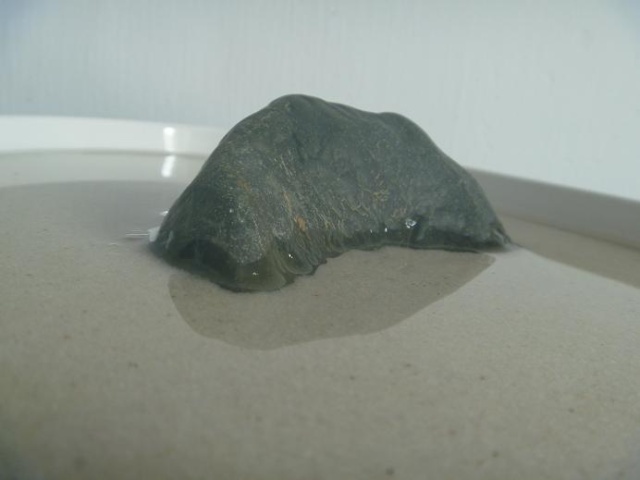 IMHO this is a near island landscape view.
I suggest near because it has details on surface easily seen,
like the texture skin, which look like canyons and fall folige color which looks like trees.
nice tapered sides, and very nice porportions left to right, top to bottom,
and front to back.
I'm thinking the bottom is pretty flat also?
as dick suggest this suiseki would go nice with a shohin dispay,
set to the back off center, ether left or right end depending on movement of bonsai
and could easily represent time of year, which is very important in display.
even a scroll and okimono or accent plant, to complete the though, with any fall theme.
shared for fun only!, as expert on nothing...

Last edited by stonener on Mon Mar 18, 2013 4:12 pm; edited 1 time in total (Reason for editing : + pic)
Hello Sunip ,
Dick Benbow ,
Stonener ,
and all Friends .
Thank you very much your opinions .
I am agree with Stonener ...: " This is a near island landscape view ... " , I send to you some pictures so we looked at it more authentic and complete ...
Thanks for sharing your new about it .
Sincerely ,
Hưng - Trần .
1 . Dry stone :
2. Stone + Water ...:
3.
4. Bottom of it :
Very nice! Hung #4 best quality
"one picture=thousand words"...

stonener
---
Permissions in this forum:
You
cannot
reply to topics in this forum