I have two contorted quinces. Both of which have bloomed in years past, but for the last two years they have not bloomed. One year prior I had done some severe pruning and stressed the plant and was not surprised that they failed to bloom. Last year they both grew well and unmolested, but no blooms this spring.

I'm thinking that either my feeding regime should change, or, perhaps, They still need more time to adjust from their pruning and repotting ordeal.

Thoughts?

Cordon

Have you checked to see if they flower on old wood or new? If your tree is Chaenomeles speciosa 'Contorta' then it flowers on the previous year's growth so a non flowering year is likely. I can't comment on how the tree grows in your own climate, but if I did a severe prune over here it would probably take the best part of two years to recover, especially if I left it too late in the season.

When did you prune yours - before flowering, immediately after flowering or in the fall?


_________________
"Espouse elucidation"
_____________________________________
my website

fiona

Member





Thanks Fiona,

This is the third spring since the severe pruning they received. The only trimming I've done since, has been to clip back a branch, here and there, that had grown too long. I've been just letting them go, since quince is slow growing anyway.

As far as feeding is concerned, I've been using Osomocote. Could it be that I'm not feeding enough? I know flowering is very energy intensive for a plant. If the plant doesn't sense it has the resources, it just won't flower.
Maybe I'll try heavier feeding until about mid summer. Then I'll slow cut it down as we head into fall.

Cordon
Not sure I explained myself correctly but similarly don't want to insult your plant knowledge. What I was trying to say is that some shrubs flower on the current season's growth and others flower on the previous season's. Quince does the latter. If you remove that growth at the wrong time you will remove the emergent flower buds and the plant will not flower until such time as new growth plus one year has past. It is possible that yours has just not recovered from that process. If the plan were mine, I'd let it grow this year without any sort of pruning and see what happens next year. The fact that it's putting out new growth at least means it hasn't gone to the quince orchard in the sky.
_________________
"Espouse elucidation"
_____________________________________
my website

fiona

Member





Sorry Fiona,

I didn't really address your question. I know quince blooms from older growth. I haven't done any pruning in the last three growing season. I only cut back a couple branches that seemed to be growing too long or too straight or in a bizarre direction. That trimming took place in the middle of the growing season and stimulated secondary branching. I certainly haven't been pruning off all of the previous years growth. In any case, I plan to leave them alone this year. Contorted quince may simply be slow to recover.

No worries

Cordon
If you are using an inorganic mix then you should be feeding more. My quince is in DE and I use osmocote and feed full strength every 10 to 14 days with liquid fertiliser as well as a sprinkle of dried chicken poop twice a year. Flowering as you rightly said takes a lot of energy and like most large fruiting species, eg malus, quinces prefer a more moisture retentive mix (I opted for a deeper pot rather than adding organics such as chopped bark).

I agree with Fiona to let it flourish this year and get strong. Minimal pruning if possible with good feed rich in potash. Identity and try to encourage shoot extension in desirable areas of the tree such as the base (for taper, quinces are rubbish at thickening), branches that are too thin for their position, or as a sacrifice at the apex where we can easily chop back to without ruining the ramification in that area. Keep the tree moist too.

I hope your tree rewards your care with loads of flowers next year. Good luck.


When it comes to fertilizing, what should I do?
I've been using Osmocote which is 19-6-12 NPK ratio.
I'd use Miracle Gro which is 24-8-16 NPK ratio.
But I have read that using a high N fertilizer can discourage flowering and promote vegetative growth. I'm sure there are opinions on this subject, so let's have them.

Get a tomato fertilizer (Miracle Gro makes one, or even azalea food (ditto).
_________________
Jim Lewis - lewisjk@windstream.net - Western NC - People, when Columbus discovered this country, it was plumb full of nuts and berries. And I'm right here to tell you the berries are just about all gone. Uncle Dave Macon, old-time country musician

JimLewis

Member





I suggest using a fertilizer that is high in phosphorus and low in nitrogen until very late spring. Then change to 0-10-10 or something similar, but with very little or no nitrogen. Peter Adams in his book on flowering bonsai has very good advice on feeding quince.
The proper kind and use of fertilizer as well as the timing of pruning makes for the best out of your quince.
from leaf start go on a once every two week rotation with something like alaska fish fertilizer. once you see they start to prepare to bloom discontinue until after all flowers are done. Then go back to the two week rotation with a non nitrogen fertilizer ( 0-10-10). When in summer the long shoots are cut back and the secondary shoots will kick in thru late fall when they too are tip pruned. discontinue fertilization. fiona is spot on with her assessment
of why your quince may have missed two seasons. The work you do this year, will be a benefit for the following.
There are so many wonderful kinds and colors of quince. Chojubai (dwarf) is my absolute favorite. Right now
my black rose and jet trail (double white) are swelling to bloom the next round of warmer temperatures.
While i have a few single trunk in my collection, i really like the look of kabudachi style (clump) It seems more natural and i like with more shoots the opportunity to see lots of color. My toyo nishiki is pushing 70 plus years.
Only my chinese quince are too young to be blooming. This red chojubai (pictured) is close to 25 years old and will serve me in my shohin collection for show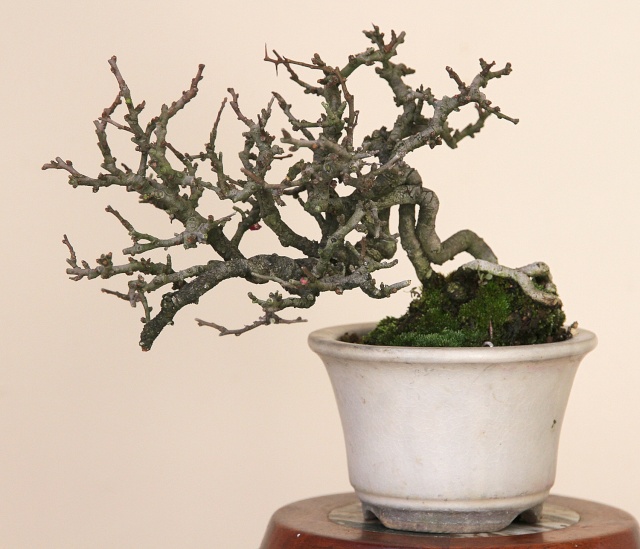 dick benbow

Member






---
Permissions in this forum:
You
cannot
reply to topics in this forum