In the picture marked with yellow arrow, you can barely see it, but I was hoping for a quick skecth or someone with a pic of a desert rose that could closely resemble this that would give me a guide....I know you can barely see the whole thing, but this looks like kind what I had in mind..I have a desert rose just sitting around the house waiting to find a good design idea..I am hoping someone could also guide me with some growing hints on how I can get branches to grow somewhat other that straight up..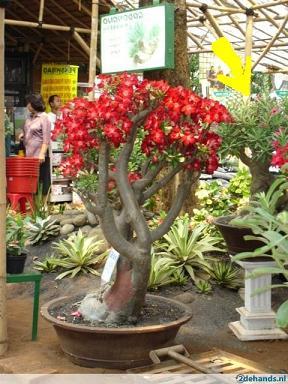 Stephen
Hi Stephen,
Because the desert rose is a succulent , I had never considered making one a bonsai but your question led me to do some research. A web search came up with this fine article from the Brooklyn Botanic Garden, "Succulent Bonsai" and it appears these could be interesting bonsai with different handling techniques: such as little or NO repotting because the roots decay easily after being cut. The article does describe how to handle this problem.
http://www.bbg.org/gar2/topics/plants/2002wi_bonsai.html
I like a challenge...but I'm not sure the desert rose would thrive in Minnesota

Good luck ...
Norma

Norma

Member





Stephen,

I'll try and see if I can help you out. I don't have any pictures of the 3 desert roses that I have...and its raining right now here in Houston. I'll try and get some tomorrow.

If you do a Google search for Adenium, several of the sites talk about treating them like tropicals. I've found that out with mine. I've had the largest of mine about 15 years. When I bought it at a show/sale of the local cactus society, it was less than a foot tall and had a base that was just a couple of inches across. It now has a base that is 15" across and it was 42" tall before I trimmed it a couple of weeks ago. At first, it was total dumb luck with it. I knew enough to plant it in a well drained soil. The Houston weather took over from there. I first tried my hand with bonsai about 10 years ago or so. There was a lady here in town with a bonsai shop that shared her knowledge freely and taught us about the importance of finding the correct soil for our trees. I decided to try it with my cacti and succulents and it works pretty good. The desert roses do really well with it.

As for the branches, you will have to trim it after it blooms. That helps get it ready to bloom again. They can look very leggy when they're blooming. I've found that if you prune the branches at a 45 degree angle, you will have a bud come out near the top most point. You will want to wait until that bud is almost the same diameter as the main branch before trying to clean up stub that was left from that first pruning. Here in Houston, that seems to be about 2 or 3 growing seasons. Doing it this way will give you branches growing at an angle from a trunk or larger branch.

Hope this helps and hope your still around and find this.

Dean
Thanks..I have given up on this post..Thank you for that info, especially about how to trim and growing at an angle..I did find a good few pics of some like I was looking for on the internet..I would like to see yours if you can post some pics..Thanks again..
Stephen,

I've got the pics and will post them tonight. I've got to do that for another discussion board...so I really have an incentive to get it done now.

Dean
Stephen,

Here are the pics that I promised. This is the biggest desert rose that I described above.
Desert Rose 1
It has pink flowers.

This is Desert Rose 2.
It has red flowers. You can see how leggy it looks while/before blooming. I may have to give up and just trim it and repot it before the heat sets in in a couple of weeks. It is 14" long and 23" inches tall.

This is Desert Rose 3.
It is just 13" tall. The larger branch to the left is a graft. It has variegated leaves and pink flowers. The branch to the right is the base plant and has red flowers.

I hope this last picture shows the branching that I tried to describe.
Branching on Desert Rose 1
In the lower part of the picture, you can see a cut that has healed over and I've been able to get it somewhat smoothed into the branch. You will see a recent cut above it. As I said before, it will take a couple of growing seasons for it to look like the lower cut.

I hope this helps. I certainly have enjoyed growing mine.

Dean
---
Permissions in this forum:
You
cannot
reply to topics in this forum