Last edited by magoca on Tue Aug 18, 2015 6:20 pm; edited 1 time in total

magoca

Member





Hello Magoca,
Lovely potential.
Maybe this is a start to build a new branching, later on the two right branches could be shortened when there are more shoots closer to the main trunk,
but for now i think i would wait for new shoots on good places to build from.
The tree has made already a lot of new shoots where a first choice can be made now.
Cut the shoots in the design only when they have grown a bit longer and the tree has gathered some vigor from them later in the growing season but before the second growing period this summer.
Ramification can be build on a healthy tree by cutting all last years leaves on a shoot except of the two top leaves on the end, on hose places new branches will appear with smaller leaves.
I think it will be a surprise to see the nerbari in one or two years, for now leave the soil on this level.
Sunip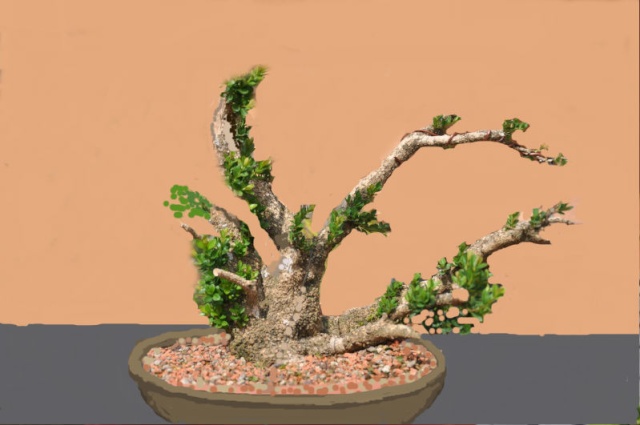 sunip wrote:Hello Magoca,

Lovely potential.

Maybe this is a start to build a new branching, later on the two right branches could be shortened when there are more shoots closer to the main trunk,

but for now i think i would wait for new shoots on good places to build from.

The tree has made already a lot of new shoots where a first choice can be made now.

Cut the shoots in the design only when they have grown a bit longer and the tree has gathered some vigor from them later in the growing season but before the second growing period this summer.

Ramification can be build on a healthy tree by cutting all last years leaves on a shoot except of the two top leaves on the end, on hose places new branches will appear with smaller leaves.

I think it will be a surprise to see the nerbari in one or two years, for now leave the soil on this level.

Sunip
Sunip thank you very much, have a lot of work but I am very patient

magoca

Member






---
Permissions in this forum:
You
cannot
reply to topics in this forum