Hi Guys,
Since I started doing bonsai some years ago now, I have been looking for a decent mulberry tree. To date I hadn't even found a half decent prospect until the one that is the subject of this post turned up. It is by a long way, the best I have seen. I guess there may be better ones around, but I haven't seen or been able to find them. Whilst I usually try choose the trees for my collection based on quality, in this case the criteria was different.
My first wife who passed away at a very young age came from a little rural village in Soria, about 100 miles north of Madrid in Spain. We used to spend our summers there. There was another village about 5km downhill from the one we stayed in that had a huge mulberry tree in its main square. These rural villages are fast disappearing in Spain as succesive younger generations have avoided the hard graft associated with farming and gone to work in larger cities. So essentially many of these villages just have a few elderly inhabitants. These days you can buy a whole abandoned village for a song. Sad but that's progress for you....
Anyway, taking advantage that nobody (due to age) in the village was able to climb up into the tree, I used to grab my bike and cycle down the hill to this village every three or four days or so and gorge on these beautiful red-purple mulberries, cycle home give the tree 3 or 4 more days to recover and head back down. I'd sit in this tree for an hour or so until I was satiated, with the local villagers sitting in the square wondering who the hell I was!
So I wanted to have a reminder of those good times.
Anyway forgive the rambling, I just thought it would be nice to provide the reminiscence that led to me obtaining this tree. Down to business...
Several bonsai friends were present when this tree arrived. It had branches that had been left on it to thicken the trunk so I removed them all cleaned up the wood areas that were rotting from previously pruned branches. The next step was to remove it from the large fruit crate it arrived in and re-pot it into the pot in the photos. This was the only pot we had at hand that it would fit in with enough room to spare to grow it on a bit.
Once potted up, the discussion re- the front started. There were two schools of thought. The tree had two possible fronts. School of thought A - the one I belonged to, preferred the cleaner front as in the first photo. The two reasons were that it hid the wound on the "rear of the trunk" and also the best part of the nebari on the left of the tree had movement and was better visible from this front. The downside was that it was pigeon chested towards the viewer.
School of thought B, preferred the "rear" of the tree as they felt the wound could be truned into a carved feature of the tree (though I have doubts as it could cut off sap flow to parts of the tree above it). Also with this front, the bottom of the tree moved away from the viewer.
What suggestions do you have?
Photo 1: Front
Photo 2: Left side (viewed from front)
Photo 3: Back
Photo 4: Right side (viewed from front)
Photo 5: Wound on back
Photo 6: Wound from the side
Photo 7: Roots on left side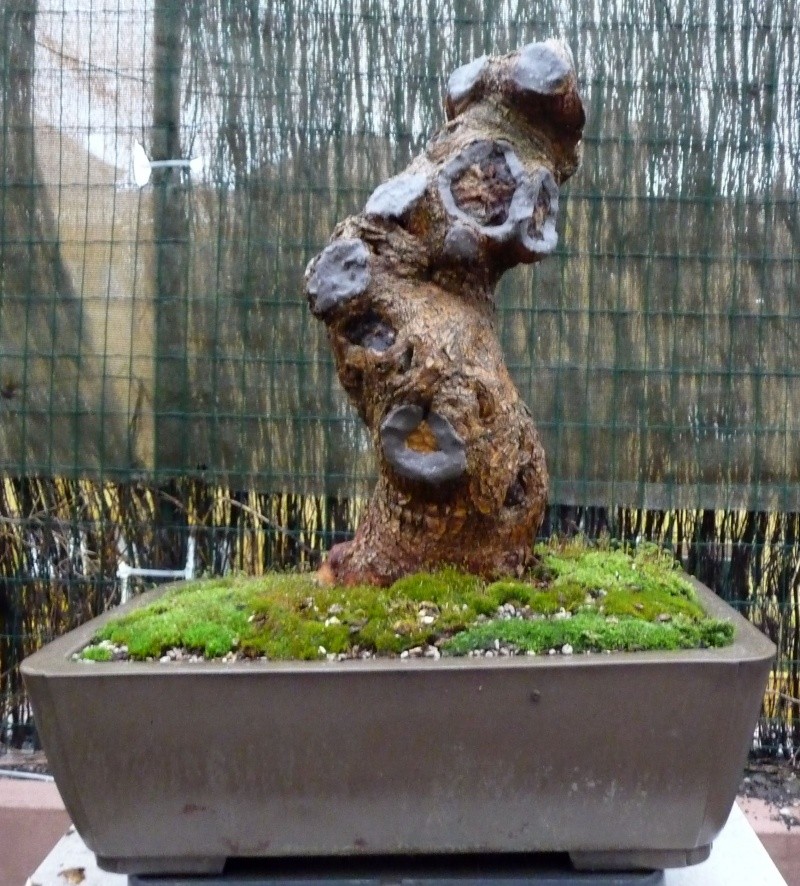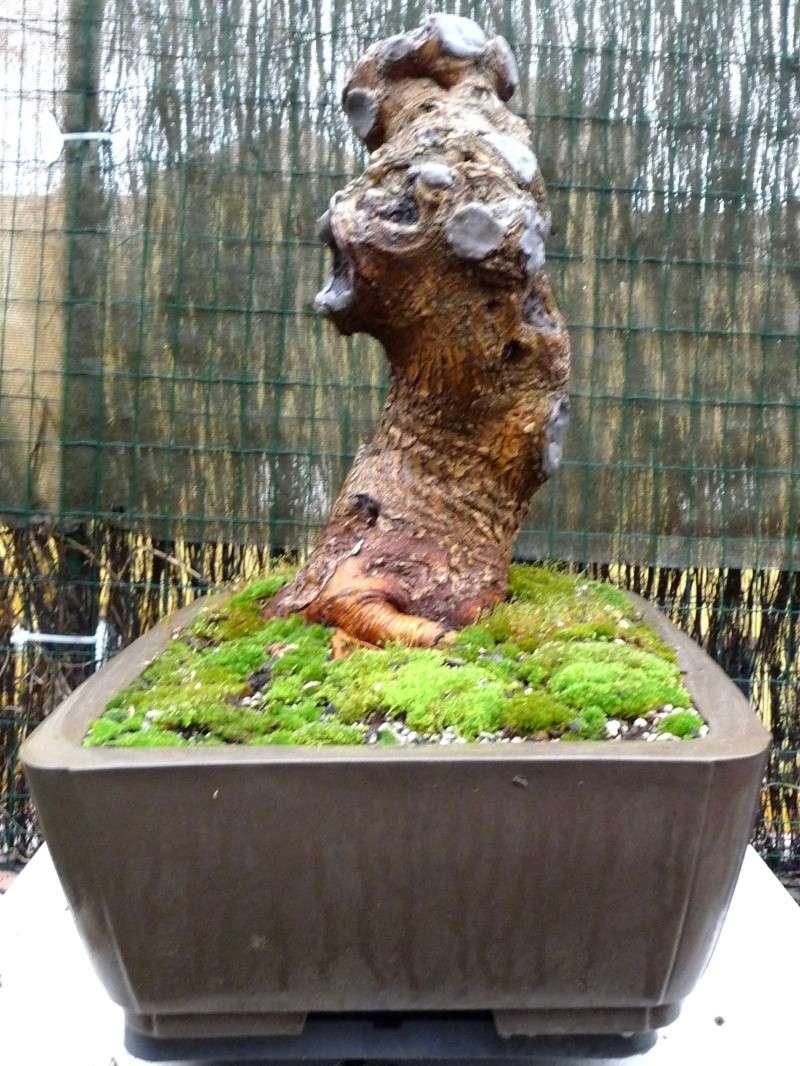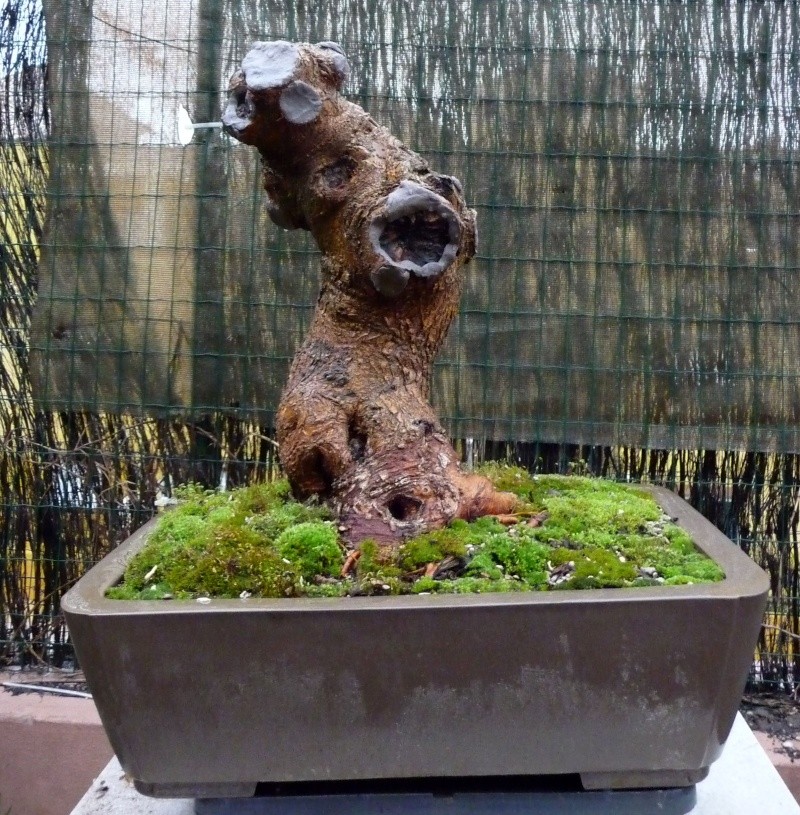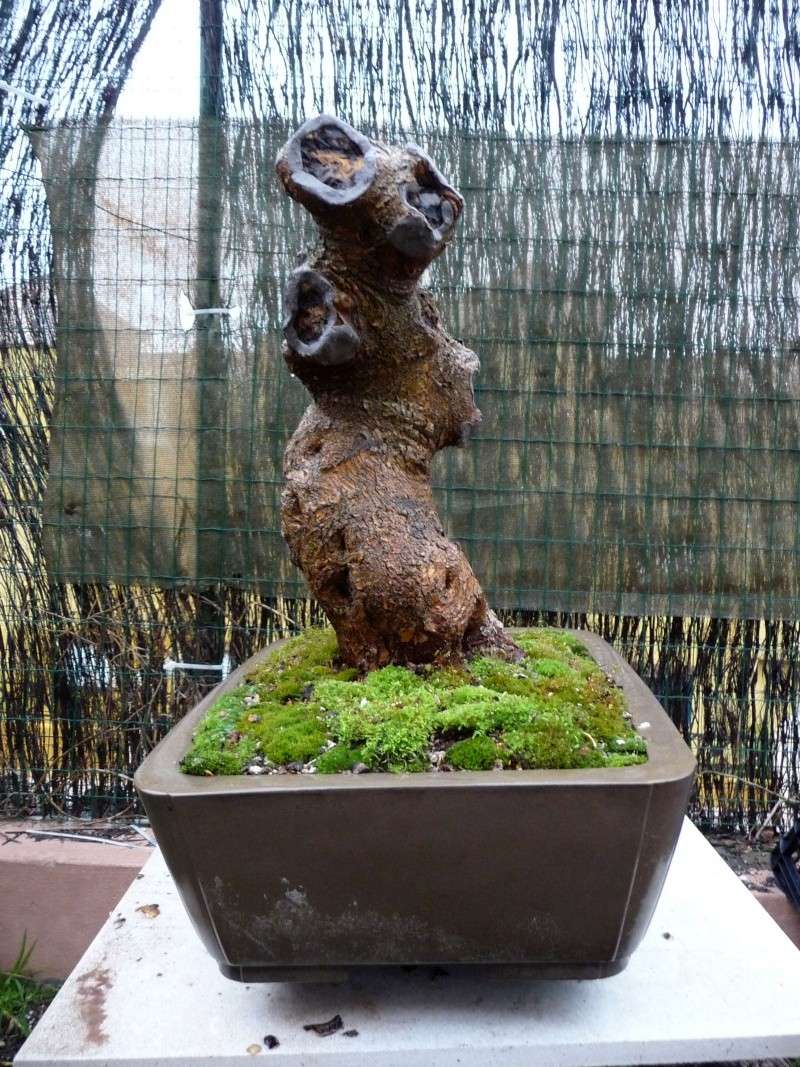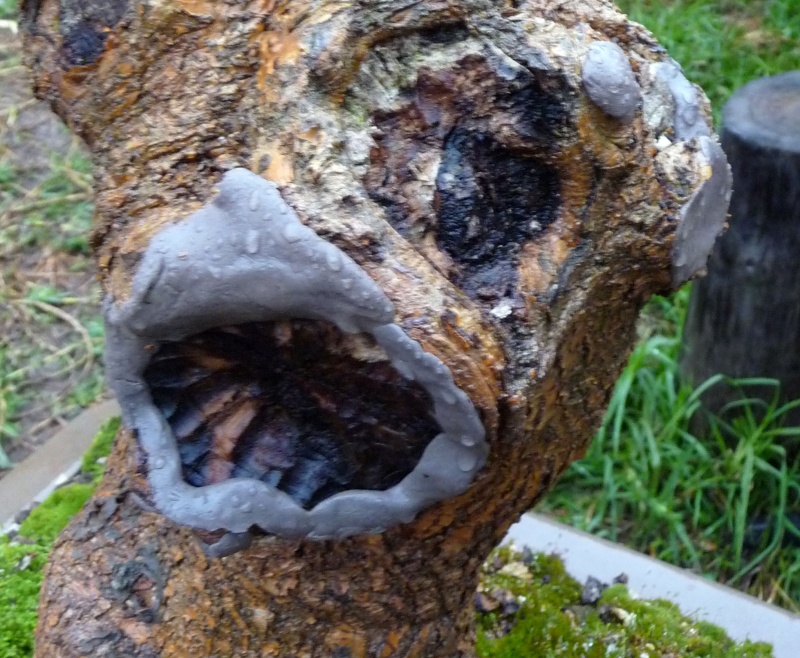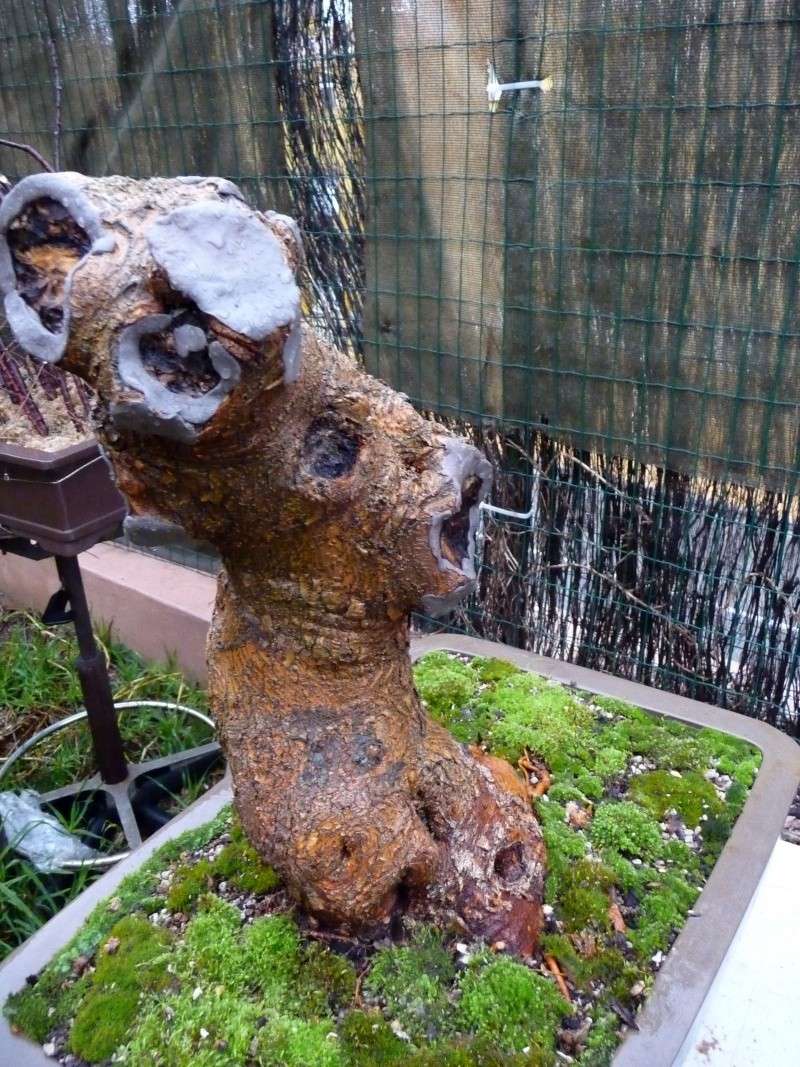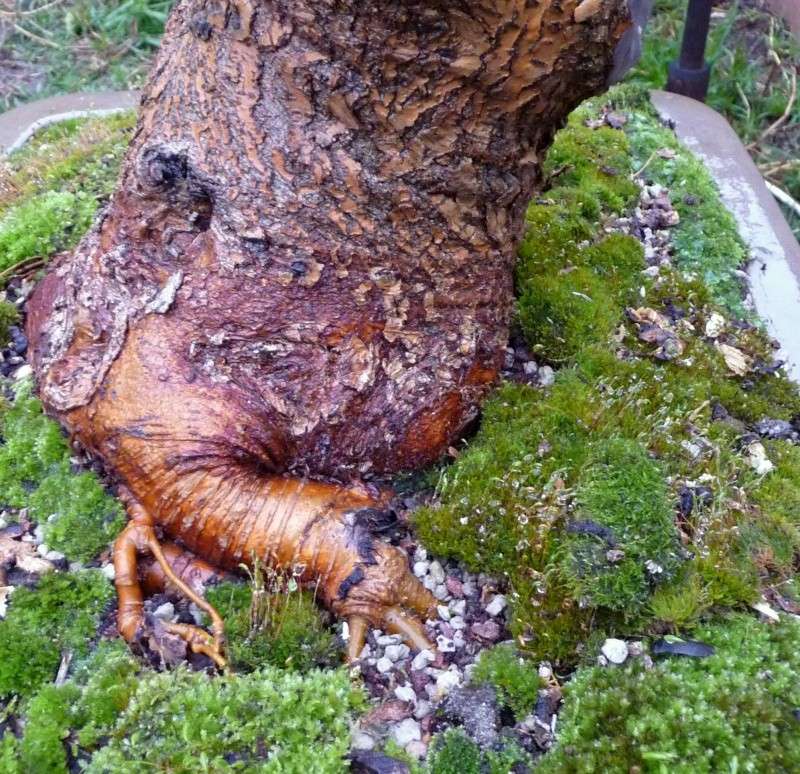 Last edited by mambo on Wed Mar 06, 2013 6:29 pm; edited 1 time in total
That is a pretty cool looking mulberry trunk.

Wow, you cut off ALL of the branches from this tree, and are basically starting from a clean slate? I'm in the 'scarred and ugly is interesting' camp for deciduous bonsai trees. Especially with bigger material. So, my favorite potential fronts are shown in photos 1 and 4.
How big is this trunk?

Auballagh

Member





Hi Auballagh

The trunk is about 20cm accross at the base and about 50cm tall. That's a rough guess as I haven't measured it, but it shouldn't be far out.
Do you have experience with mulberries healing big wounds? From what I've seen in nature, they don't seem to do it do well.

PeacefulAres

Member





I have zero experience with them healing wounds. Around the base, I am told that there were several large wounds that are almost closed. I don't know if these closed when it was field grown or in the fruit crate it spent the last 5 years in. A number of the wounds you see in the photo's were already there and some seem to have healed over quite a bit. What I did to those was to cut away the leading edges of the live part to stimulate new growth to close over the wounds. Now it's in a pot, this process may take more time....I guess

mambo,
Mulberry rots easily. Watch out. and seal the entire surface of the wounds.
As for the front, wait until it gives its branches (shoots).
regards,
jun

powerful material, like 2 and 3 for "front", lets see where the branches arrive as jun suggests. Mulberry is one of my favorite berries, you enjoy the fruit?

appalachianOwl

Member





I love the fruit! Along with cactus fruit, one of my favourites!

Thanks
jun wrote:mambo,

Mulberry rots easily. Watch out. and seal the entire surface of the wounds.

As for the front, wait until it gives its branches (shoots).

regards,

jun
Hi Jun,
I will cover the wounds as you suggest. It is hard to believe they rot easily as the wood was so hard, the thicker branches were a bugger to cut off!
I am confident it should bud from everywhere, but of course, trees enjoy suprising us....
Thanks Jun

---
Permissions in this forum:
You
cannot
reply to topics in this forum