Hello all, been observing the wonders here for a while, now would like to share with you. This little one came from a buddy's landscaping a few years ago, did not know much then so just let it grow. Last year thaught "oh, i'll give it a prune" ,without a clue what I was doing or any real vision. The result was the incrediblly long leggy first image, now knowing a bit more on the matter this presented a slight challenge. Really the whole tree was a bit of a challenge, had really considered just not training it at all, but then that just made me want to give it a go even more. Am very happy with the results from this first styleing, that of a knarly old tree high off the cliffs in the mountains. Of course many more years will be needed to refine/define but wanted to share the starting point of this process. Would really like others feedback/thaughts, thanks.

appalachianOwl

Member





Very nice effort, but the design seems a little confusing to me. The tree appears to be going in many directions... which could be fine and something that I don't get.
Here are my 2 cents; maybe remove the foliage in the red oval, and maybe thin the lower branches and move it in the direction of the other branches.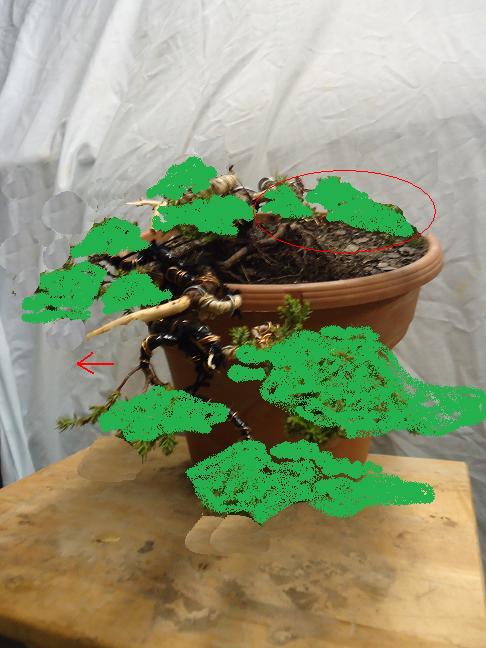 Hello,
Maybe it is a good thing to let it grow for at least one season before any other actions.
The tree recovers and will show you what to do.
Sunip

aman, thanks, can understand your confusion though and appreciate the 2 cents. Attached an image of the direction flow i see in my head for it. Also plan to let the plant develope more foliage to balance out and create a more visible flow. What does this do for you?
sunip, totally agree, removed more than intened already. told the little one it gets two years of chill time at least, thaught about putting back in the ground for a while to after wires come off.

appalachianOwl

Member






---
Permissions in this forum:
You
cannot
reply to topics in this forum