I am interested in moving this composition into a ceramic container. It is a Korean hornbeam. I fear I have been overthinking it and so would welcome the opinion of experienced potters.
The mica pot it currently resides in measures about 19 inches in length and is 1.25 inches in depth.
Thanks in advance for your input. Regards,Tom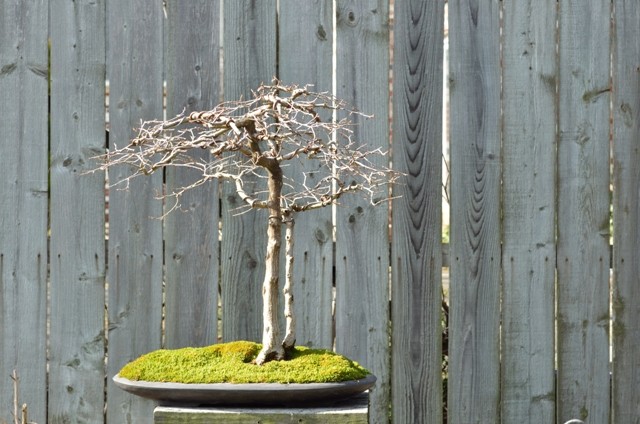 Tom Simonyi

Member





My response is based on what you want from the tree. If you are looking to stay formal with it then a very shallow dish style pot would keep a similar look but give way to a new pot. If you are open to a more informal look then look for a pot about 2/3 the width and maybe go oval or round in a lighter brown color than the current dish it is in and another inch deeper.

Maybe this is not at all what advice you are looking for.
My two cents, rustic glazed round, nanban or shallow dish style(possibly also a Kurama stone), shallow, in a light color or maybe a mix of colors. The tall, thin trunks are Bunjin-ji-ish in feel, for me, so I'd go with that feeling for the pot.
Ryan
Http://JapaneseBonsaiPots.net/


I rather like what it's in... the length balances the heigth nicely. I'd look for a better version of this pot or a flat stone... same ideas as Ryan.

Russell Coker

Member






---
Permissions in this forum:
You
cannot
reply to topics in this forum