Hi
I hope some information can be given on theese two shohinpots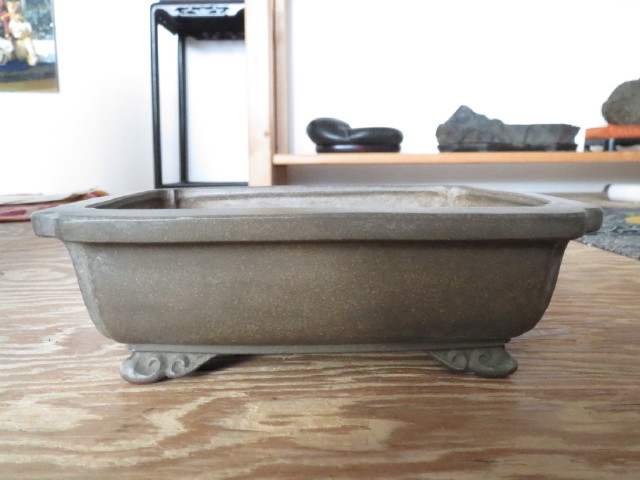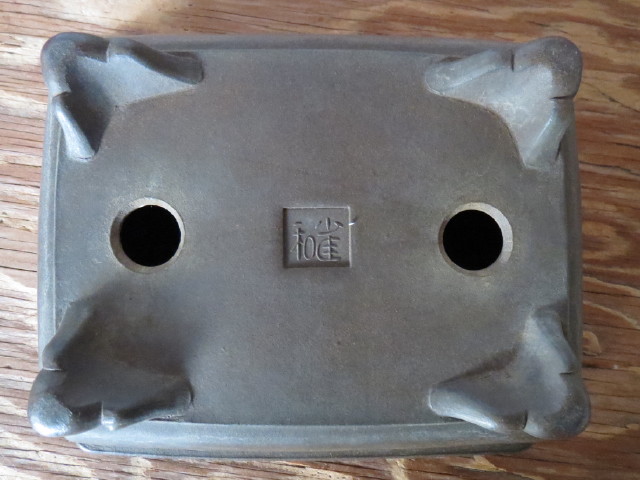 This pot is painted with gold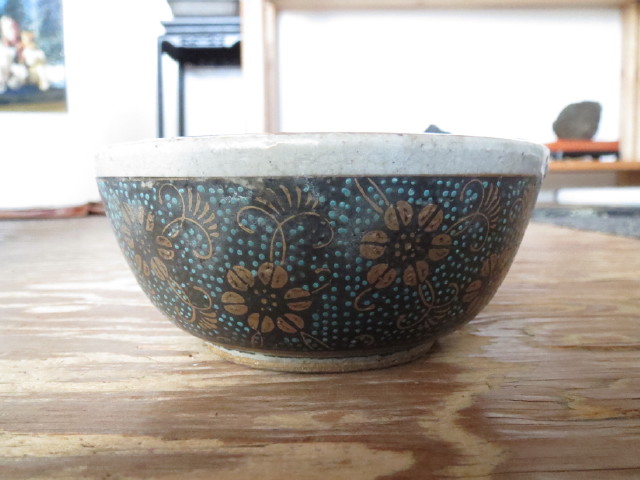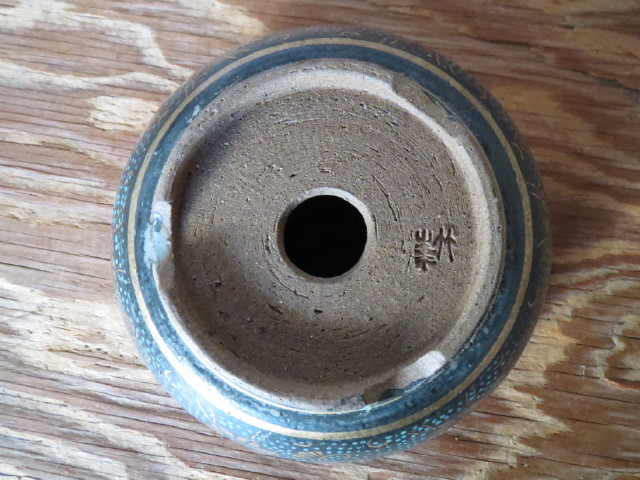 Kind regards Yvonne
Hi Yvonne:
Nice pots the 1st is by Ichihashi Wajaku-thats all I know,maybe Ryan can tell us about this potter, that would be wonderful. the 2nd is a Kutani ware,kora
Hi Kora

I thought it looked like a kutani ware, funny if it actully is.....the next one, is a nicely crafted pot, as far as I can see.

kind regards Yvonne
there is doubt,hat the 2nd one is kutani-it is a well known kutani pattern, and the chop is kutani as well. Did you buy these from the couple on the 3rd floor of the green club? I buy lots of pots from them every time I go to either Taikan-ten or Kokufu-ten, they have very fair prices and have wonderful pots,kora
Hi Kora

I think it was on the third floor I bought the kutani...from the same shop did I buy a second small pot...I can take a photo tomorrow.
The brown pot was from one of the small houses outside.
Do you know how old the kutani can be?

Kind regards Yvonne


So yeah, Kora is pretty much dead on, though I'll go a bit further. 1st pot is Ichihashi Wazyaku, born in 1933, began making ceramics in 1964. Mostly single block carved and slab built, almost all unglazed. The clay has a peculiar and unique color which comes from the combination of Nabari clay an calcination in a gas kiln. Very nice, very prized, on a par with Ryuen, Syuzan, and Yuuji.
Second piece, the stamp is "Chikuho", and is from Kutani. Most often he's referred to as Kutani Chikuho or Heian Chikuho, makes some really nice celadon porcelain and 5 color painted pots. Modern, not Ko-Kutani.
Hope this helps Yvonne.
Ryan
Http://JapaneseBonsaiPots.net/
Hi Ryan
Yes, it does help a lot

, very nice to know the brown pot was carved out of a block...I was told the maker was from Kyoto, and he died 10 years ago.
It was the quality, and the collour that made me interested in the pot, and I was "working" the price for two days before I had it more right. Not a cheap pot.
This one was found in the same shop as the kutani...a small pot.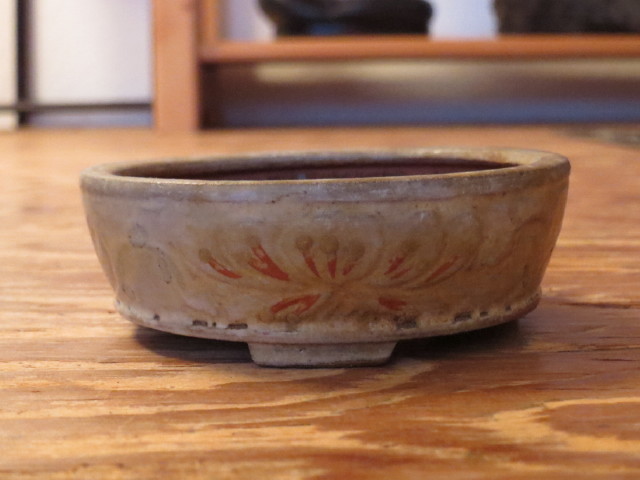 Maker and age would be nice to know....is it a flowerpatern?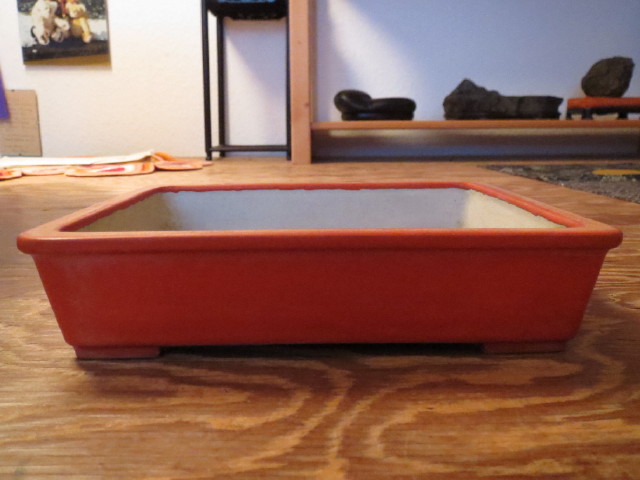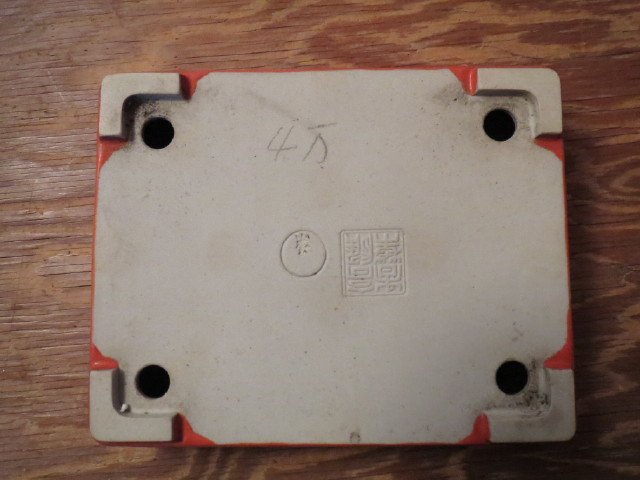 I found this in a big box under a table, together with many more pots, it also needed to have its price worked dawn...I love this collor, and the nice big sice of this shohinpot...not at all narrow, like old pots. This pot has some age, and I would like to know how old it is......I have a resent yellow pot from this maker. This I bought from Tomohiro Masumi a coupple of years ago. I had the pleassure of meeting Tomohiro and hes father again this time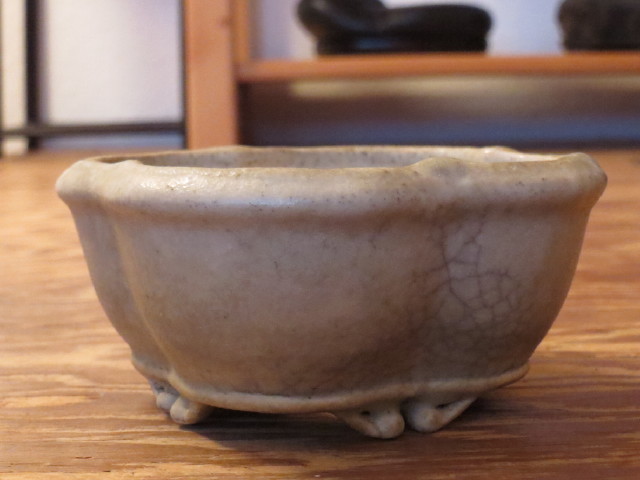 This oldlooking small pot, did I buy, just because of the shape, and the fat glaze...if it ever had a stamp, would it be covered in the glaze...love this pot.
Thats all...Kind regards Yvonne
---
Permissions in this forum:
You
cannot
reply to topics in this forum