Folks,

I need some advice. My neighbour cut down about 60 or so 50+year old Murraya p.
It was a hedge, and now it is a bunch of 6 inch [ 15 cm stumps ].

It was a crime, and I have done my best to save as many as I can. Tomorrow, the crew comes to remove that last ones, with most probably pick axes, so I will try to get a few more.

Does anyone know the survival rate, or anything special I should do for Murrayas.
[ trunks range up to 10 inches [ 26 cm ]]
Thanks for anything.
Khaimraj

Khaimraj Seepersad

Member





Khaimraj,
I have a few & found them to be pretty tough, as your in the tropics it wont be as big an issue but I have found they are best worked in summer. The most recent was a big one dug, bagged & left sitting on top of the soil for the next 12mths, it came to me about 2mths ago & was given a good solid chop back to stumps, it is now firing away & even flowering! Having said that they can also sit & sulk for years before finally deciding to grow (as another I have has done).
Matt
Ps so tough I got a heap last jan that had been pushed into a pile with a dozer, no soil or water for a week before I found them, all bar 2 survived & thrived.
Matt,

thank you, very, very much!!!

The men are digging away and I am passing by and picking up as they go every three feet.
Then dropping them into a large barrel of water, will stump and re-plant this evening.
I really, really appreciate your response.
Thanks again.
Khaimraj

* My friend and I, at 6.00 a,m this morning dug the 10" wide one, took an hour to carefully remove it. It will probably take 10 years of open trough growing to harmonise this shrub.

Khaimraj Seepersad

Member





Khaimraj,
Your most welcome, I have always had a love of Murraya ever since seeing them in Hu Yunhua's book back in the 80's but it wasn't until about 5yrs ago I found one worth digging. This is the most recent & according to records arrived 11/11/12, the pot is 50cm in dia to give you some idea on size. It was bare stumps then & you can see the regrowth already!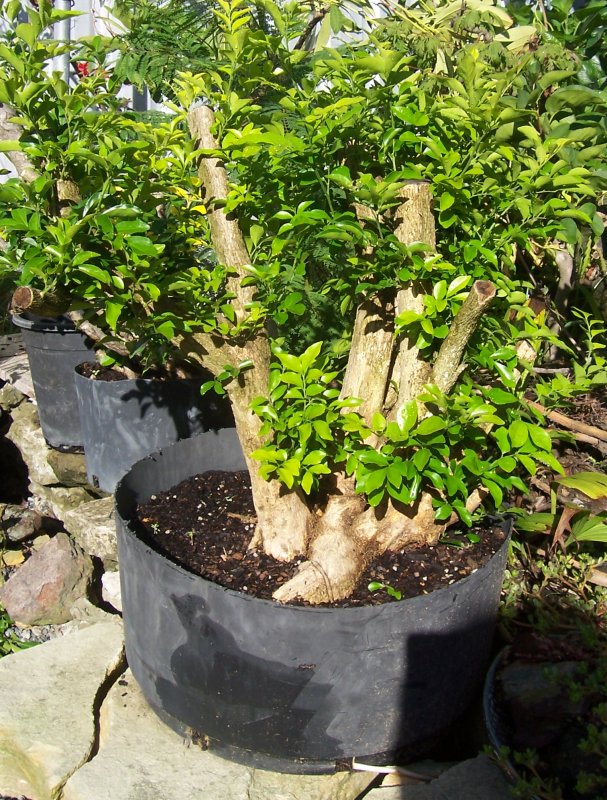 I would recommend them to anyone in a warmer climate as a good beginner tree coping well with less than stellar care, as such a mate & I built a forest from the carpark trees as his first bonsai, will get a pic next time I visit.
Matt
Khaimraj,
How are your Murrayas doing?
Update with pics are needed

Thanks in advance.
Nigel

Nigel Parke

Member





Khaimraj,
How are the Murrayas doing?
Update with pics...Thank You  

Nigel

Nigel Parke

Member





Nigel,
only three small ones survived. 

However, I have an old one, about 60 years old given as gift. Nothing fantastic, but it is a good memory, plus a few other small ones from my yard.
I will beg a favour and get some images for you around Sunday.
Thanks for asking twice - chuckle.
Khaimraj

Khaimraj Seepersad

Member





Khaimraj,
Unfortunately, for you, you grow things that we only see in greenhouses and florists up here. 

So, the curiosity factor goes thru the roof. Until I went to Key West years ago I had NO idea
that you could have a picnic under a ficus or schefflera. Or wait in the shade of a hibiscus for
a taxi. It is this novelty that keeps us "prodding" for updates. After all it is hard to not be
amazed when you see a bonsai of something you have only seen in a 4 to 6" flower pot.
Keep the beauty coming; its cold up here. If we can't have warmth, right now, at least give
us a reminder that warmth does still
exist
. 

a.
Last edited by armetisius on Sat Mar 01, 2014 4:42 pm; edited 1 time in total (Reason for editing : apparently I can't spell even when I am copying)

---
Permissions in this forum:
You
cannot
reply to topics in this forum