I like this suiseki forum, here there are many teachers helpping beginer to learn suiseki appreciation. The forum needs suiseki people to submite more themes and interested topic to make forum actively. I call the forum as club and a small family.

I just found a suiseki last month from the river, I do like its eye. Dear suiseki friend, what do you say?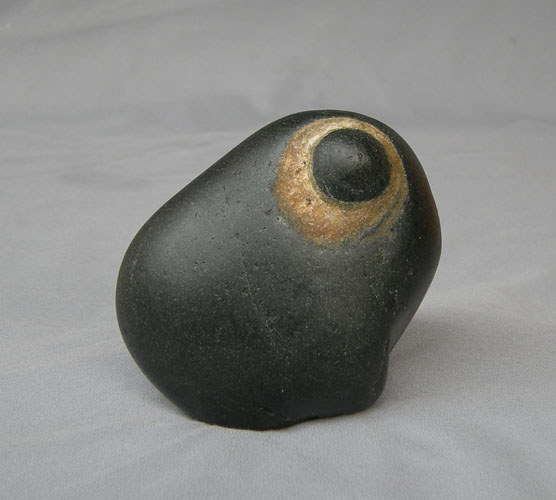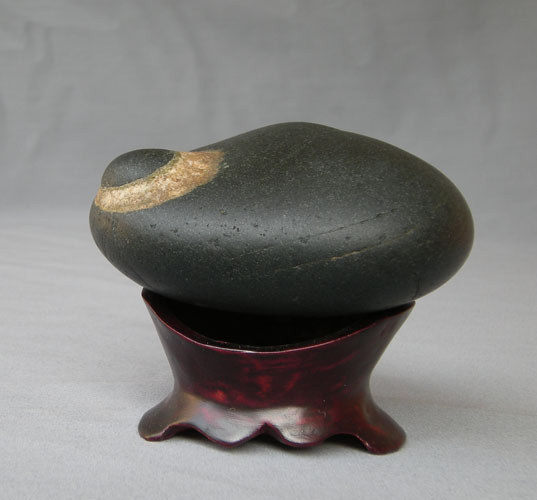 Heven

Member





Hi Heven... I love your frog stone, its naming & your simple presentation in the first photo. What is its size?

Is there a reason to call it suiseki rather than shangshi or viewing stone?

Chris Cochrane

Member





Hi Chris,
This is a small stone, size only 3.74" x 3.07" x 1.65", but I still like it.

We name it as viewing stone, qishi, or suiseki, the most people say qishi or viewing stone, Chinese suiseki means mainly river stone such as Yangtze River, Wujiang River, Honghe River, Jingjiajiang River, Daduhe River, Mingjiang River, Jialinjiang River, Huanghe River more. I have attached a picture, that was a 2008 Yunnan viewing stone exhibition, there is a 水石(suiseki) scroll on the top of the exhibition hall. We hardly say Shangshi. Shangshi is a way of view stone in Chinese, is not a name to stone.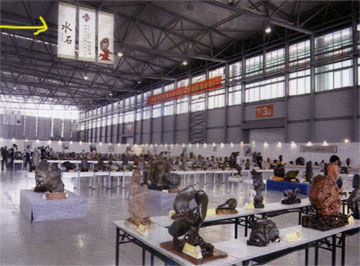 Heven

Member





Greetings, Heven.

You have named this stone very well! Your display in the first picture is the best one, I think. It looks almost as if an artist has designed this as a modern representation of a frog.

I wonder what caused the stone to wear in such a way?

Harleyrider

Member





Hi Heven... You note "suiseki" as the term to describe Chinese stones collected from a river location. What do you call Chinese stones collected from dry ground or excavated from mountains as opposed to Chinese suiseki, which are collected from rivers?

Do you refer to the fitted wood seats for stones as shizuo (Chinese "stone seat") or daiza?

I am anxious to learn more… and readily find much to question.

Thanks for sharing!

Chris Cochrane

Member







Last edited by Heven on Fri Jan 15, 2010 3:51 am; edited 1 time in total

Heven

Member





Hi Chris,
Sorry to late answer you, I would like to with you talking about any questions on Chinese viewing stone culture.

All are defined as Qishi (奇石) or Viewing stone (观赏石) in Chinese, including Suiseki(水石).
Viewing stone is divided into various names by district, such as Gobi desert stone, Yangtze River stone, Dahuashi, Songhuajiang stone, more.
P.S. Yes we call Shizuo(石座) or Zuozi(座子), that are Chinese spelling, but
stone seat
is English, only express it by scholars when they wrote articles about Qishi, just as say Stand or Daiza in English.
Heven

Heven

Member






---
Permissions in this forum:
You
cannot
reply to topics in this forum