Hello,
I purchased this azalea last Summer from a nursery and see potential in this trunk. The base at the bottom is approx 3 inches, root flare at least 6 inches, height of the main (bulk of wood) trunk is 12 inches; there is a lot of character from the root base on up. I have not exposed any soil at the roots and their is potential that this could be grown with exposing roots.
I have managed to kill many azaleas and am not sure why. I have performed repotting techniques on them like other nursery bought trees. I have followed other growers instructions, but am not popular with the "Rhodo Family". I don't want to kill this one. It is growing in dark loam and probably clay soil; it was collected from a garden and then potted up into this large nursery container by the nursery owner. The leaves are worn but I see flower buds.
How should I proceed with bonsai culture on this tree? Suggestions for changing the old soil, pruning for health, etc. I want to see what the flowers look like so I can then determine the size of the tree, but I will sacrifice this for the health of the tree if needed. Current total height of tree is 4 feet. There are small branches growing around the bulk of the main trunk; flower buds are mostly in the upper part of the tall, leggy branches.
Any comments and suggestions are appreciated. Thank you.
one side: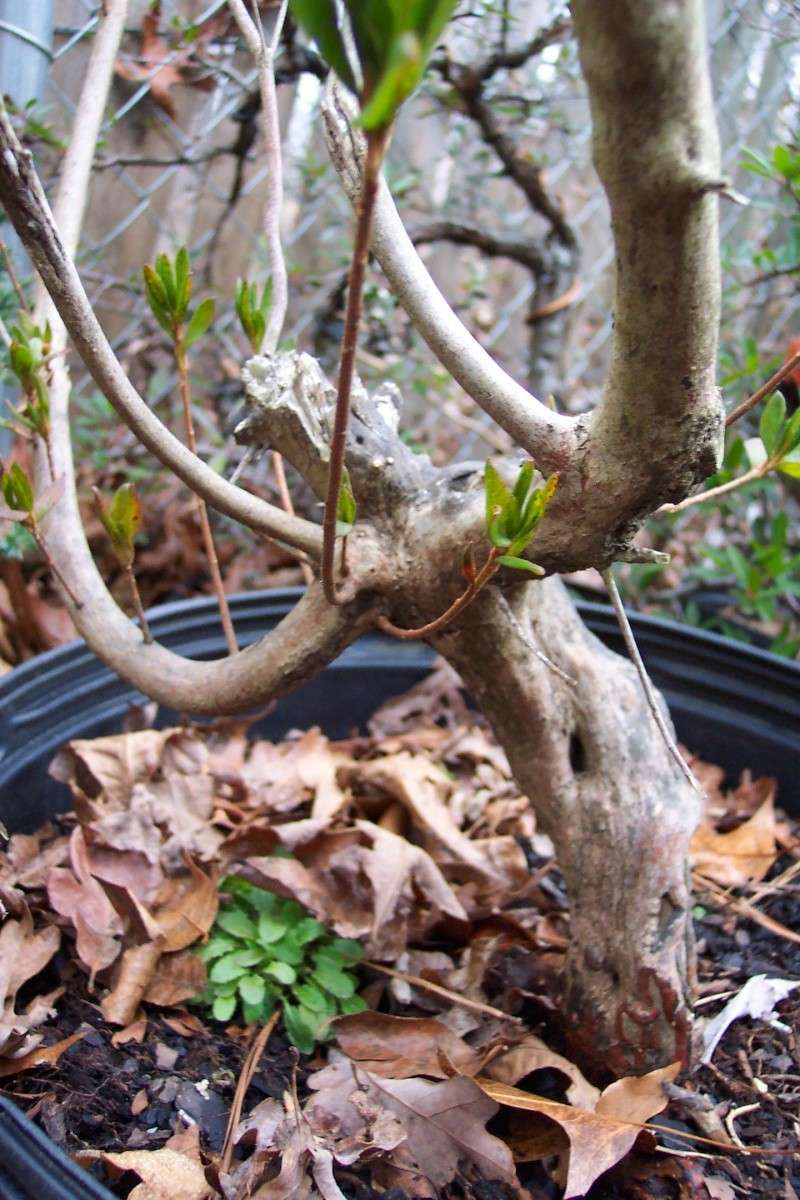 the better side:
top of shrub:

Todd Ellis

Member





for the flowers...just let one blossom and remove the buds for the others...that way the tree doesnt use up too much energy on flowers, but you can still see what you are working with...

as for the killing them part...i honestly dont know what you are doing wrong...i have an azalea that im not sure i could kill if i tried...if i was to guess i would say it is something in your aftercare, or the mix you are planting it into...im sure you know all of this though so i have no reason to suspect you arent performing proper aftercare, or potting into a suitable mix...something to point out though about azalea...just because it looks dead, doesnt mean it is dead, so dont give up on them too early...seriously...give them a chance to surprise you.

Just Mike

Member





My experience has also been that they are pretty tough, last year I got a huge one offthe side of the road someone had dug and left for garbage.
It pretty much filled a wheel barrow, I hacked it back hard enough to fit into an anderson flat and it bounced right back.
this was in middle of summer and it had been sitting drying out for quite a while.
good luck, with yours looks like it has potential.
jason


Jason Eider

Member





Thank you Mike & Jason,
My soil mix is a standard turface (80%), granite (10%), and sifted bark (10%); I added more bark to one Rhodo after a grower suggested more moisture holding properties might work. I wonder if I kept the tree too wet. At this point I'm wondering how much of the old soil to remove this Spring, thinking that "stages" of total soil replacement should take two years ... would this be the best route? Or, does the tree look healthy enough to completely replace all of the old soil with new bonsai soil this year; perhaps removing up to half of the root ball, and a healthy pruning of the leggy branches, plus good feeding, to induce more budding?

Jason, your news is encouraging. How much "percentage wise" did you reduce the roots?
Todd

Todd Ellis

Member





Todd,
I'd say I reduced 80% of the roots, wearing out a couple of sawzall blades, big cuts. Cut back hard on top too, left no foliage. it sprouted like crazy, put on a lot of growth.
I'm sure I would have been more conservative if it wasn't found on the side of road all dried up.

Jason Eider

Member





if it was me, i would ditch the granite all together and go more like 60/40 turf/bark...as far as the roots go, its hard to say how much to remove until you go to repot...the reason i say that is that you dont really know how the roots have recovered yet, but from my experience, they can have a good portion of roots removed...maybe the best plan for this one is to go to pot into a wide grow box and bare-root portions at a time over several seasons...like, bareroot 1/4 and only give a light pruning to the remaining 3/4, let it recover for a season...rinse and repeat until all the soil is replaced...this will also give you time to figure out any soil mix issues

Just Mike

Member





These plants look like azaleas to me, even though I know that might be a fine point (azaleas are in the rhododendron family). There are literally thousands of rhododendron varieties and about the only thing they have in common aside from woody stems, leaves, and flowers is somewhat shallow and weak rooting.

I grow dozens of different ones in my landscape and almost as many as bonsai. All potted ones do well in pure Turface MVP. In the ground, mine sit on sandy loam covered in aged (various states of decomposition) mulch. 'Very well drained' is the common soil feature. In the ground, I don't need to provide any supplemental food. In pots I use Osmocote with trace elements.

IMHO, the best time to transplant/repot them is right after they have bloomed. Next best is Aug/Sep., roughly the time they are beginning to set buds again. Also IMHO, it isn't necessary to progressively bare root them to transfer them to bonsai culture (there are varieties that form surface mats that cannot be bare rooted). But, I do think root pruning should be done sparingly (i.e., reduce the root mass slowly, over multiple seasons) if you are transferring them from the ground. Starting from nursery stock, you can safely cut off the bottom half of the pot-ball and bare root from there.

Good luck.

0soyoung

Member





Thank you Osoyoung and everyone else who have sent me good thoughts and advice about what to do. I feel confident that this tree can make it!

Todd Ellis

Member






---
Permissions in this forum:
You
cannot
reply to topics in this forum