Hello all,
Just thought I'd post a picture of one of my flowering Quince trees that has started to flower. I must say that this is not bonsai, it's some other style that does not have a name or community that practices it but it is based on the techniques used in bonsai. I call it a plant nerd's ode to Vincent Van gogh! Please feel free to comment!
ta ta for now
Randy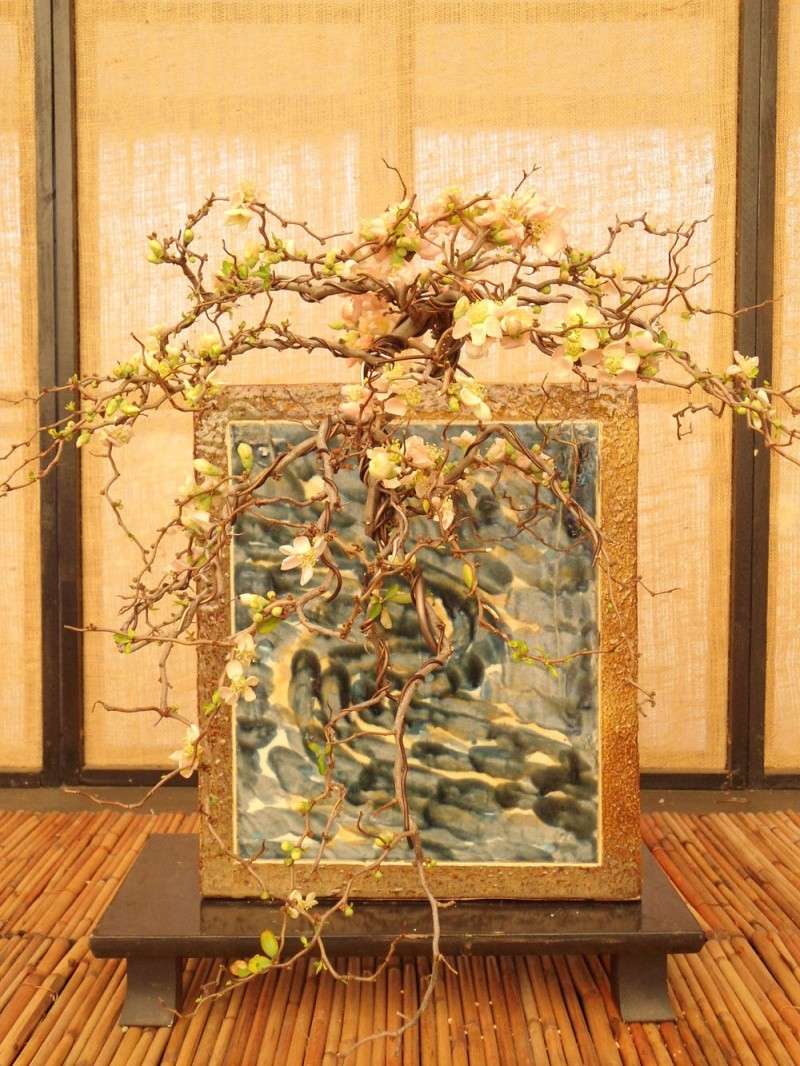 Randy_Davis

Member






leatherback

Member





it is a tree (well shrub) it is being trainedand growing in a pot seems to be bonsai to me. is that the pot itself or something in front of the pot ? whichever i like it.

by the way do you do anything special when potting quince .i have a beautiful red flowering one and have had no luck with them when potted.

-keith-

Member





My three years of growing Japanese and Chinese Quince are that they like plenty of water; never let them dry out. I use a mix primarily made from 80% Turface (MVP), 10 % sifted bark, and 10% granite. I try to feed weekly, sometimes every two weeks withliquid inorganics. I supplement with kelp and seaweed and fish emulsion once a month. They are growing for me this way. Granted, I do not have any mature Quince bonsai....

I like your tree Randy! Vincent van Gogh would be honored!

Todd

Todd Ellis

Member





One thing i am learning with my japanese hobby clubs, they're so serious about right and wrong. Bonsai can have an opportunity to do something fun or Different and i think that's a side of us that we could relax and enjoy.


Regarding your quince when potted, some suggest a fall potting while others suggest they be rpeotted in the spring.
I've had good luck with both but prefer spring, tho for fall I make sure they are protected from severe weather by keeping them in a greenhouse situation.

Quince like their water and i tend to pot them in a pot a bit bigger than considered correct for show as well as a little deeper pot.

Initially I made my own soil, a mix of volcanic, pumice and pine bark. I then "progressed" into a mix of akadama, pumice, and volcanic. these former mixes were all equal parts. The last few years I have stayed with the akadama
to about a third, 40 plus percent of pumice, 20 percent volcanic and 10% or less of charcoal. Allowing them to develop fruit takes so much out of them that I remove them all on my serious quince, and maybe leave one or two for fun on those still developing. My japnese flowering quince, I tend to expose to the morning sun and protect from harsh late westerly exposure. Tho I am learning that my chojubai (dwarf quince) seem to be able to take stronger sun.

I hope this may have touched on some issues but if not pls ask here on the forum or feel free to PM me with
anything specific you might want to question.

dick benbow

Member





I don't buy that bonsai has rights and wrongs. Just grow a tree that looks nice.

I think your quince looks like a very old tree, like some craggy thing you'd see in an old orchard or an untouched forest.

PeacefulAres

Member





-keith- wrote: is that the pot itself or something in front of the pot ?
Keith,
That is the actual pot. It's rather deceiving in that the whole container doesn't contain soil. Only the middle third of the container is plantable and the outer sections are there just for the visual effect to have some "van Gogh" ness in expressing the underlying story (Van Gogh's painting "Stary night"). I have recently started learning to make my own containers at a local community college and it has allowed me to expand how I express my intrest in bonsai and art together in a new way that satisfy's some internal need that I have to go beyond the Asian expression of the artform. For me, having done bonsai for a few decades now I have rather tired of the same old cookie cutter trees and find it quite enjoyable to do something "out of the box". It's time to let go a bit and do something different that sets the heart strings free to explore.
In answer to your question I like Dick have done both spring and fall repotting, in fact, this tree was just repotted about a month ago. If you do repot in the fall, it's a good idea to have a place where the plant can have a rather mild winter experience and a cool greenhouse is quite perfect for that.

Randy_Davis

Member






---
Permissions in this forum:
You
cannot
reply to topics in this forum