Unfortunately where I live we don't really have collectible conifers, but luckily I live just a few miles from the National Park Cork Oak Forest (Parque de los Alcornocales). It is huge with thousands upon thousands of - you guessed it - cork oaks. As well as oaks, lentiscus, hawthorns quercus ilex and other mediterranean species. Some areas are stunningly beautiful.
The last cork oak forest left by the sea in Spain is just a few miles down the road in an area called Guadalquiton. Last year I obtained permission from the landowner and the Forestry commission to collect a few trees in that area. Whilst waiting for a friend to arrive I found a tree literally growing on its own on the beach! The sea was about 150 yards away... I got to work and because it was growing in sand it took just 1/2 an hour to collect. Then one mile back to the van carrying about 80 kilos! Fellow yamadori collectors will know how much pain that equals.
I got home and realised I hadn't prepared anything large enough to plant it in, so did a botch job into the pot you see in the photos. Despite the sloppiest ever potting up of yamadori, this tree just went boom! Shoots 1 metre long, which I cut right back and then they shot out another metre!
This is what it looked like before its first styling: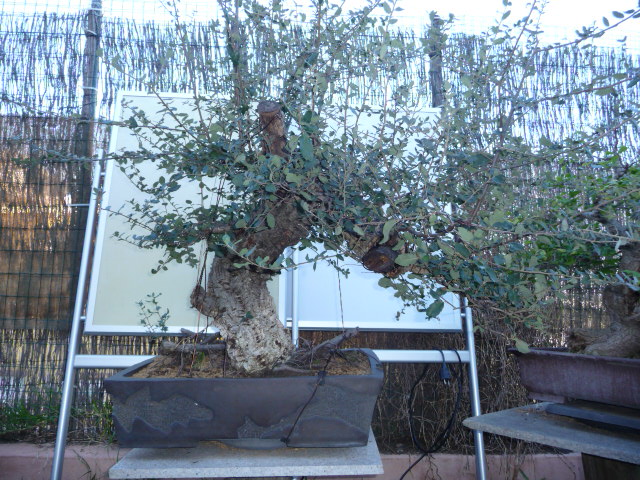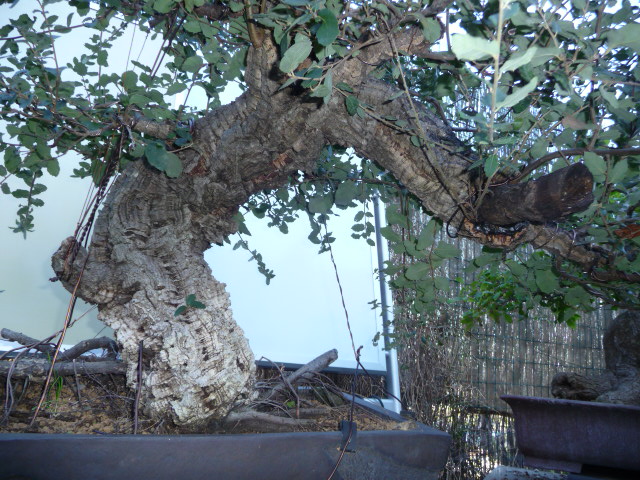 This week I decided to style it as I met one of the world's foremost tree experts - Jon Hammerton, who worked at the Royal Botanic Gardens at Kew for 20 years and left the UK to settle in Gibraltar and work at the local Botanical Gardens. Jon is a bit of a celebrity, having featured in books and TV programmes on Kew and on Trees, the latest being the very successful BBC Series The Trees That Made Britain. So it was a privilege to have him come over to my house to study trees from a different perspective.
I started by cutting growth back so that we could see what was what then got down to wiring. Below is the first branch I wired.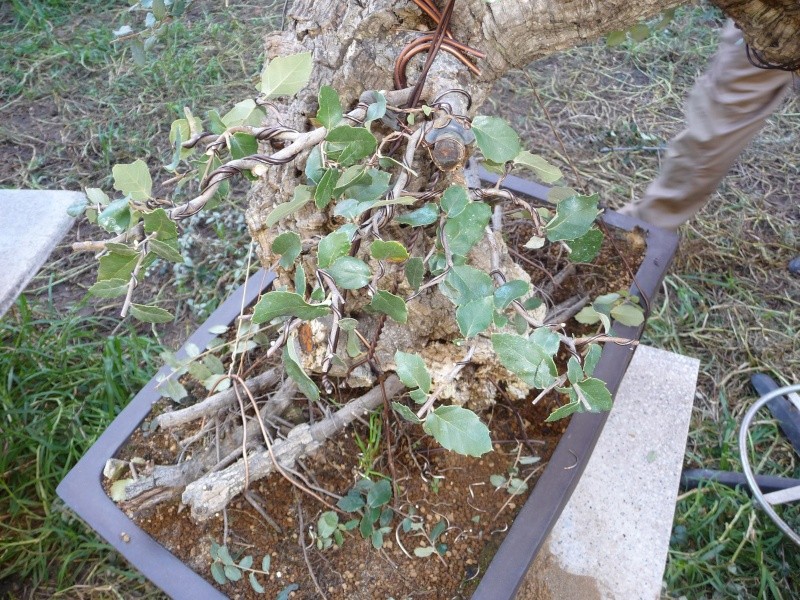 Being a hands on sort of guy, John couldn't resist picking up the tools and mucking in!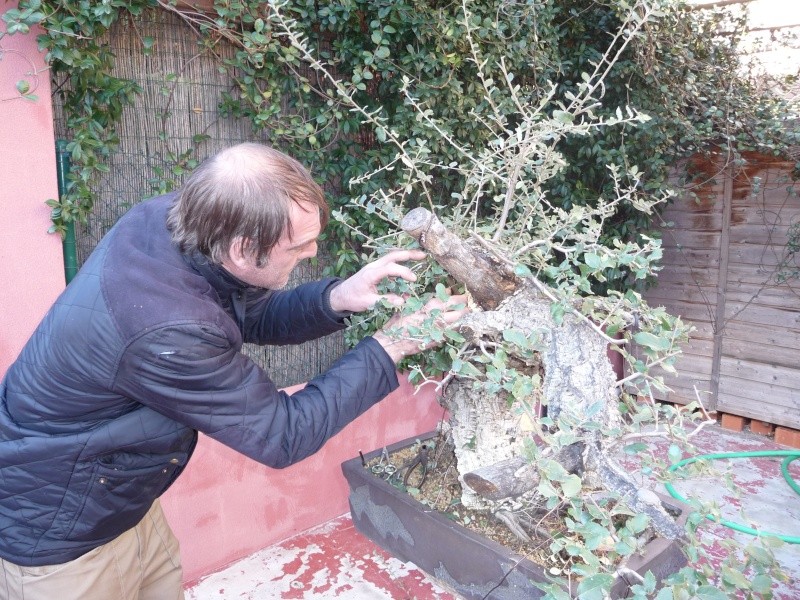 He mentioned how weird it was to be working on a tree without the use of a safety harness or ladder. This is what he usually looks like when he's working:
After a couple of hours of wiring and with Jon having to leave, this is what the tree looked like: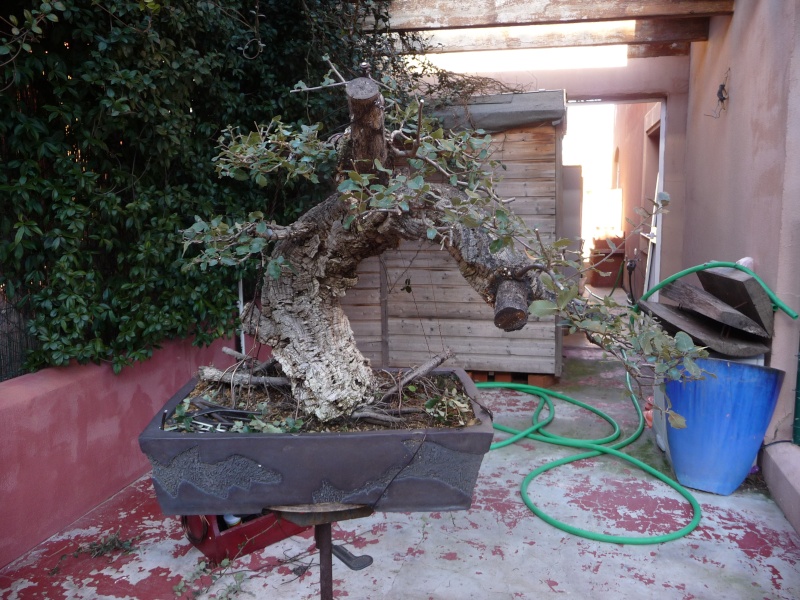 This will probably be the eventual front as it shows off the great movement in the trunk line to best effect: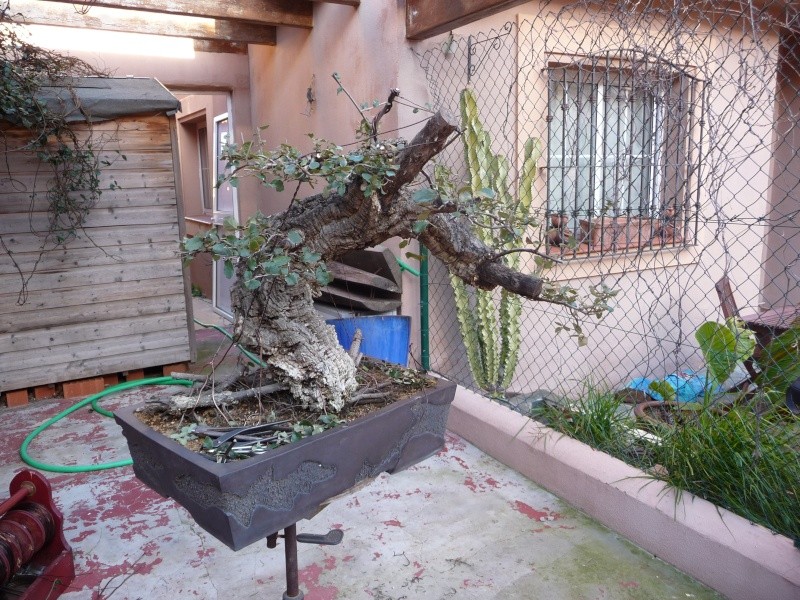 Today I went back to finish wiring and styling of the tree and this is the end result (unfortunately I couldn't move the tree on my own to get a plainer background), but you can see the great movement from every angle and fantastic bark. I think it has the potential to be a very good tree in the next five years.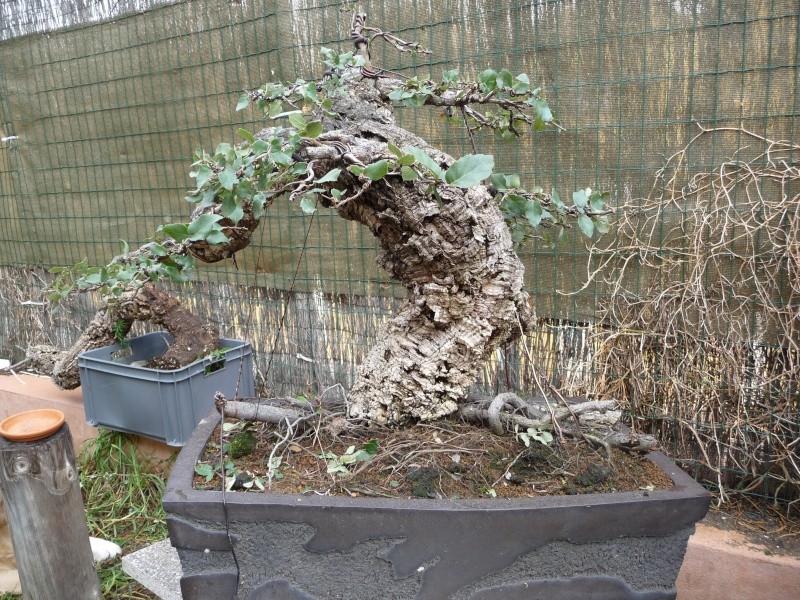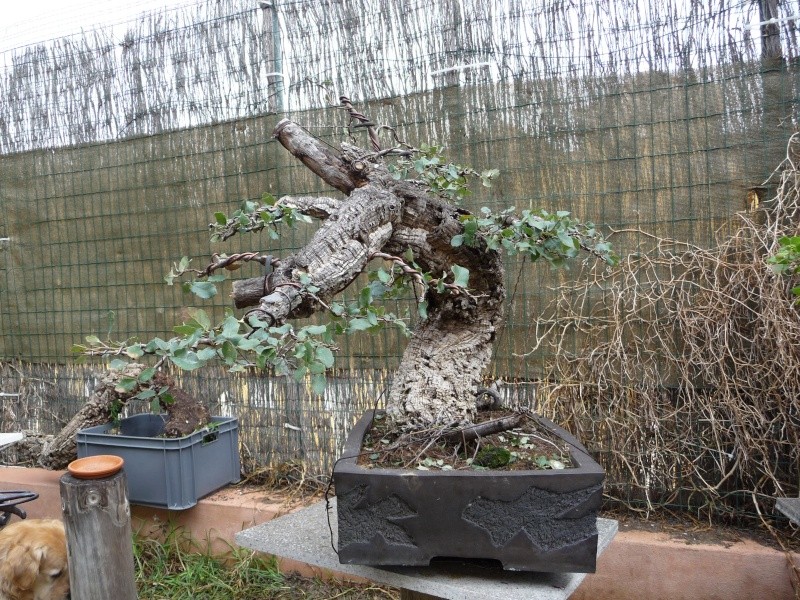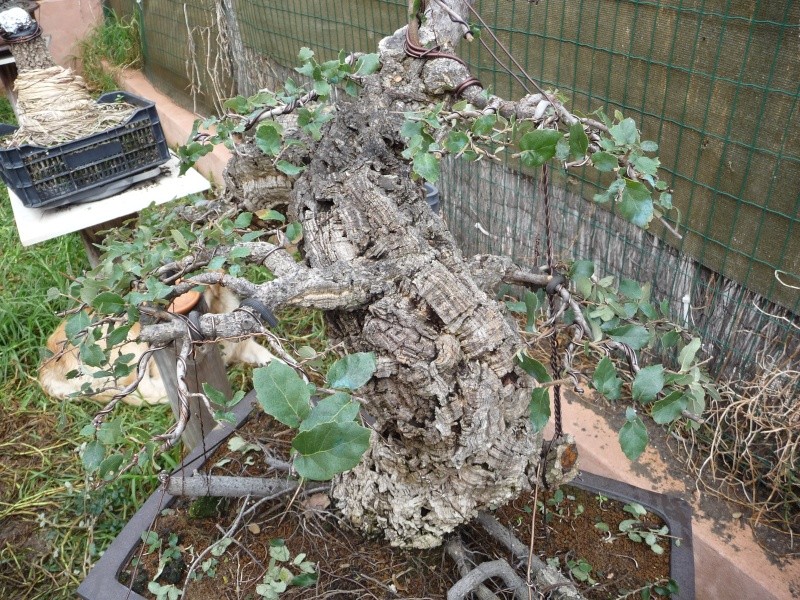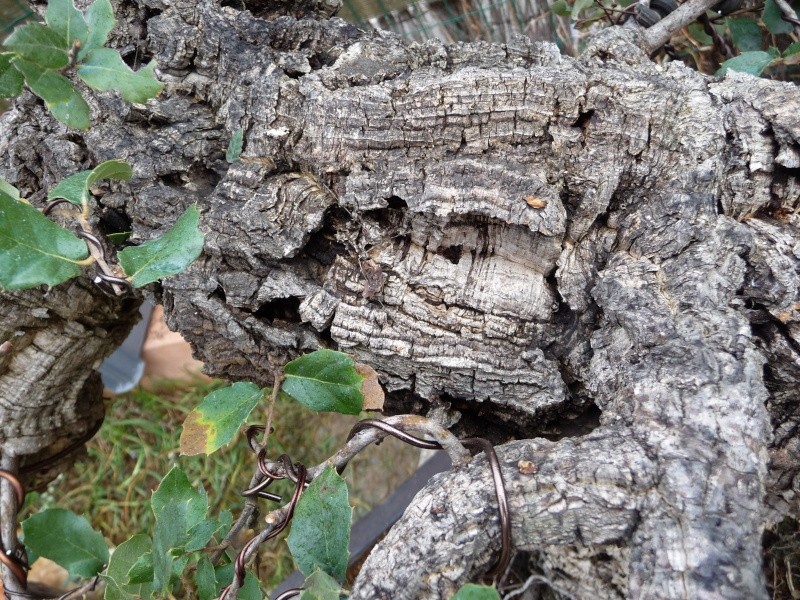 This little fella dropped in to say hello...
You really found a very nice tree !!! love the trunk on it..are you going to remove the large branch and start a new apex ?? my opion only no dead wood would be better,,just a opion....great find take care john
Nice find! Do

you think your friend John will become a bonsai "convert"?

Todd Ellis

Member





Compared to some of the yamadori trees I have observed growing quite happily after collection, (in actual, ventilated GARBAGE BAGS....) that's a very nice job you did of initially potting up this yamadori tree!

Beautiful material, and it definitely has what looks to be the makings of a quite powerful bonsai tree in the future. Keep us posted on this one, it will be very interesting to see how you develop this tree and sort it all out.


Auballagh

Member





Todd Ellis wrote:Nice find! Do

you think your friend John will become a bonsai "convert"?
I had the very same thought.
Great tree....Great find.
Keep us posted and thanks for sharing.
Sam

Sam Ogranaja

Member






abcd

Member





Todd Ellis wrote:Nice find! Do

you think your friend John will become a bonsai "convert"?
Funny you should say that! He phoned me yesterday and said "You don't by any chance have a spare pot, only I found something in the gardens here I might have a go at". So I guess we had all better start watching out, Jon knows his trees.....
One of the interesting things we spoke about was the "BIG STORM" in Kew Gardens in 1987, which was the year I moved from London to Spain. This destroyed many of the trees in the gardens and Jon explained that they had learnt many valuable lessons from the storm, one of which was from a Quercus Ilex that the wind literally picked up and plonked back down in the same spot (rather like re-potting). They left this tree alone and were shocked at how healthily and well it budded in spring. they have realized that trees will grow healthier if the soil their roots are in are de-compacted once in a while. I asked if they had worked out a method for this in the gardens, and he said they hadn't, so I have suggested that they use a machine that olive growers use to harvest their crops. This video shows one in action:
https://www.youtube.com/watch?v=2-5H6TkTci8
Originally this was done by hand. A net was laid on the grounds and the branches were beaten with a stick. Olive growers tell me that using this machine improves the trees vigour and yield.
abcd wrote:hello, th problem with your tree is the big branche on the right, that's a trunk, with chocolates tile, not a branch, and the bark of th future head off the tree have not this aspect , virtual project in cascade .

Hi abcd,
Thank you for the suggestions. I love looking at alternatives as often when we have a design set in our heads, it is difficult to look for other options. Your design would work, but I actually like that the "problem" of the branch being a continuation of the trunk. I like the flow it gives the tree, a bit like a big wave. Anyway, I really don't see a problem. the trunk will have branches growing off it as all trunks do, only in this case the "apex" will be the first branch. Corks oaks develop that bark quite quickly as the branches thicken so the proper apex will be ok in about 5 years by which time I expect it to be about an inch thick.
If you look at around the 10th photo. In the bottom corner you can see one I collected on the same day as a cascade. Unfortunately I gave it to a friend of mine to take home and pot up at his house as I ran out of soil. he potted it in the wrong soil mix and then left it in the shade for months. Unfortunately it never recovered. It's movement was as good as this one.

Last edited by mambo on Sat Jan 26, 2013 5:20 pm; edited 1 time in total
moyogijohn wrote:You really found a very nice tree !!! love the trunk on it..are you going to remove the large branch and start a new apex ?? my opion only no dead wood would be better,,just a opion....great find take care john
Hi John,
I have already started a new apex.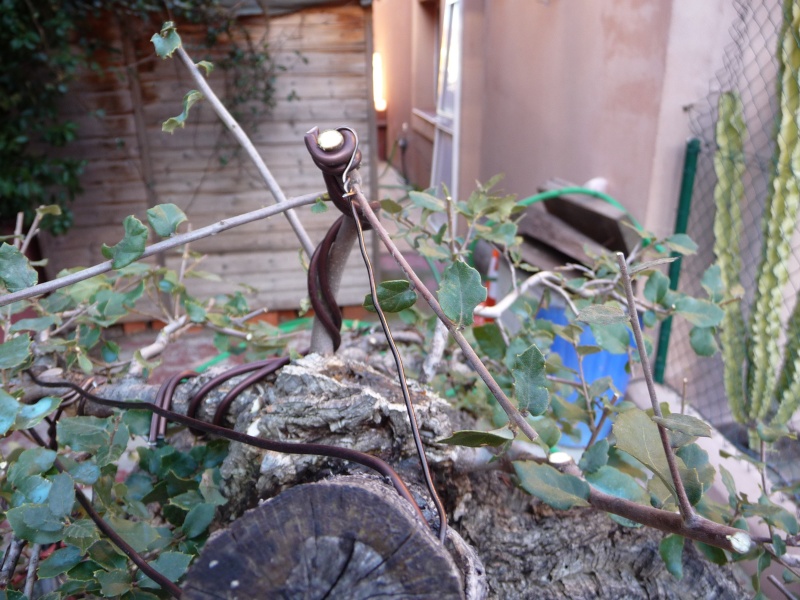 The dead branches are being used as anchor points. At a later stage I will either remove them or jin them.

---
Permissions in this forum:
You
cannot
reply to topics in this forum