"...Cheapnies
At the back of my garden
Cheapnies
How fine they are..."
Saved from somewhere near the nettles and the weeds taken out from the tomato patch,
April 2005
:
June 2007
:
Late June 2007
, before repotting :
Late August 2007
, much colder than this year, an atmosphere of Celtic legends (smoke provided by myself to enhance the fog) :
October 2008
:
August 2009
,
before
repotting :
August 2009
,
after
repotting :
I know it's a bit risky, I wouldn't repot a maple or even a pine in late August. But first, the tree began to show signs of asphyxy (too many roots in a small place, some leaves turning yellow in spite of regular and abundant watering, a lot of sun in-between, temp. between 13 and 25 degrees Celsius, a real hot summer...). And a lonicera is not a maple, so I took the chance.


AlainK

Member





I've repotted L. nitida in Late August without a problem. As long as you take good aftercare I'm sure yours will be no problem either (mine had exactly the same symptoms as yours).
By the way, that's a lovely little tree.

Chris.

Treebeard

Member





C'est bon Alain.
I am working with a few of these and find that it is very tempting to trim them like topiary. You tend to lose shape and structure and end up with poodle pom poms of foliage.
Every 2 years or so, I think you need to get right into the foliage pads and trim out all the over grown shoots and shorten the branches.
With lonicera nitida you can be certain that it will thicken up and sprout more.
The tree below was acquired from Harry Harrington and became very overgrown and leggy. This summer I finally tackled it with a severe pruning and it looks better imo.
As for summer re-pots, I think there are probably more trees happy with this than we think. I literally ripped a big lonicera out of the garden for my wife in July sans roots, pruned the daylights out of it and potted it up. A month later its gone mad with shoots everywhere.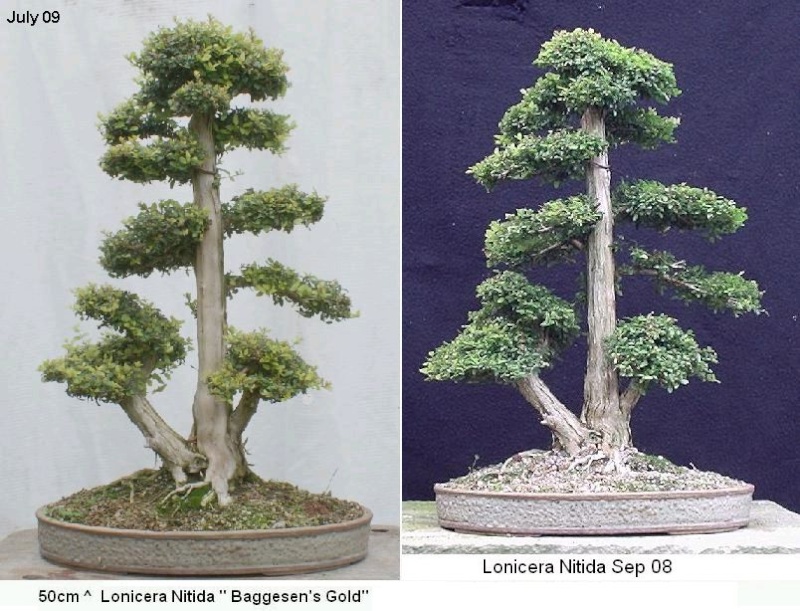 C'est bon encore.
ths
TimR

wabashene

Member





I can only agree with everything you've written.
I made cuttings on 25th August 2007, some thicker than my thumb and with very little foliage left, and they all took!
So I assumed that repotting such a plant with proper care wouldn't be a problem at this time of the year.
BTW, very nice celebrity you've got here. I like H.H.'s style a lot, it's often not as conventional as others' work, but very effective to my taste.
(the second one has still a long way to go, but it's fun

)

AlainK

Member






Walter Pall

Member





Once again, Walter is showing us excellent examples of what you can do with a species like this.

The problem is often that if you want a tree a decent size, you have to take it from the ground because they barely grow in a pot (and even when in the soil, they tend to develop long straight branches). It's difficult to find one with a nice movement in the trunk, and these are excellent.

AlainK

Member






---
Permissions in this forum:
You
cannot
reply to topics in this forum