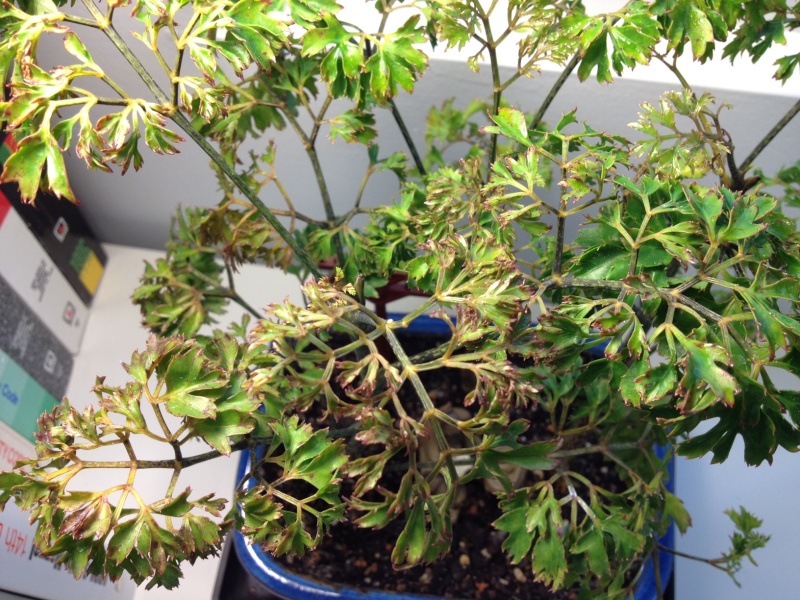 I bought 3 ming aralia plants about 2 months ago, put them in a bonsai pot with tropical bonsai soil I purchase online. They put out new growth on the top and have some small shoots budding out on the trunks. I water them when the top of the soil feels dry about 1/2 down. I use tap water and water about 2 times a week.
They are in a north facing window and I added a desk lamp to give some extra light thinking they needed a lot more light than the window would supply.
As you can see in the pic the edges of the leaves are turning brown. A few leaves have dropped.
What ideas for the cause?
Thanks
Hi, Jeffrey...
A few questions...Were the three trees you bought in separate containers? How much root pruning did you perform prior to moving the trees into their current container? What is the size of the current container?
The north exposure is probably not ideal....south or southeast would be better if possible. Is the desk lamp you are using have a fluorescent bulb? If so, what is the wattage?
The one aralia I have I summer outside, but now it is indoors with my other tropicals in an unheated garage (temp. stays in the low to mid-60's during December through March, usually). I water thoroughly twice a week.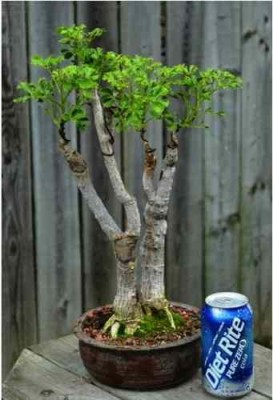 One last thing...could you provide a composition for your "tropical soil mix."
The new growth you describe is a good sign....I suspect your problem may be a combination of possible overwatering coupled with transplant shock.
In my experience the species is pretty resilient.
Hope this helps.
Regards,
Tom

Tom Simonyi

Member





They are also known to completely defoliate themselves at times making the owner think they are dead. Only to put out new growth in one to two weeks.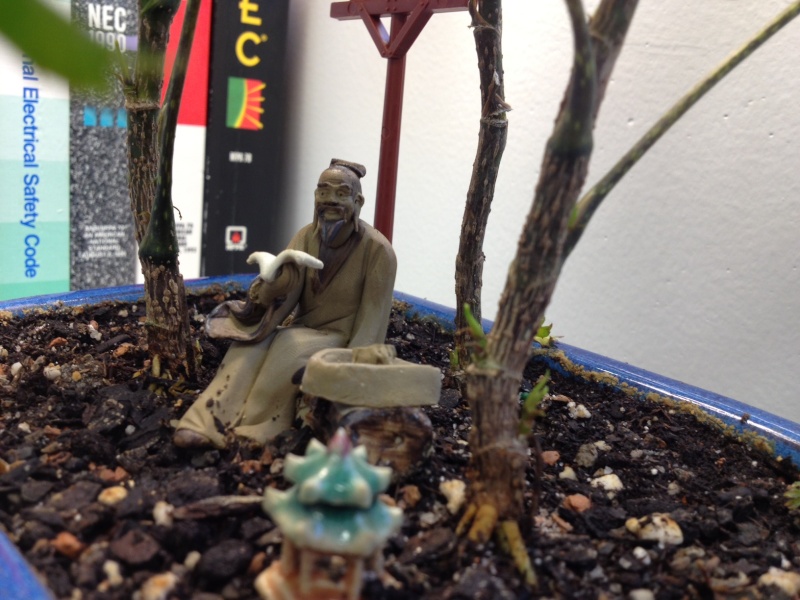 It was three plants in one container. I had to pull them apart to separate the three. I had to trim the big root going straight down (taproot?) on each one so they would fit in the pot. I would say I cut about 30% off each of the taproots and left most all others.
I used about 6 X 8 pot.
The soil did not say what the mix contained;
"Blend of ingredients appropriate for potting tropical and sub-tropical species". Packaged in 2 lb. bags.
Features:
For tropical and sub-tropical species
Packaged in 2 lb. bags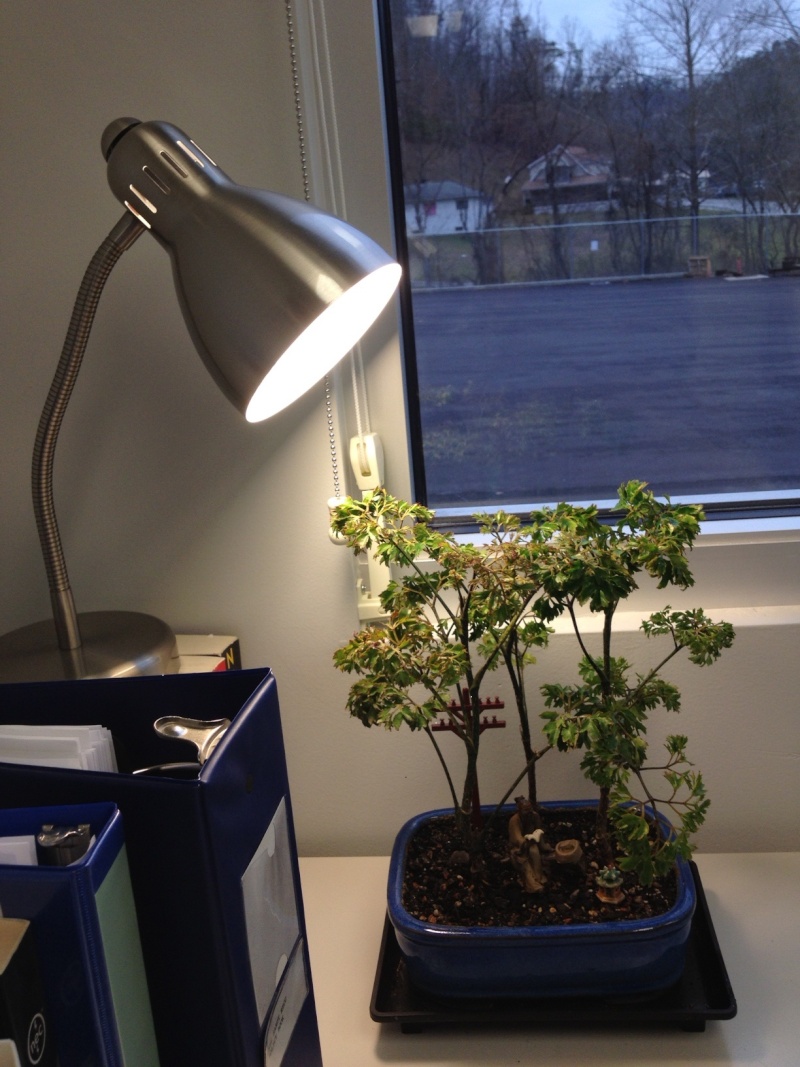 The lamp is a 75watt equivalent compact fluorescent 3000k. One bulb just a regular house bulb.
I am so accustomed to watering schefflera and ficus I may have overwatered some.
Thanks for any ideas.

Billy M. Rhodes

Member





Get a humidity gauge. I suspect your air is too hot & dry, especially near the lamp. Ming aralia is grown as a terrarium plant.
Iris

bonsaisr

Member





You might be burning it with that light. I have grown one before for two years before I got rid of it with just regular room ought and window. It was the healthiest plant I have ever had in the house. People have been growing these has as house plants without any special light treatment for 50 years. They grew out of fashion for a while and you could not find them at common nurseries for about ten years. Don't over think this tree and treat like any houseplant that people keep.
Thank you to everyone.

I will leave the light off for a few weeks, watch the watering more closely.
It is dry in my office so I will mist it a couple times a day as well.
I will post another picture in a few weeks.
Jeffrey Prater wrote:Thank you to everyone.

I will leave the light off for a few weeks, watch the watering more closely.
It is dry in my office so I will mist it a couple times a day as well.
I will post another picture in a few weeks.
i would hold off on the misting if it was me...take the lamp out of the eqation, and get the watering figured out first...honestly, eventhough it does like some humidity, it will also grow fine in the typical home atmosphere, and misting the foliage may end up leading to more problems if it is already being over-watered...i would guess that the humidity level is low on the list of possible causes, and would try to pinpoint the culprit first...if, however, humidty is a major concern, then maybe try a humidity tray of some sort as opposed to misting...
just my opinion.

Just Mike

Member





I removed the light and got a moisture meter.

I had a timer on the lamp set for 10 hours per day. Unknown to me the continuous on switch was thrown and since it was in my office I didn't know it was getting light 24 hours per day.


I will hold off misting for now.
After 6 days the meter was down to #2 and it felt quite dry on the top. I watered it and will watch it more closely.


---
Permissions in this forum:
You
cannot
reply to topics in this forum