Marmite is a spread that I personally absolutely hate! It prides it'self on being divisive, they even made an advertising campaign out of that concept.
See Here
This got me thinking about bonsai that seem to induce the same reaction in enthusiasts. We have all seen a tree in a garden, at an exhibition or in a nursery that for some reason we can personally find unattractive while the person beside you finds it to their taste. One thing can be said about Marmite Bonsai, they make you stop, look, discuss etc. Surely this is a good thing, one way or the other, as many trees just get overlooked. Dare I say Cookie Cutter bonsai?
I posted recently on my blog about a Larch that was reworked with a friend. I know that this tree is one such Marmite tree due to it's unusual base and jin. I thought it would be worth posting it here to let you decide if you like marmite or not

Also, do you know of a tree that would be considered Marmite? This is the place to share it.
Front
by
Bonsai eejit
, on Flickr
Full story of this tree can be found here
on my blog

Ian Young

Member





Hello Ian,
When looking at your tree I thought about the unique base and curve and thought about a recent photo I saw of a Shimpaku in a crescent pot... I have included the link:
http://www.bonsaiempire.com/top10-bonsai
I find many trees appear to some as marmite; beauty is in the eye of the beholder. I have one such tree that is a diamond in the rough, but many do not see it that way: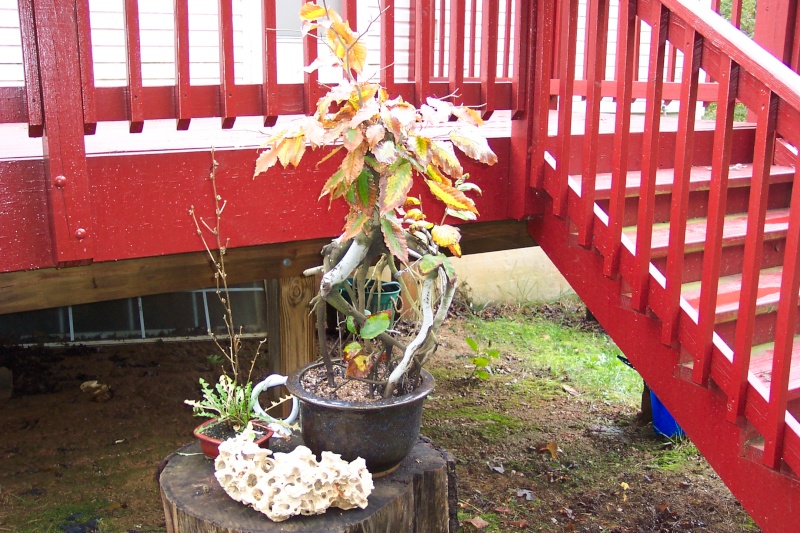 This collected American Beech will be a unique exposed root tree with many more years of reducing the top and then styling the branches. Buds are sprouting from two of the thicker exposed roots... I am very hopeful that this tree will become a very good specimen some day. Great thread here!
Best,
Todd
Last edited by Todd Ellis on Thu Jan 03, 2013 2:53 pm; edited 1 time in total (Reason for editing : edit)

Todd Ellis

Member





Hi Ian the tree is fine and I will always argue that we should celebrate the "uniqueness" in yamidori unless we can improve it.
For me I would change it, I would plant it deeper, it will take a slightly deeper pot, so that the trunk runs along the ground which will eventually root, this would take away the weakness of the image, ie it would look more grounded and I would take of the lower right hand branch because it has a very manipulated look to the bend as it comes from the trunk, which non of the others seem to have, it would also make it look a bigger tree.

Great tree Ian, I love Larch, o and I love marmite!!!!!!!!

Regards Chris

chris

Member





Hi Todd,
I love the Juniper in the link

I think that exposed root style is one that isn't routinely liked by most enthusiasts, but done right, I am a fan

Hi Chris,
Some interesting ideas there, I will pass them along to the owner whose head is well and truly turned with new options

I agree with you wholeheartedly about the uniqueness of yamadori being preserved and not altered to conform with the norm. That's what makes them a challenge, trying to keep this aspect, bending the rules, without making marmite. Oh, that's right. you like marmite


Ian Young

Member





hi Ian,
nice idea. i followed this larch on your excelent blog and it is nice to see a variation of the tread here.
if it were my tree..............(thats a nice sit on the fence way of starting



) i would cut off the two hanging roots as the larch is tough as old boots so will do perfectly well without them - with them gone the higher potting level is ok as the base becomes interesting and unique. if the owner is of delicate nature cut half way through each root, then 6 months later cut them off.
the cop out/safe/boring ! way to deal with the base is to plonk it on a rock or hide it but personally i would not do this as there are 100's of plain larches but not many interesting ones (duck the incoming flack now)
top............mmmmmmmm......the jin is too long for me - the bottom is unique so the tree doesnt need a top that competes for your attention as well. the top was created at a workshop too i believe, so isnt part of the original yamadori, whereas the base is
i hate marmite but like bovril...............this tree for me is a brown jar with the label washed off, cant tell from a distance if i like it as is

cheers Marcus

marcus watts

Member





Hi Marcus,
The owner is considering the rock option and was keeping the roots until repot time when he has to make his mind up. I have no doubt that they can safely be removed this time around. If memory serves the risk couldn't be taken last time.
I tend to agree about the 100's of plain larch comment[ ducking as well] I even have a few

You need to be careful about jars with labels washed off, you might end up with botulism instead of bovril


Ian Young

Member





Ian Young wrote:

You need to be careful about jars with labels washed off, you might end up with botulism instead of bovril
haha, yes - i bet - - -


marcus watts

Member






---
Permissions in this forum:
You
cannot
reply to topics in this forum