Does this pot and tree combination work for you
I'd like to know what people think about this paring of pot and tree. Thanks. Happy New Year to all.

Bob Pressler

Member





Bob
Happy new year!
I love the tree and the pot is awesome! But together not so much. The pot is a great color but for me its more of semi cascade style tree. I think a pot of the same color and patina in a oval shape about the same depth of the trunk diameter , it needs to be as wide as the canopy, would be just right. IMHO there are many more here with more experence that probably will tell you different.

Mitch
[img]
[/img]

abcd

Member






Bob Pressler

Member





Hell yes if had it I'd use it too! I have a camellia that would be perfect for it! Abcd where did you find it?

Mitch
It's a virtual of the original pot.

The more I look at it though the less I like it. The tree doesn't seem stable to me in it.

Bob Pressler

Member





Bob,
When I first saw this tree in this pot, I really liked it. The tree and the pot are both very nice. After reading comments here and elsewhere, I have decided I would prefer a different color and a more shallow pot. Knowing that you know far more than I do, I am hesitant to comment; but I think the color is too strong. This is a beautiful tree and the color is competing with the tree. I am attaching a color I would like better.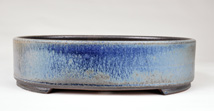 In no way am I being critical of the pairing but am saying I would prefer a color and shape/size that do not compete with a special tree.

rdennis

Member





I think the round pot works well with Sunip's virtual of the reduced tree. For the tree as it currently is though, I think a shallow, wider oval would work better. Something relatively plain.

Tom

Member





I wish I took better photos because the pot is much more subtle in person. The patina doesn't really show in the photo. The shallow pot with the tree reduced is better but I like it this way better.
I appreciate everyones input though. I'm going to live with it in this pot for a year or so and maybe I'll change my mind but I don't know from the first time I saw this tree I envisioned it in a pot like this.


Bob Pressler

Member






---
Permissions in this forum:
You
cannot
reply to topics in this forum