Hello everyone, I've been wondering for a while now whether it would be possible to do a tanuki bonsai using a rather large hawthorn trunk from a collected tree that unfortunately withered and died over the course of about 8 months after collecting and one or two plum or cherry 'whips'
Just wondering if anyone has tried it and if anyone has any advice about it?
I think you'll find that the traditionalists would frown on the idea, but I say go for it. Because deciduous wood is more susceptible to the elements, you don't often find deadwood on the broadleaf trees in nature(at least not for long before it rots away). Therefor deciduous bonsai are rarely designed with deadwood incorporated.
However, it would be good practice and an interesting exercise for exploring design and how it interacts with the decay.
There are a many ways you could go about doing this. One would be to carve up the stump to design including channels for the whips. Char the wood with a blow torch and soak it in wood hardener before adding the live elements. My fear is that in the time it would take for he whips to grow big enough to be a viable part of the design, the deadwood would have rotted despite the earlier efforts, perhaps to the detriment of the health of the prunus.
Another idea could be to use a bunch of whips from cuttings of the same prunus, and undertake a trunk fusion. There are some impressive fusions out there especially of trident maple, but prunus can also be fused. I have a fused prunus (forgive me i have misplaced the species identification)that I started a handful of years ago just by twisting some volunteer seedlings together. The trunk has fused pretty well by now, but unfortunately, due to the genetic variability of the seedlings, the bark and growth characteristics are mixed and matched and will likely never attain a natural feel. An important lesson that I incidentally learned through the exercise was how much development could be accelerated by planting in a pond basket and letting the roots escape. I'll try and post a pic in a bit for giggles.

MrFancyPlants

Member





Wow, I went through the effort to a snap a pic and didn't even capture the fusing trunks at the bottom. Anyways this is years into the experiment and not a whole lot to show for my effort, but I learned a lot and more importantly, it was fun.
Here is a similar Japanese maple effort that I ended up planting out. I think I'll just let this one go, but you can see some nice fusing at the bottom.

MrFancyPlants

Member





I have seen it done with Ficus. Maybe the resulting "look" suits conifers better?

Billy M. Rhodes

Member





while practicing and experimenting try everything you can, with any tree types and species. 99% of the early stuff you play with gets passed on, sold, donated etc so i wouldnt worry about what is right or not at this stage

cheers Marcus

marcus watts

Member





I decided to use a collected apple clump to graft to a piece of juniper drift wood. The tree has a long way to go but I am please that I decided to do something different - deciduous phoenix graft. After two years the trunks are starting to grow into to the driftwood. My photo shows some of the tree (bottom center); I don't have a better photo, but hope you can get the idea. I believe that the "art" in bonsai includes that we take risks and try new things. My vision is imagining this tree with contrasting blooms and driftwood, as well as driftwood and apples. Go for it!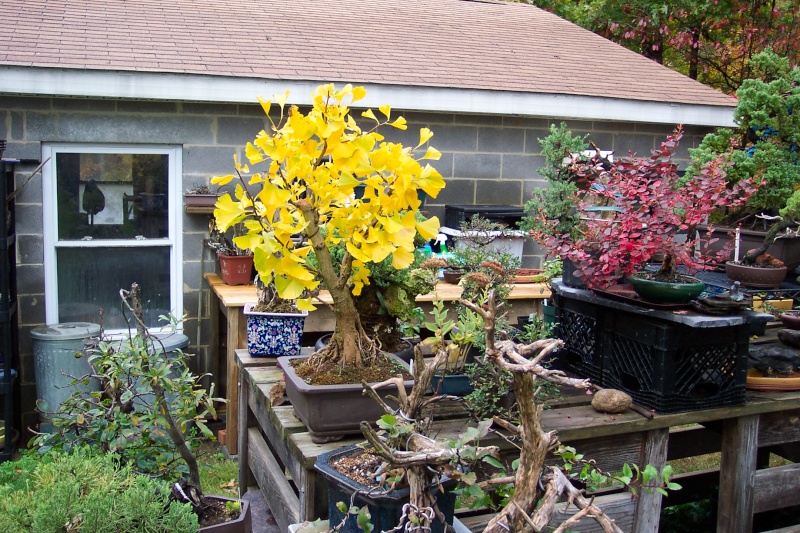 Last edited by Todd Ellis on Mon Dec 24, 2012 3:17 am; edited 1 time in total (Reason for editing : add text)

Todd Ellis

Member






---
Permissions in this forum:
You
cannot
reply to topics in this forum