My name is John and I am kinda new to the Bonsai world, my new found stress relief. About 4 months ago I purchased this kingsville boxwood from Lowes, simply couldnt resist the natural rot on the trunk. I cut and pruned some but still cant quite get a real sense of what would look good, any ideas would be greatly apreciated. Also styling help on my corkbark elm (7 years old with a big knob on upper portion) and greenmound juniper would be helpful.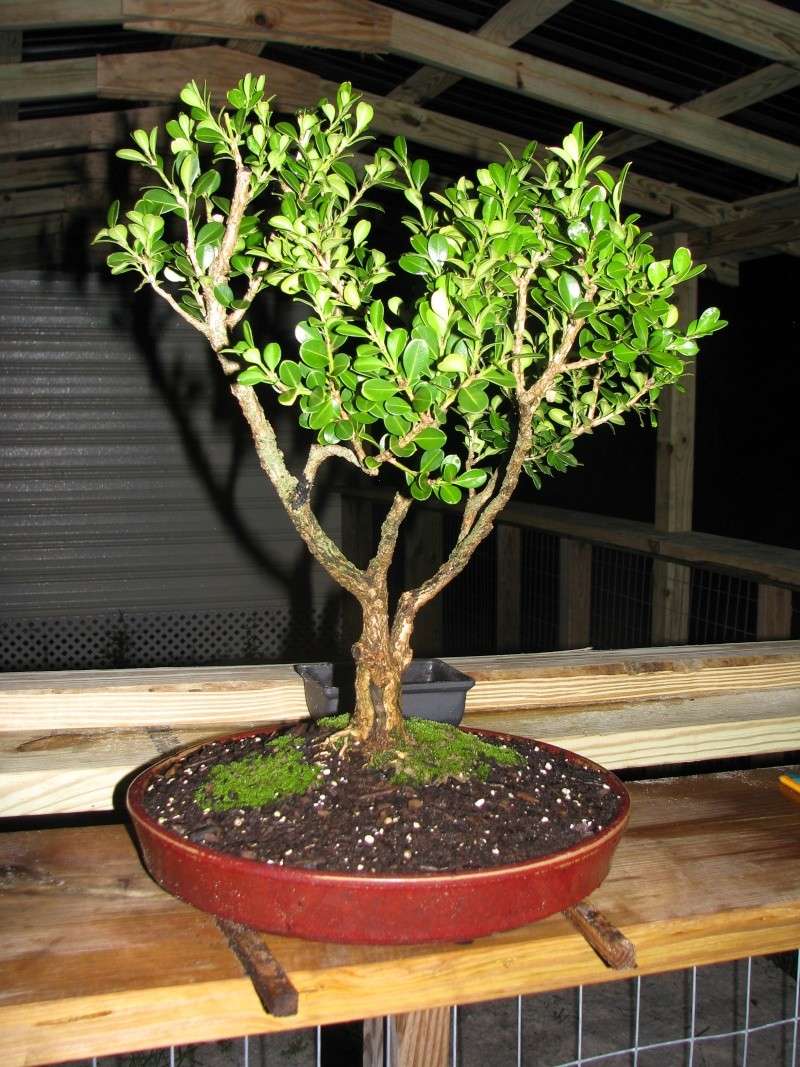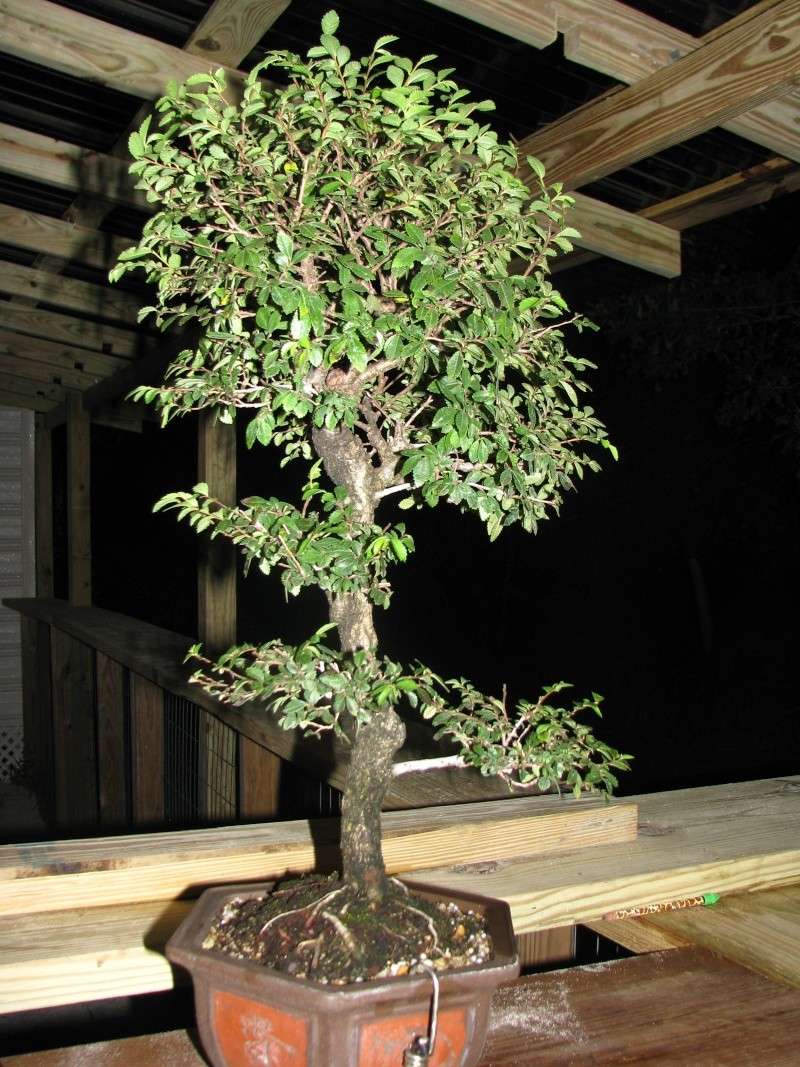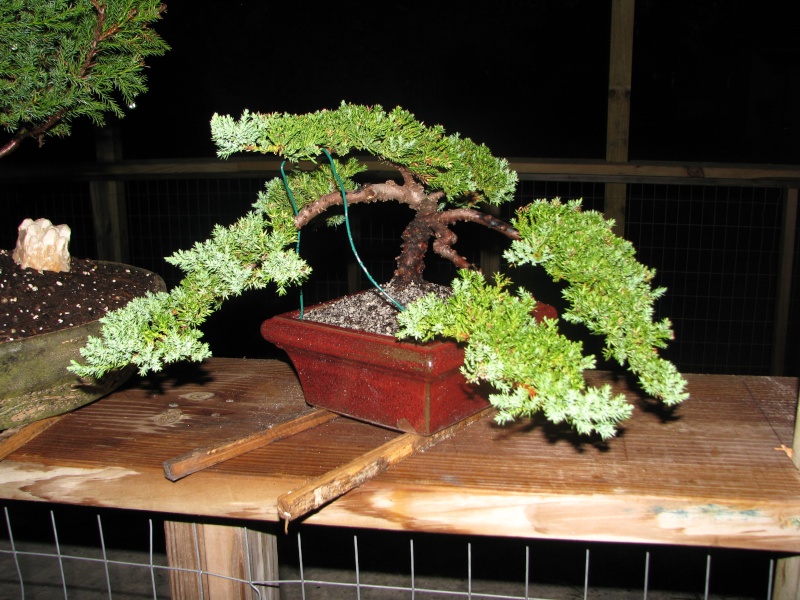 JLudlam

Member





The box needs to be cut back by about 3/4.

Your Chinese Elm would be a very good candidate for air layering next spring.

The juniper, I'd cut at least half off each pad and plant back in the ground. If it backbuds, sometimes they do given this treatment, it may eventually make something more useful than I see now.

_________________
"It is not the strongest of the species that survives, nor the most intelligent. It is the one that is the most adaptable to change." - Charles Darwin.

Kev Bailey

Admin





I would agree with Kev.
Elm airlayer very easily and develop pretty fast as it is. Don't be hesitant to do some drastic work on this tree. Just be certain (as w/ any tree) that it is 1) Healthy and 2) the work is being done at the appropriate time of year
The juniper will back bud as well, most procumbens do so readily. You may want to take off the bottom left thick branch entirely...leaving just a couple of inches. It is pretty strong & very thick. Let it dry and then make it a jin.
I do not believe this is a kingsville box. A kingsville this size would be very old. They also usually have much much smaller leaves.
Great you have some projects to work on...be careful w/ you new found stress relief, you may find yourself stressing over bugs, diseases, watering, weather, finding the right addiction support group etc......

That is a Buxus mycrophylla, the common boxwood. I hope you didn'y pay Kingsville prioces for it.
They do make quite nice bonsai, though, and the trunk on this one is quite nice. Do NOT let the moss grow up the trunk of the tree. It will ruin the bark!
I think this is probably what Kev had in mind. It seems like a lot, but these are hedge plants after all and they bud back amazingly well. If you can wire that left hand branch in the direction indicated, that will save you some problems. Don't try to bend it back, try to twist is around. You may have to do a half twist this year and the remainder next, but I think the branch is small enough to survive it all this year.
Notice how the trunk LOOKS fatter when you take so much of the trunk off of it.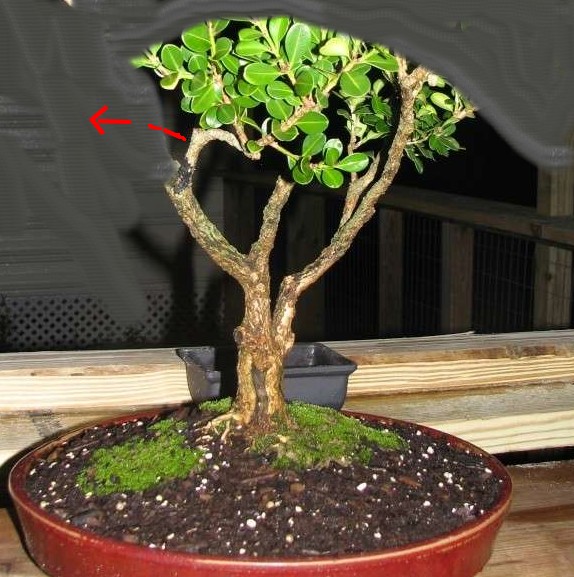 _________________
Jim Lewis - lewisjk@windstream.net - Western NC - People, when Columbus discovered this country, it was plumb full of nuts and berries. And I'm right here to tell you the berries are just about all gone. Uncle Dave Macon, old-time country musician

JimLewis

Member





Thanks for the input, I will definatley try that on the boxwood. To the response of paying to much the answer is no, it was only 10 or 15. Cant really remember which one. Oh and stress relief in my mind is anything that takes you away from this fast pace life. When spending time with the bonsai, that is all that is on my mind. Again thanks though,

JLudlam

Member





One thing to add to Jim's advice. Box wood can be tough to bend, AND have a bend that stays puts. It is very hard wood.

If you are thinking of a tree that tall,
Another thing you could do here is to chase a bud back to that spot by trimming the tips back to a couple leaves. This way you would not have that big big bend in such a thick branch higher up the tree. Just an alternative. By the time a bend like that can stay put on it's own without wire you could possibly grow a new branch.

With that lower trunk, a shorter overall tree may also be a good option for you to consider.
it was mentioned to me to air layer my cirkbark elm. I was wondering if anyone could give me an idea.

JLudlam

Member






---
Permissions in this forum:
You
cannot
reply to topics in this forum