Hi Friends,
How about a positive spin on this topic of "zone envy" as Rob has dubbed it . Let's say, as in outer space, there is an experiment or challenge to live or perhaps thrive in a completely hostile atmosphere. This is how I see my efforts to grow tropical bonsai in Minnesota. I don't have a green house and I keep it simple but neither do I put them in the window and forget them until summer. I have two willow leaf [neriifolia] ficus , one which won Best of Shohin in 1997, a "Too Little" ficus forest, a nea buxafolia from the spring auction, several ficus cutting , 2 bougainvillea both of which flower during the winter and they advised me against it at the Chicago show in 1998 ... a buttonwood.
I knew the buttonwood would be a challenge and so far it is doing well. I wish I had all the photos in jpg from 1998 but I'll have to start in 2004.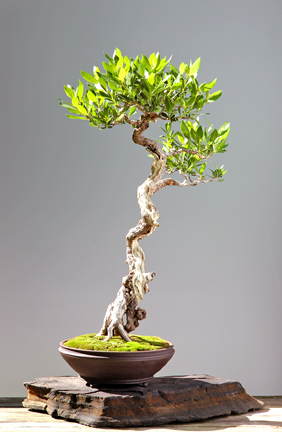 The buttonwood is 25 inches tall.
This is in 2005 and the next photo will show makeover.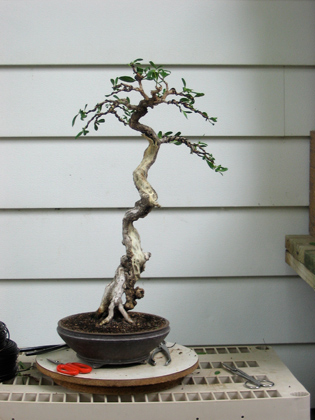 This is the photo I took today. I've had the buttonwood for 11 years and I know there is much I can do as growing the left branch to balance the flow. I've thought about removing the right lower branch however it's at a vulnerable bend that is hollow. Any advice is welcome!!
Norma

Norma

Member





Challenge or not I still like what you accomplished with this tree

Rick Moquin

Member





Norma,
Great work! Very nice tree you've developed there. I've never kept a buttonwood, compared to ficus or boug what type of challenge do they present?
I've got one tropical left, a bougainvillea and I'm always on the fence about selling/trading it.
I now devote my winters to prepping for spring

, which usually means surfing the web looking at pics of great old pots.
Thanks for sharing your tree
Neil
Thanks Rick ... from you I consider it high praise

Neil ... the buttonwood has for many years had it's own high intensity sodium light. It is now sharing with a rare South American tree [ erythroxylum havanence ] and a new nea buxifolia. The buttonwood is wintered for six months and I think I've finally have the perfect setup for it. I have converted my small basement workshop for these tropicals. Here's a picture: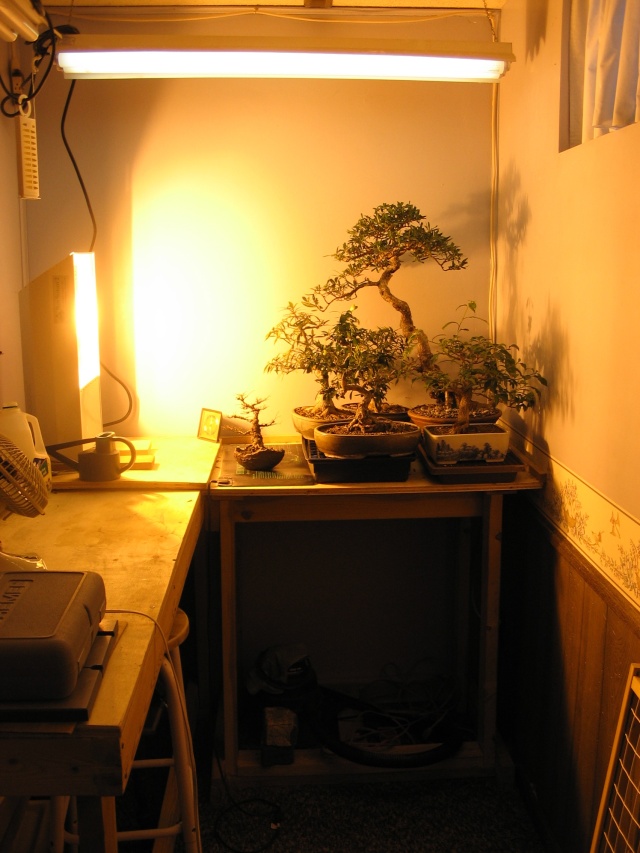 My other tropicals are on a shelves under florescent lights in the kitchen. Bougies are easy except they get "rangey" but I love the flowers !
Norma

Norma

Member





Very good job growing the Buttonwood - that's a difficult tree to keep indoors.
I know of a gent in Winnepeg that has very low cost natural gas and he is able to grow Buttonwoods successfully. Most people would spend over $4000 a winter keeping their green house at 82 F but that's what he does.
I didn't see any Ficus Benjamina?
Does the buttonwood ever live outdoors in your climate?
As for the growing lights, I view bonsai as an art and even when growing like to display the trees in a nice environment. Keeping them under lights in a laundry room would not be my cup of tea.

This is one of my buttonwoods - grows outdoors year round on a nice pedestal.
The pot is about 36 inches across.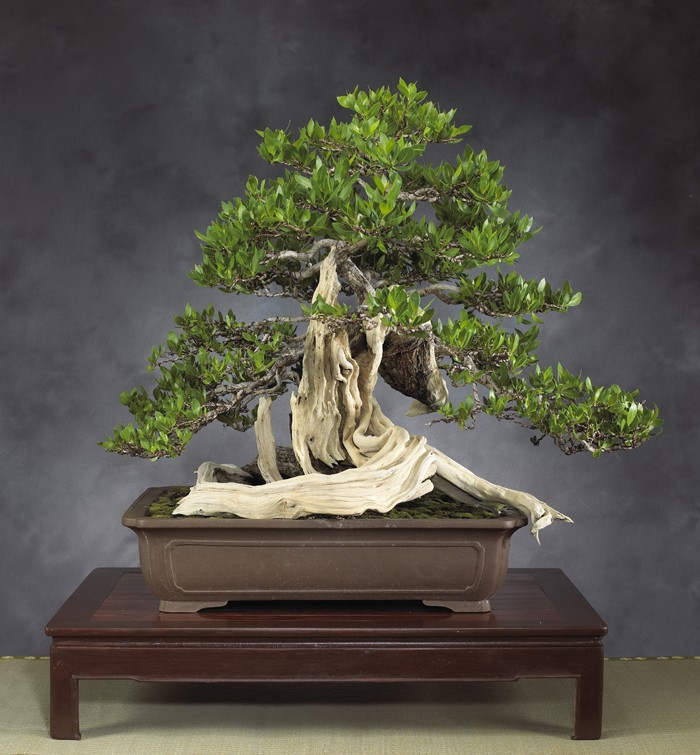 Rob Kempinski

Member





Hi Rob,

What a beautiful buttonwood ... it's pristine ....! I'd love to hear it's history ! How often must you treat the deadwood and do you use straight lime sulfur?

My bw gets to enjoy late spring , summer and early fall until temps fall below 60 degrees F. Believe me it's pampered and gives back what it is given. I think my fondest memory was when after judging our annual club show I saw Boon quietly standing in front of my bw and as I approached to get advice, he bowed to the tree saying "this is an old soul".

Thank you for sharing .... any others?

Norma

Norma

Member





Norma,
I kept a similar set up in Illinois in the basement. I had (12-16) 48 inch long growlux bulbs suspended from the ceiling as well as a couple fans. The trees sat on a table above the floor drain. I found they really liked the heated mat under the pots, kept the roots toasty.
That was all too much darn work!

Have you ever considered the propagation heating mat?

Your trees don't seem to know they're in the arctic, a testament to your knowing your trees.

Neil
You are more than welcome my dear. I always give credit where credit is due. Boon was right and Robert would definitely support his comment. I appreciate the scale comparison of your set up, I didn't think it was that size.
I love the composition but more than that, I love the way it was photographed. There's not only a sense of balance and harmony in the composition, but the shadows on the backdrop make for an exciting picture. Bonsai are meant to be viewed in person as photos are often very static, this one is anything but... Well done!!

Rick Moquin

Member





Neil ....
My little room gets very warm with the door closed so I haven't used the heating mats this year. But I do use them in the early spring when I give my newly repotted subtropicals a few days in the tropical room on the heating mats. I learned this hard lesson after losing a Best of Show boxwood to a cool wet spring !
Rick...
The photo was purely an accident

I didn't have the patience to wait for the shade and once I did get a shade picture, it fell flat when I saw this photo. Glad you liked it

Norma

Norma

Member





... as Bob Ross used to say happy little accidents


Rick Moquin

Member





Norma,

Under your limited climatological condiciotns, what you have done is indeed very commendable. On another note, due to the lack of a tropical environment, the leaves on your tree are ruffled. This also happens in the tropics when they are left in the shade.

I, seldom, cultivate conocarpus as bonsai material. However, i do own a couple. In southern Puerto Rico, these trees grow in coral rock, along the sea shore. When growing in their birth place, they display very thick, tiny and lush growth. As these are frequently 'misted' by salt spray, salt accumulates peroidically in their systems. I too spray them occasionally with salt water, achieving the same results. The leaves are tiny and very thick, both characteristics that are sought after in bonsai. In my formative years as a bonsai afficionado, i noted a reccurent problem in my conocarpus trees; leaf rust. I tried everything to get rid of it. After many years, i saw that coastal conocarpus didn't suffer from this problem. Luckily, and after periodical treatment with mild salt solutions, my trees no longer suffer from fungus and rust.

Kind regards,

Jose Luis

Note: I do not advise you to treat your tres with salt. In my environment the trees are in constant growth and salt content within the structure is already present. In those trees that had been grown without salt water, mild solutions were given to augment the salt content in the tree body, progressively.

jrodriguez

Member






---
Permissions in this forum:
You
cannot
reply to topics in this forum