hello,
again i have a pot with unknown signature, this time from a friend .....he also found a japanese link where a similar pot
is offered for sale, for quite a bit of money (for such a small, unspectacular pot)
there is a difference...the hanko on mikes pot is a positive and the hanko in the link is a negative......earlier work, later work or a fake ?
please be so kind and take a look...maybe someone recognizes the hanko.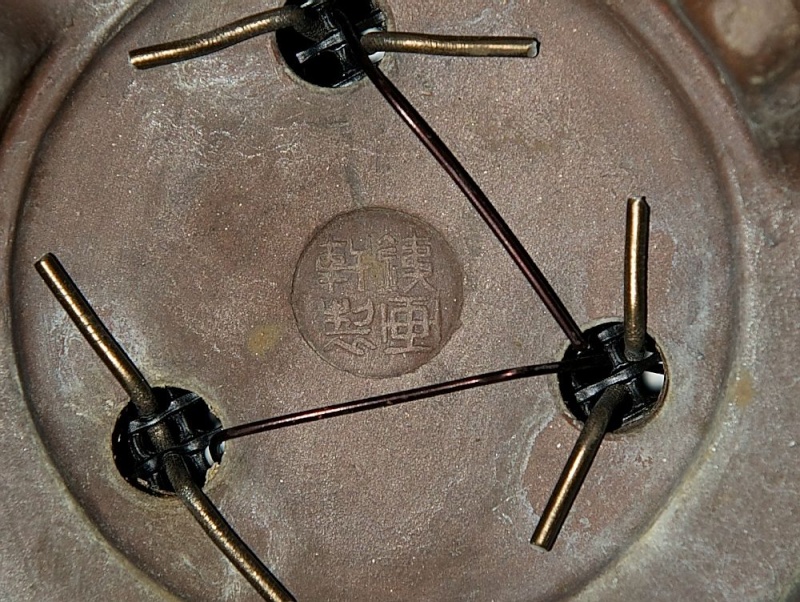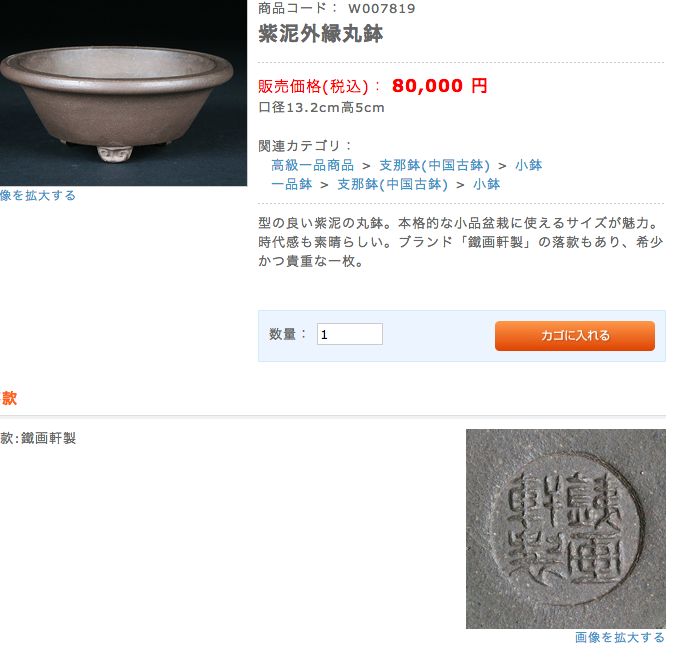 thanks in advance for your time and patience
kind regards
ladi
Ladi,
It's quite expensive because it's a middle crossing Chinese pot, that being said, from Kinbon that's a little overpriced, I'd say market is more 50-60. it's actually pretty rare for forged antique Chinese pots to have forged stamps. For a forgery of this grade to be possible, the forger would have had to use either a Computer routing machine with the image of the chop(and I think it would be closer if this was the case) or have one of the original pots, create a cast of the chop, then fill the cast, creating a duplicate stamp, in this case as well, I think the Chop would be closer to exact. I think this is a case of a different stamp used by the same kiln, or perhaps it was misstamped, or flattened a little be firing. Does the pot have legitimate patina? Are other details, such as the clay type, also correct(this kiln used this grayish clay, a deep rich red, and a brown). Are there tool marks that match?
It's common for enthusiasts to look merely at the sign or seal to determine authenticity, but in this day and age, this is the LEAST accurate way of detecting forgeries. With the advent of technology and computers, a machine router with a diamond bit and the right program can create an identical copy of an impressed seal in an already fired pot...while the chop should be one of the first things you look for, if it's real off its a bad copy, it is by no means the only thing, or the most important thing, you should look at. Your stamp matches well with the image in Bijutsu Bonkei. Without handling it I can't be definite, but it's unlikely it's a forgery.
Ryan
http://japanesebonsaipots.net/

hello ryan,

thank you very much for your reply.....mike will send me better photos of the pot. i visited him and took a look at the pot.
hmm, what should i say...the pot is well used, also some signs of patina are present. the chop looks as already made before
firing....would say original.
please be so kind and explain me what you mean by middle crossing chinese....about which age are we talking ?
the "original pot" in the link have less patina than mike`s.....? also the pot in the link has that greyish clay, mike`s pot brown.
maybe you are so kind and take a look when i post the other photos
thanks a lot and kind regards

ladi
Ladi,
Middle crossing Chinese pots were made from 1816-1911, so that makes this pot over 100 years old.
As I said, this kiln used gray, brown, and red clays. Here is one that was for sale from Yorozuen a couple months ago....it was 200,000¥+. It's the rare and useful red clay.
http://www.yorozuen.info/yorozuen/tushinhanbai/ippinkobati223/i03/i03.htm
Ryan
http://japanesebonsaipots.net/
hello,
i just received some new photos of the chinese pot from mike...so i resized some of them so you could take a close view.
thanks a lot in advance for time and patience......please also take my apologies due to the dirt on the pot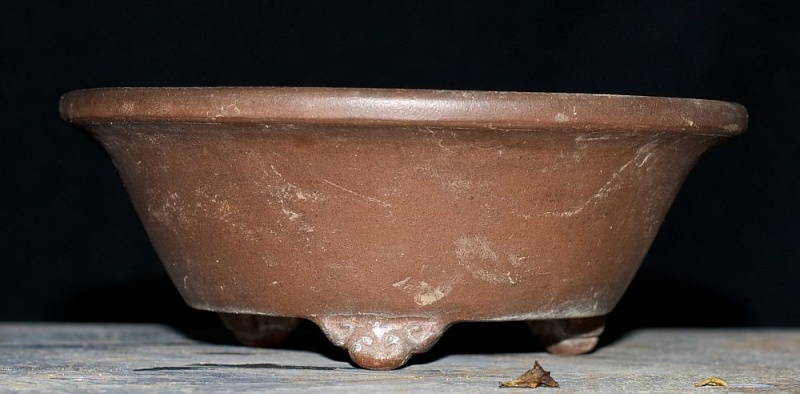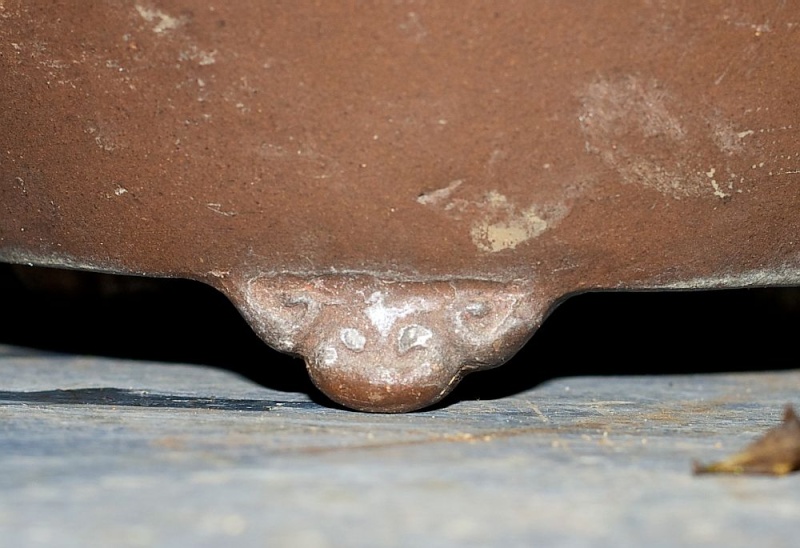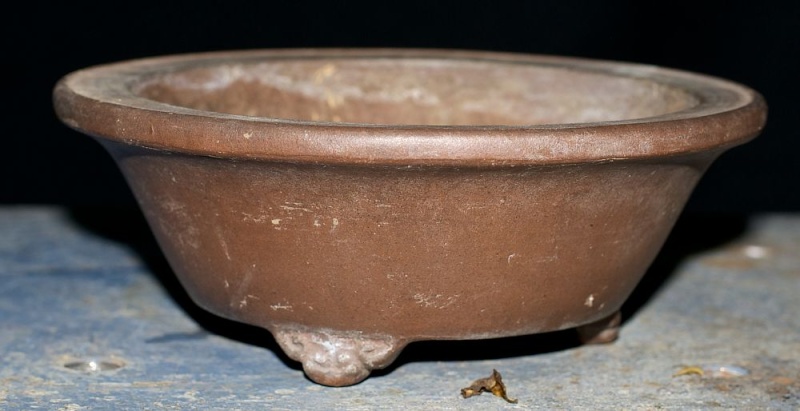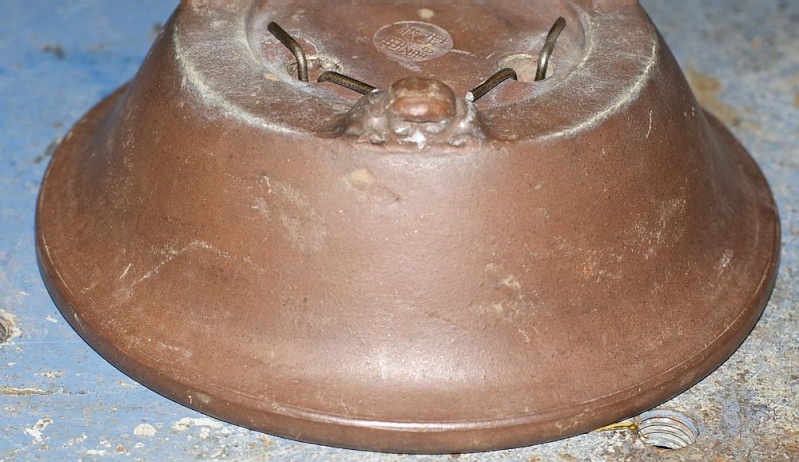 kind regards
ladi
---
Permissions in this forum:
You
cannot
reply to topics in this forum