I always find interest in posts that show the development sequence of a tree over an extended period of time, so I want to contribute one of those for others to see.
The subject is Japanese Black Pine, Pinus thunbergii. I wouldn't make any claim that this is a superior specimen, but I enjoy it and it has changed a good deal over the past 16 years that I've been working on it.
This first image is from January of 1993, showing the tree as it was when I first encountered it. It had been growing in poor conditions, with too much water and too little sunlight:
Here is the tree later the same year. Nothing has been done to it beyond growing it strongly, to fill it out and recover its health: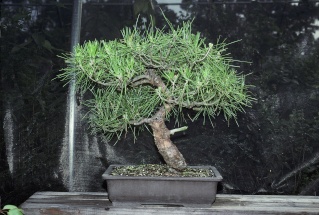 Two years later, 1995, the tree shows much better health and the effect of some preliminary training. Work has begun on continuing the line of the trunk and creating a top. I was unhappy with the base of the tree because it lacked any surface root on the right side. In this picture you can see that my response to that problem was to do an approach graft on that side, using another, younger P. thunbergii:
In this 1997 image, the tree has been drastically thinned out and wired up. As I look now at what I was doing, I think it was unfortunate to have continued the zig-zag pattern of the trunk line in such a geometrically predictable way. But I was learning as I went, and the books I was reading seemed to suggest that this was the correct thing to do. It's not necessarily bad, but it is rather obvious. The upper part of the approach graft tree has been removed, leaving behind the roots to help fill the void on that side of the base. Unfortunately, the graft did not take. Again, I was learning as I went: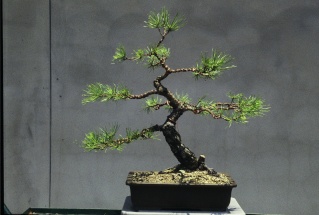 The next picture I made of this tree wasn't until 2003. It's filled out agreeably, although as I look at it now it's fairly obvious that I hadn't been doing much with it. Having a large collection usually means that a lot of work that might be done goes by the boards. I find that I tend to let pines slide a little because I know they're growing relatively slowly, so they're not going to get out of shape as fast as some other things, like maples, for example. I think, too, that it isn't always a bad thing that we can't do everything we might with our trees, because all that bonsai training is generally stressful to a plant. Allowing them some time to just grow is good for their overall health. Letting them grow too much can set back their bonsai development, but stressing them too much can set back their health, and that's worse. At any rate, when this picture was made I don't think I was in any danger of over-stressing the tree:
Three more years pass and it's the summer of 2006. The tree has filled out some more and it looks agreeable enough, in a generic-pine-bonsai kind of way, but it has grown just about as much as I could feel comfortable with letting it go. The crown feels way too big, too heavy to me at this point. There are elements about its basic design that bother me, too, but I'm the one who made it look that way. Ideas change over time. My ideas about shaping pine bonsai have changed, a lot, and as I looked at this tree I became more and more dissatisfied with it. Some things, like the too contrived zig-zag pattern of the trunk, would be hard to change at this point without doing something drastic that might set the tree back a decade or so. Whenever I consider doing something like that, I have to question if the end result would warrant the effort. Every tree has a certain limited capacity for perfection. By that I mean any given tree can look only so good, can get only so close to what might be thought of as ideal. It's the "can't make a silk purse out of a sow's ear" syndrome. Many young people and others who are feeling their oats take some degree of pleasure out of hurling themselves up against the wall of such thinking, but at some point you recognize that there are limitations in the tree, and yourself, that you're just not going to overcome. By the way, I had arrived at an alternate solution for what I had perceived as a problem at the base of the tree, on the right side - I decided to accept it the way it is and not feel bad about it: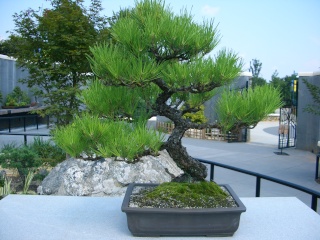 Having said all that stuff about recognizing limitations and being accepting, I have to add that it's no virtue to be complacent, either. I didn't do anything much stylistically with this tree through all of 2007 and most of last year. I did the candle pruning and chased back a branch or two, but that was about it. In November of 2008, however, I brought this tree into the shop and spent a few days with it. It took just a few hours to do the work, but I had been looking over the tree and thinking about options for the better part of two years. The woodworking guy on Public TV says to "measure twice and cut once", but in bonsai it's more like, look a hundred times and don't cut unless you're sure. I've been pretty long winded in this post, but I'll make up for it now by not saying much about what my thinking was on the redesign of this particular tree. You can look at the picture and figure out where I'm hoping to take it. One comment though; it's funny to me that after all this time, I'm still working on developing a nice, rounded crown for the top.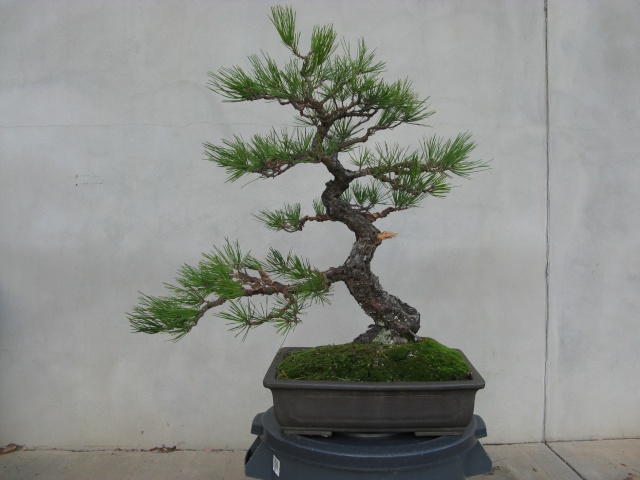 AJ

Member





Hi AJ, I like where you have taken this pine, like some of my trees this one seems to have taken You on a journey of understanding.
Time in a pot does a lot for a tree and I think this one has matured nicely. That is one of the things that I really love about Bonsai is the refining of a tree over time, it is always changing but at a slow pace and the longer you can keep it alive the better it gets even with some faults.
How tall is it?
Ken
PS Don't forget about the slab drawing.
Ken - You and I have similar views about bonsai. That journey that you mention, that's the real payoff, isn't it? You put years of work into a tree and watch it slowly become something, and all the while you're learning and growing with it. That, and the people that you meet along the way - those things make bonsai worth the doing, I think. This tree has gotten fairly large over time. It's about 30" tall now. Thanks for your comments. - AJ

AJ

Member





[quote="AJ"]
One comment though; it's funny to me that after all this time, I'm still working on developing a nice, rounded crown for the top.
quote]
Thanks for posting the sequence AJ.
You had a nice rounded crown in 2007

You could quickly get another one and help improve the zig zag by shortening the tree a few inches. Then with wire you could build the crown. Making the tree shorter will also make it more powerful.

Rob Kempinski

Member





You're right Rob - I did have a rounded crown before doing the restyling, and shortening the height of the tree would be beneficial. The two points are related, because the rounded crown was lost due to the desire to lower the top of the tree. Eventually it will be lowered some more, but not until the tree has a chance to recover from the latest round of cutting back, and hopefully produce some back-budding. I'll admit that in the picture it looks as if you could simply cut out the part that's sticking up at the top and that would bring down the height and cause the crown to look rounded again:
The problem is that reality and photography are very often at odds, and this is no exception. Seen in person, it becomes more obvious that taking out the branch that's standing up in the middle of the top would leave a gaping hole in the crown of the foliage. No doubt the tree would recover after some time, but in the meanwhile it would look even more disagreeable. I decided to follow a path that would get me where I wanted to go while providing better scenery along the way.
Here's a detail of the crown of the tree now, and you can see the wounds where a few good sized parts were removed: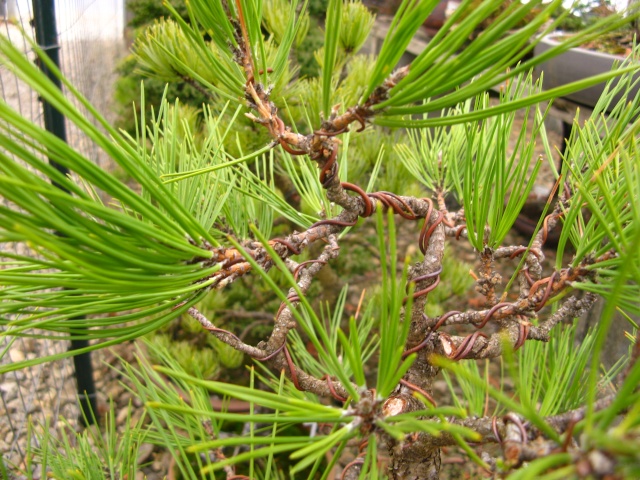 Here's another view, showing how the branch that is now standing alone at the apex has been compressed with a sharp bend to try and keep it lower: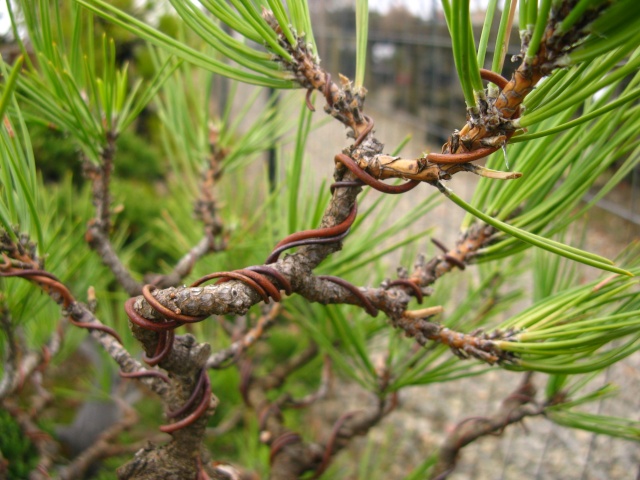 But it's still too tall. Getting back-budding on this tree shouldn't be a problem, though. Depending where it occurs and to what extent, the crown will be lowered in the future. In this picture, the line of the existing branch that forms the apex is indicated in red, with some places where buds will hopefully pop out indicated in yellow. The orange line shows where a cut could occur somewhere in the not distant future (all speculative, of course; we'll have to see what the tree has to say about it):
It's like my good friend, the noted philosopher Moose Faller, says: "You can't eat the whole elephant in one bite."
Rob, thanks for your comments.
Last edited by AJ on Fri Feb 13, 2009 2:33 pm; edited 1 time in total

AJ

Member





I've been pretty long winded in this post,
I for one appreciate your long windedness. Having your thoughts along with the pictures is very helpful. I also found it interesting to be 'inside your head' as you spent the years looking/growing with this tree. Thanks.

Carolee

Member






---
Permissions in this forum:
You
cannot
reply to topics in this forum