Hi everyone,
Here is my berberis that i dug this spring. It's doing great, has pushed a lot of growth since and because i know how brittle the branches are i wired them roughly in summer when they are full of sap and easier to bend without breaking some.
Now getting to the obvious part - there are two "styles" of trunks

- mostly there are some thicker and more attractive ones that are leaning to the left and some thiner ones that are bending towards the opposite side. There are also some smaller trunks that i can make use of them so those are not a problem...
Here is the only acceptable front and one from the side to make some dimension. Also my rough virt (in autumn colors

) of what i'm trying to do.
My question: What would you do with these trunks that make this appearance so disturbing? I can adjust all the oder angles but would like to make this front more pleasing.
[img]
[/img]
[img]

[/img]
[img]

[/img]
Any input would be very appreciated.
Best...
Gašper

GašperG

Member





Hi Gasper, I like that a lot. For me it would only be that one long trunk to the top right i would remove and fill up the space with the regrowth of shortening that one. Its always hard to tell for sure in a photo though.

Smithy

Member





Hi Smithy,
Thank you...and you are right - the tallest one is the only problem. If my memory serves me right you also have a rather big berberis stump, so you must know how those little thorns can tear the long sleeves

That's what you had in mind, right? Cutting that trunk would leave an empty space, but in a year or two it could look way better. Couldn't it?

[img]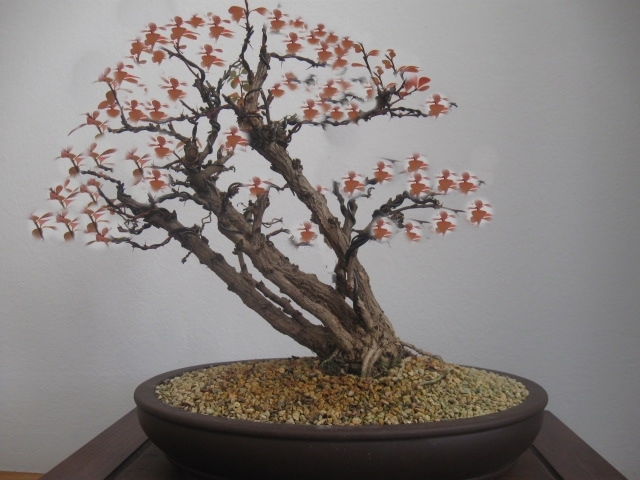 [/img]

GašperG

Member






GašperG

Member





Yes that could work well also. Looking back i like the look of the second pic without that same trunk but im sure in real life the whole thing is leaning away.

Smithy

Member





no, no, don't feel obligated to your first response....i missread the hint.
The trunk is bending as seen and has no interesting movement. Also, it has buds right where i made the "branch virt" lower down - so that looks like it might work. thanks


GašperG

Member





Only my opion,,but why not remove all the smaller trunks,,,tilt the tree more up right.. it will fill in on the 3 bigger trunks.. just a thought,take care john
Hi John,
I also considered this option, but there are a few factors that i think would not work in favor of this tree. - some nice surface roots would not be visible and i think there are no nice ones on the other side to make it worthwhile. Leaving only main three trunks would simplify the design which makes sense, but the base of the tree and the spread of the trunks would make a very unnatural appearance, even awkward.
Planting angle is the same as when it was in the ground and with this one i should go with what nature suggested.

Thanks John, thoughts are always welcome

GašperG

Member






---
Permissions in this forum:
You
cannot
reply to topics in this forum