Here is my tree, I watered it and i might have watered to much. My tree pot tho does have to screen hole likes in it. Early tho today tho I noticed that it had a black look at the trunk by the soil. So I am wondering is this a bad thing or is this pretty normal? Any help would be much appreciated. Thanks.[img]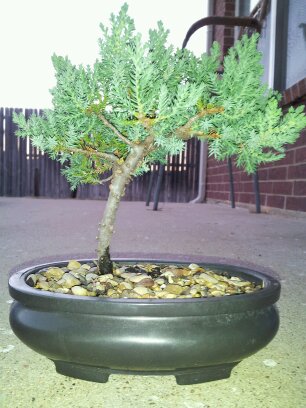 [/img]
As I said in the other post, the tree looks healthy, the black on the trunk is moisture or maybe the beginning of something else, if it really bothers you take an old tooth brush to it.

Billy M. Rhodes

Member





This might sound dumb I apologize but what might I do with a tooth brush? Also no it does not bother me as long as its healthy I am ok with it. I just want to catch it early if its something bad. Once again thanks for the reply, I reallyt apprecieate it, because of me starting as a beginner and totally naive about the simplicity of how easy it would be to care for. I will be babying it though so no worries there. I will try not to double post I know I mentioned it in the other post, just was worried thats all. thanks again

With the brush, you can mix a little water and dish soap and gently brush it off the tree. When you are done, just water the tree and it should be gone. Since I use a lot of shake and feed fertilizer, I usually get a green residue at the base of some of my developing trees. I usually brush it off once or twice a year. John G. has a video of him doing this to a boxwood if this helps.
https://www.youtube.com/watch?v=2xnJ03jMYaI

AdamDunham

Member






---
Permissions in this forum:
You
cannot
reply to topics in this forum