Its allways interesting to see what Lewis has with him when he comes along to the club days, today he had a juniper precumbance that he had fron Jerry a few years ago. He has made a marriage between a river stone (that he collected himself localy) and the tree.
This type of juniper needs a lot of maintanance throughout the growing season, consistently pinching all the new growth to produce these close foliage pads.
The tree is looking very good and it is now time to thin out a lot of the foliage areas and produce a much more ramified image, which will give Lewis even more work in the next growing season.
Thanks for bringing the tree along today Lewis, updates would be good after some wiring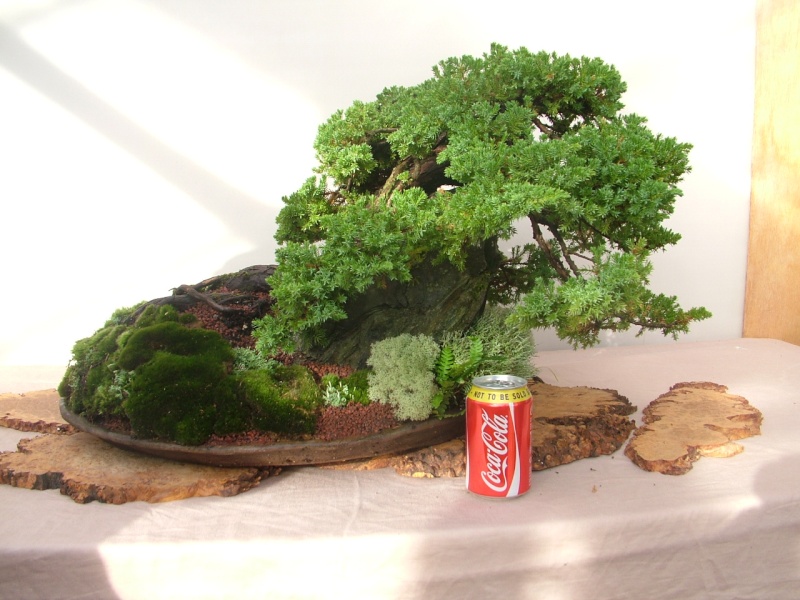 Regards Chris

chris

Member





Love the stone, like the tree; Splendid composition!
Todd

Todd Ellis

Member





Thanks Todd

Regards chris

chris

Member





I really like your composition. You have given me an idea for one of my junipers which has a similar trunk line and seems boring. I will have to find the right rock. Thanks for posting.

Carolee

Member





Hi Carolee, Thanks for the reply
I hope lewis will log in and talk about his tree

Regards Chris

chris

Member





Thank you for your kind comments. I originally imagined that this composition would be viewed from the other side but it did not show the trunk line and the foliage obscured the rock. I will next reduce the amount of branches to show the trunk line and wire the branches into position and form foliage pads. Lastly I intend to create sharis on the visible parts of the branches and a jin and shari on the dead wood at the top of the main trunk. Lewis.
Hi Lewis
Its a great project it will be good to see it progress

Regards Chris

chris

Member





Hi Lewis,
I am loving what you have created thus far, with a little more time this will be a very fine composition.
Way to go my friend.

Jeremy

Member






---
Permissions in this forum:
You
cannot
reply to topics in this forum