Hi everyone,
I gave this little shimpaku it's first haircut. Although the tree might not be the most interesting material around, I enjoyed to work on it and quite like the outcome.
Jins need more work and a shari would make the trunk more interesting but I will leave it to rest for a while. Since the trunk is rather thin and there were actualy not too many choices I decided to go for tall, elegant shape. There is still more green than needed but I did not want to weaken the tree before the winter.
Here are before and after pics. Tree is 40 cm tall from the rim of the pot. Sorry for the odd background, that's the only place with a good light for a decent photo. (and a bag of Whiskas completes the composition

)
Tell me what you think, any feedback would be appreciated
[img]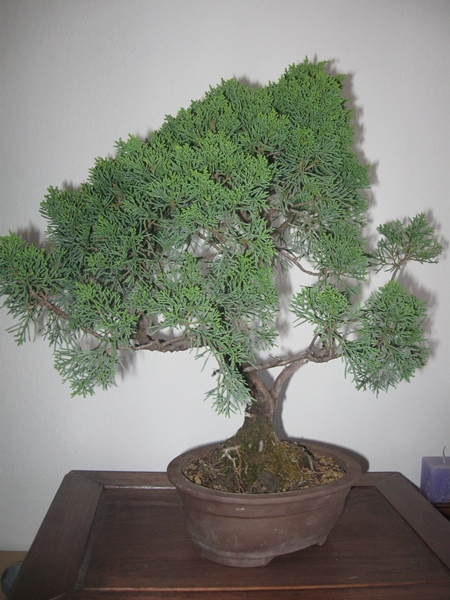 [/img]
[img]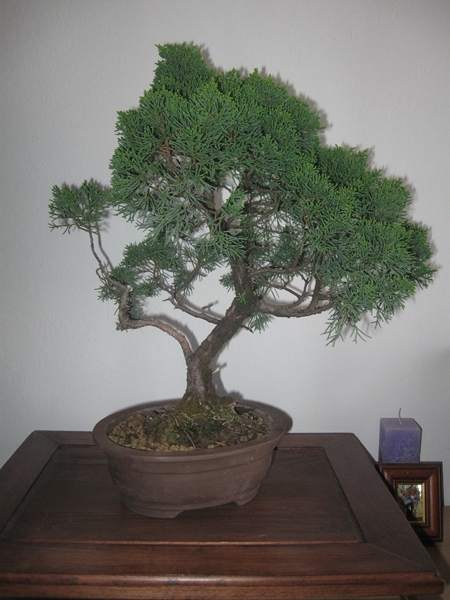 [/img]
[img]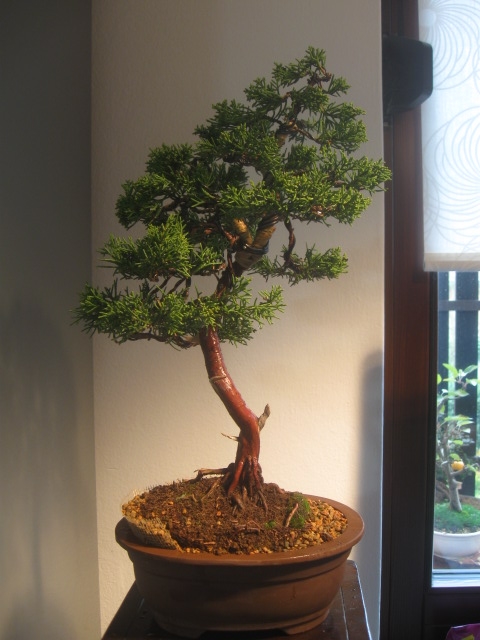 [/img]
[img]
[/img]
Thank you,
Gašper

GašperG

Member





Not bad Gasper. I like the last pic as front better...but is hard to say exactly from the pic...is better to see from real

yamasuri

Member





I would love to have this tree.

I havent found any nice shimpakus around where I live but, I think the foliage should be reduced because it is out weighting the trunk right now. The trunk has this nice feminine, graceful movement and the foliage is kind of clunky.

Jake16

Member





Hi Vlad,
Thanks, I did try my best... I have not decided on a front yet and the second photo does have more going on so...we shell see

Hello Jake,
I agree there is too much foliage left on there, but as I have stated, winter is comming and I had dieback on an evergreen before due to thining out the foliage before in autumn, so I'm playing it safe.
Thanks for your reply, I hope you will get one of yours someday


GašperG

Member





Good point about the die back, always better to play it safe


Jake16

Member





Nice styling GašperG!
I am just not happy with the look of exposed part of roots.
What do you think/plan with that part?
Taner

Sakaki

Member





Thanks Taner for your comment, glad you like what i did.

Well, must say I was disappointed when cleaning the moss and the old bark only to discover this mess at the base. There is the obvious exposed root and two more in front (on the first after photo). Options....hmm...one would be to plant the tree deeper in the pot next time but still keeping the odd root on the surface as an anchor for the tree that is leaning somewhat to the other side. Other two roots would then also be easier filled with soil and some moss to hide the empty space between the trunk.
I have also seen someone cutting and jining this upper roots when he found a better nebari deeper in the soil when repotting - but i am not sure of the result in this case.
If there are any better solutions i would gladly listen.
Thanks again

GašperG

Member






---
Permissions in this forum:
You
cannot
reply to topics in this forum