Is my understanding correct that most bonsai are made from spreading juniper over the upright varieties? I will be picking up a juniperus sabina soon but i was wondering if it would be worth my time to try with a juniperus scopulorum.
In my experience we have used virtually every shape of juniper as starting material for bonsai. We look at the tree (in nature or in a nursery pot) and simply decide if we seen a potential bonsai there. MOST -- but not all by any means -- juniper bonsai are probably Juniperus chinensis, and they come in all shapes.
_________________
Jim Lewis - lewisjk@windstream.net - Western NC - People, when Columbus discovered this country, it was plumb full of nuts and berries. And I'm right here to tell you the berries are just about all gone. Uncle Dave Macon, old-time country musician

JimLewis

Member





I don't know much about Junipers, and the first 2 trees I bought (a few months ago) were discounted junipers from a nursery because nobody wanted them. They were pretty ugly and still are, and I don't even know if my Sabina is alive. The label says it's a Sabina Arcadia and it's zoned 2a which is excellent for my location (zone 3).
I happen to have a picture of the trunk, but you can't really see whatever foliage there is. And in the background, the other juniper, a Danube.
I have 0 technique, but maybe it could be a raft style, one day, if it's alive? lol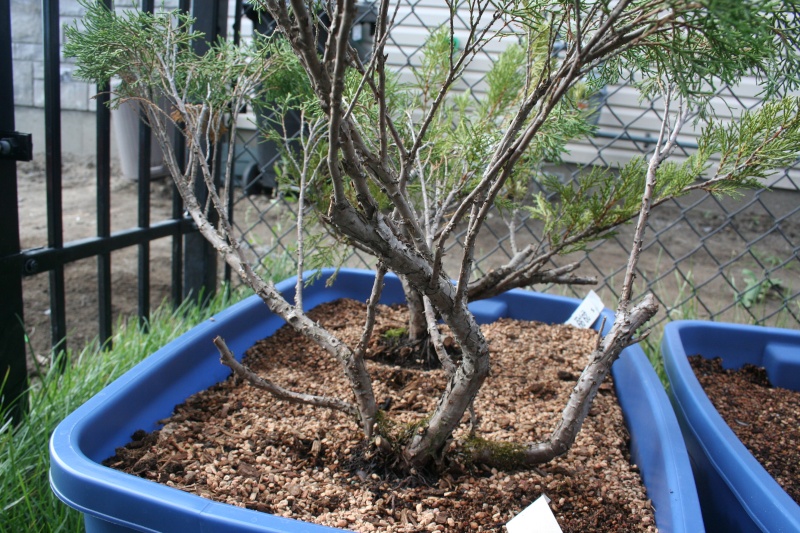 ---
Permissions in this forum:
You
cannot
reply to topics in this forum