Page 2 of 2 •
1, 2

_________________
Jim Lewis - lewisjk@windstream.net - Western NC - People, when Columbus discovered this country, it was plumb full of nuts and berries. And I'm right here to tell you the berries are just about all gone. Uncle Dave Macon, old-time country musician

JimLewis

Member





I think your right Jim but I didn't want to do anything more drastic chopping-wise until I see some signs of back budding. I am hoping to get some below this and then take out the lump or at least knock it down a little. I was actually thinking, if that master plan works, that I may chop it off below the lump and then do something in the way of a hollow trunk making use of the scar. I know with these it is a very long term plan but I will set in the back of the yard and let it do it's thing for while and come back to it in five years, I'm relatively young.
By the way, here is the other boxwood that was retrieved at the same time. The trunk is 4" in dia and if I can get it to give me some workable branches I think it could be a nice tree, again, in 5 to 10 yrs. Apparently I need more frustration in my life.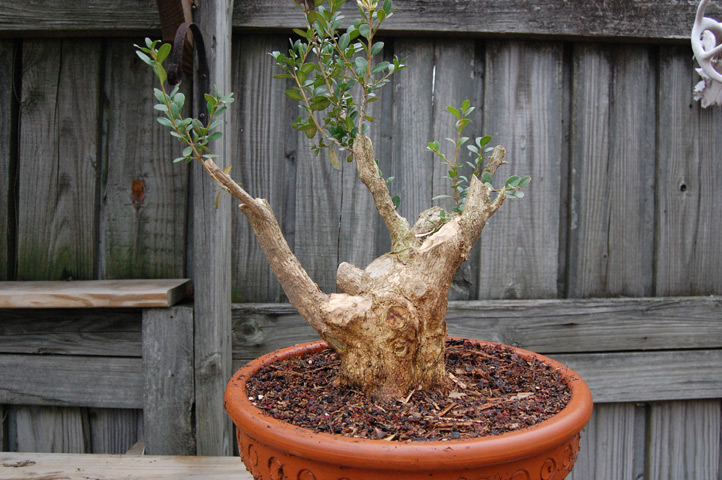 Jim Doiron

Member





I would air-layer the top to make a clump style tree. And later make the branch on the left into a short jin : 4 main branches do not look right to me, I think only three would look better... IMO

AlainK

Member





_________________
Jim Lewis - lewisjk@windstream.net - Western NC - People, when Columbus discovered this country, it was plumb full of nuts and berries. And I'm right here to tell you the berries are just about all gone. Uncle Dave Macon, old-time country musician

JimLewis

Member





Otherwise, does anyone have ideas to feature the scar?

Yes, I have an idea,, (for what its worth).
How about just carving it out a little more? Give the tree a "Nick Lenz-esk' appeal?
Seems like the tree already has an attitude of its own, see the snarling face in the trunk?
Just a thought...
KJ

TreeKiller64

Member





Here's an idea for the first tree. Take advantage of the scar to fix several flaws with the tree by carving out some interesting holes and make some dead branches carved to show some motion. Taper the end of the branch on the right with carving and then grow a new canopy. Also if the nebari we can't see isn't too good, work on ground layering the tree to soil interface for better roots. Maybe in 10 years or less depending how fast boxwood grows in your area it will be great.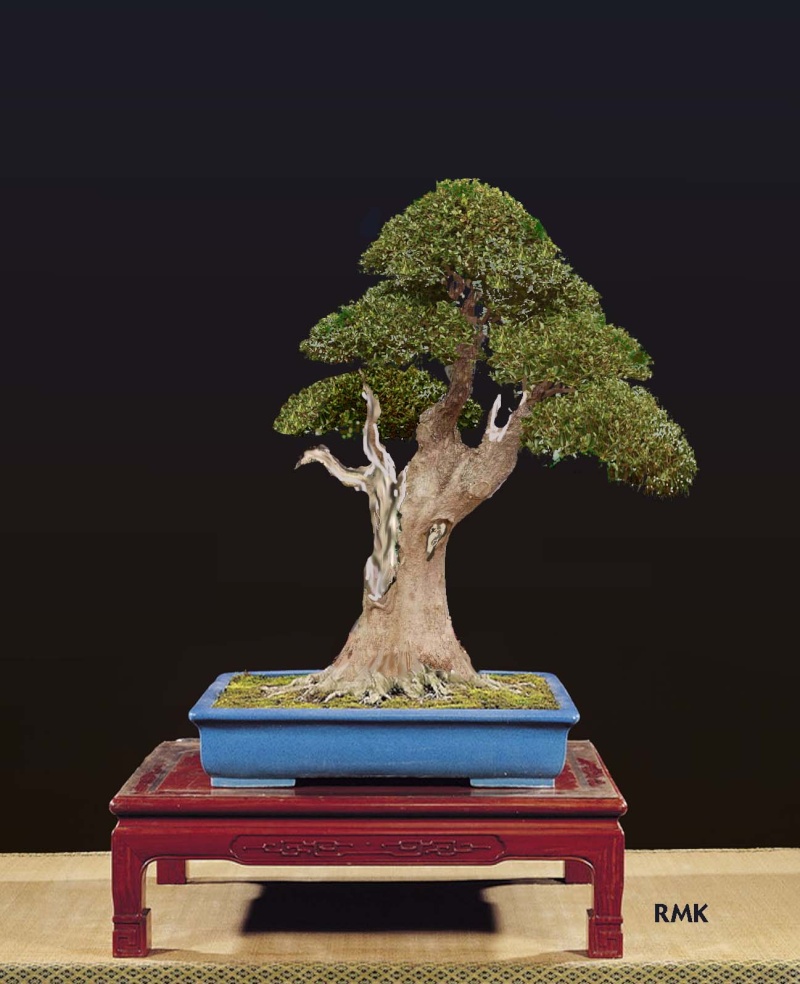 Rob Kempinski

Member





Wow, that is an amazing virtual Rob! Thanks for taking the time to do it , it is a great concept for this tree. Thanks also for the response/suggestion from KJ. There is a second large scar immediately above the large front scar and behind those two branches you jinned so I thought it could be joined to the large front scar and become some kind of hollow trunk feature or jinned as you so artfully described. I was waiting to see what new growth emerges but I suppose if that were to happen the tree could be turned to feature the scar more prominently and then it would remove the issue of the bulge that Jim mentioned. I have always had a thing for hollow trunk trees. I must say that the nebari is not quite as good as you described but I buried it a bit to let the surface roots get established before exposing them later. Thanks again, I am going to have to get this tree on a super-feeding regimen to get something realized!


Jim Doiron

Member





Page 2 of 2 •
1, 2

---
Permissions in this forum:
You
cannot
reply to topics in this forum