All;
Need some help with the style of this juniper. I have basic idea of a twin trunk.
i would like to see the taller side be the main area and the lower trunk be the secondary but not sure. your suggestions are welcome.
I posted these before but not with a white back ground. I hope this is better

remist17

Member





Looks like it has some potential as a semi cascade to me. Pic one or three would by my choice for a front, but the third pic was the best angle for the quick virt I made to show a possibility of planting angle change. I'm still a novice, though...take it with a grain of salt. Hope this helps give you some ideas.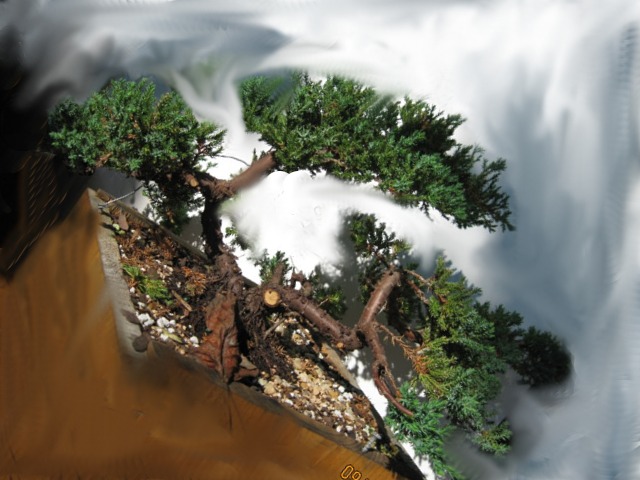 Jesse McMahon

Member





It is hard for me to make out what is what in those pictures, but it appears that the two main "branches" are going off at almost 180 degrees from one another. Twin trunks are usually just that -- two closely related-looking trunks standing side-by-side.
Jesse's semi-cascade idea certainly will work, but I see a couple of other possibilities. In the first, use the right hand branch as the only leader, either as Jesse's semi-cascade or by changing the planting angle as a bunjin of some sort. I can't see how or where that branch leaves the main trunk, so that make make it less useful.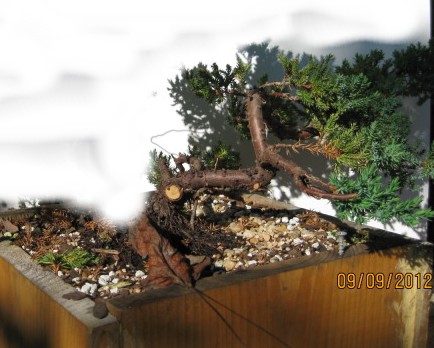 Or, use the other side for an informal upright or, if you can use a turnbuckle to pull the left hand branch in closer to the main trunk, a mother-daughter tree.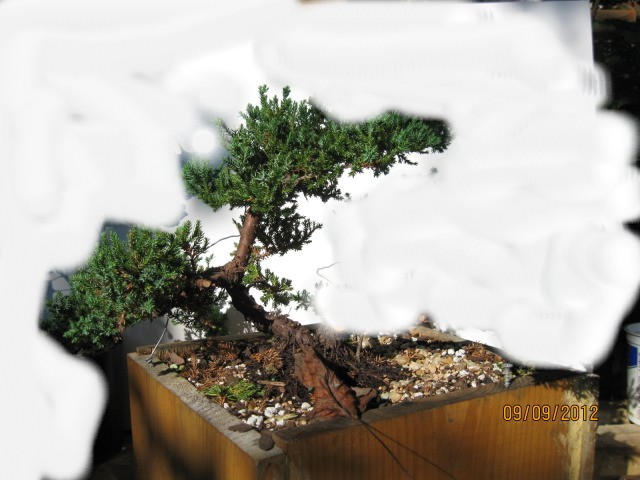 _________________
Jim Lewis - lewisjk@windstream.net - Western NC - People, when Columbus discovered this country, it was plumb full of nuts and berries. And I'm right here to tell you the berries are just about all gone. Uncle Dave Macon, old-time country musician

JimLewis

Member





I see what everyone is saying about the trunks being closer together and not 180degrees apart.i understand that. I may try and pull the two together and the worse case one breaks and I am left with a single trunk.....

Can anyone help explain the pad formation to me? Do I just keep trimming the pads and over time they will formbetter?


remist17

Member





I don't know whether it's acceptable to link in a Youtube video here, but go there and search 'Pruning Techniques for Juniper'. The video is from John Geanangel. Probably would be helpful to you.

Jesse McMahon

Member






---
Permissions in this forum:
You
cannot
reply to topics in this forum