Have access to some really nice trees but don't know much about what I'm getting into. Looking for any input from experience you might have. Gut reaction is dig in spring not fall and soil would have to be more organic then typical bonsai soil? Appreciate anything you might share...

dick benbow

Member





Nick Lenz's book Bonsai from the Wild has a section on blueberries. I've just pulled out my copy. Here's a few highlights.

"No one ever considers developing blueberry material as bonsai because it is unstable. Vigorous new shoots are transformed into fruiting canes and then die in a matter of years. Who would train a species that dies back systematically? Yet, in the many wanderings of the compulsive collector, a delightful bush base may be discovered. Never pass it up; blueberry bonsai are a joy."


"Wild blueberries are remarkably resilient, as long as they have lots of water. If the root system carries a burden of organic mush with it, it should be hosed off and planted with a medium sized soil particle, half of which is organic and acid."

"Bushes collected in the spring can be placed out in morning sun, while those collected mid-season should be pruned back well and protected from the wind and sun until they begin to grow."

"Whether the bush was collected in spring, summer or fall, the next year's growth will be disappointing."

All quotes from page 142 and 143 of Bonsai from the Wild by Nick Lenz, second edition, 2006

I've been wanting to find some old blueberry bushes for a long time now. Collect as many as you can, and if they survive I will happily buy 1 or 2 from you.


- bob



cbobgo

Member





Hi Dick,
Here's a pic (Spring, 2011) of my collected blueberry that I collected about 12 years ago. I grew it in a pot for a while then planted it in the landscape for approx 6 years, then dug it back up and started more vigorous bonsai work. I estimate the tree to be approx 40 years old, perhaps older. I collected it near a swamp. It produces fruit every year and is a lovely tree. I have to watch for boring insects and use systemics and topical insect treatments. This year I wanted to increase the foliage masses and grow new branches for styling options. I read Nick Lentz's book and cut off 90% of the fruit. Just as Nick said the tree exploded with new growth. I let the new branches grow for about a month before wiring. They can be brittle but the new branches thicken quickly and wire can cut in quickly as well.
I love the Fall color on these and it really is fun to let people sample the fruit (when ripe) when they see the trees. I find that them to be very fun trees indeed!
Best,
Todd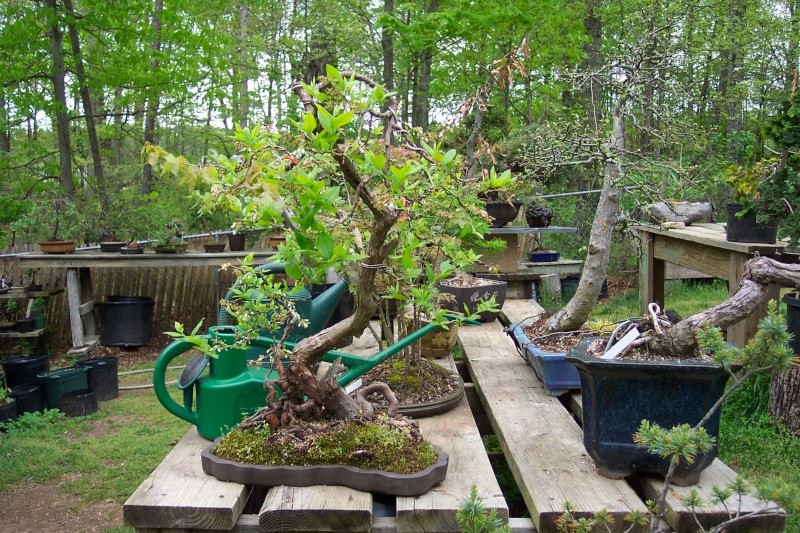 Todd Ellis

Member





thanks to you both for your input an encouragement. I do have an autographed copy of nick's book so i'll have to get it out and carefully read it. I always feel better about digging something in the spring but am fearful this olde farm may be raised soon to become private homes.

dick benbow

Member





Dick,
Blueberries generally have lots of roots. Dig as large a root ball as you can manage, and plant in the ground until early Spring - you should have good results. I find them to be very tough!
Todd

Todd Ellis

Member






---
Permissions in this forum:
You
cannot
reply to topics in this forum