For the past 9 years my love of bonsai and love of city life have been in stark conflict. In Philadelphia I tried several methods (towels, paint trays, etc.), but every time annoyed, wet pedestrians soaked by runoff would complain to my landlord (whoops!). With my recent move to Chicago, I decided to finally build the bonsai benches I have dreamt about for years. Figured I'd share for any other IBC members living in city high rises.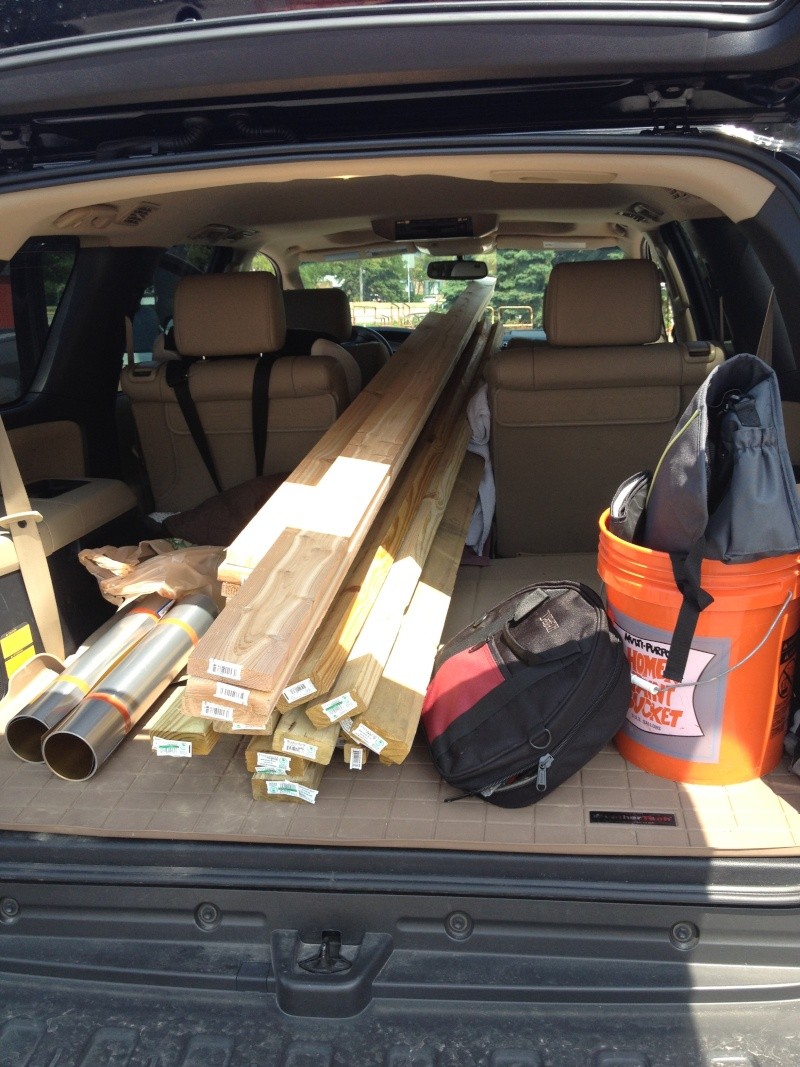 As always, step 1 begins with going to a hardware store and buying a boatload of treated wood (and two rolls of aluminum flashing).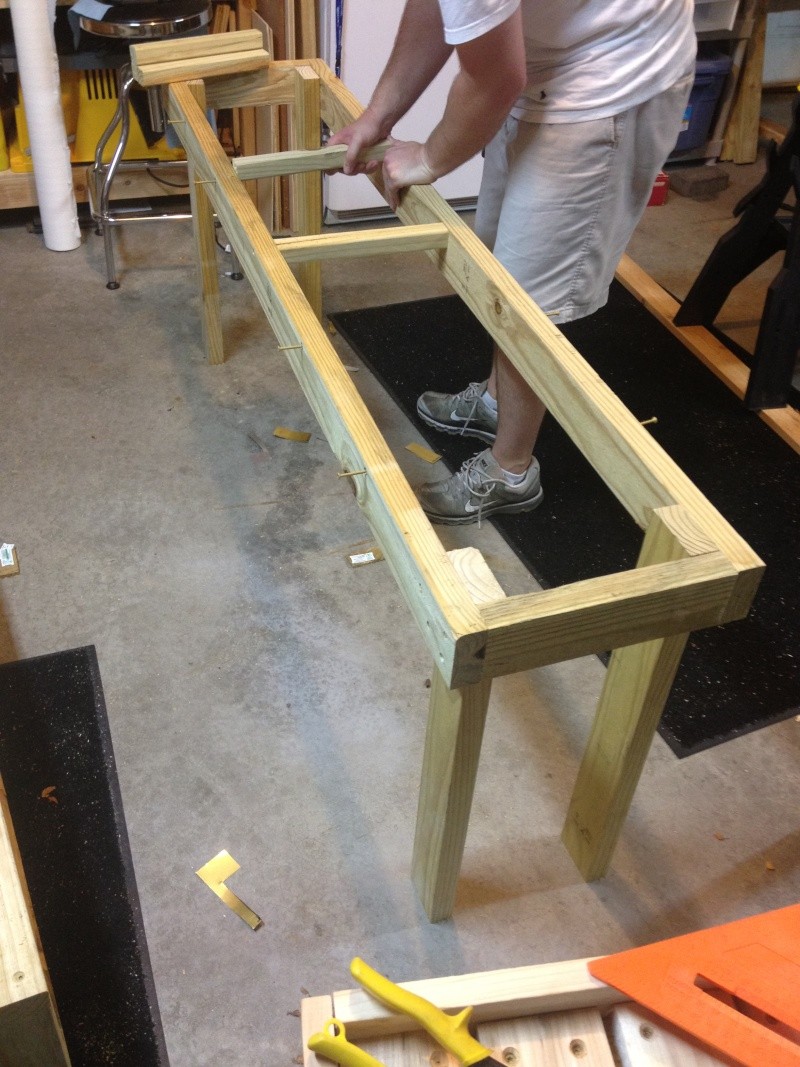 I then built a simple frame (I later added extra bracing around the lower part of the legs). The cross struts are to support the wood planks that form the top of the table. The idea was that more mounting points will (a) look nicer and (b) result in less warping over time.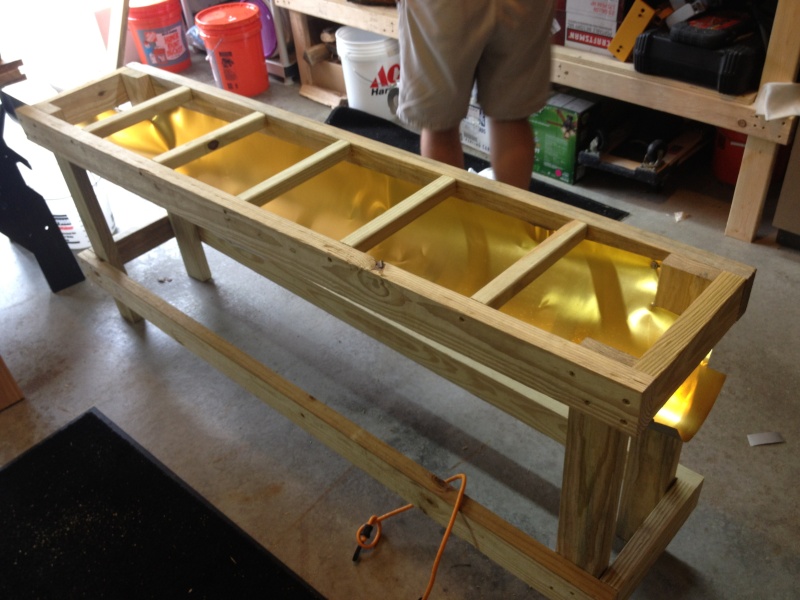 In order to catch & funnel water, I screwed in aluminum flashing under the table. It's mounted at a slight angle so the water catches and flows to one side.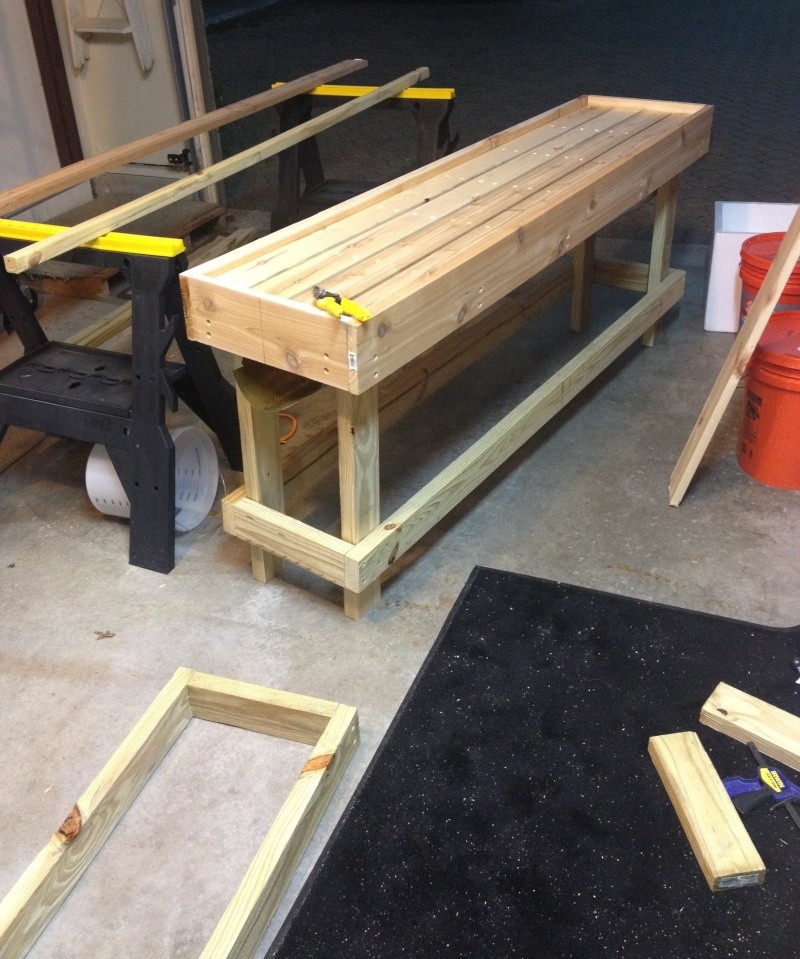 I used 6" planks to form the outer edge of the table. The planks were counter synced and then drilled into the cross struts. (note: you can see the frame of the second table taking shape in the lower left)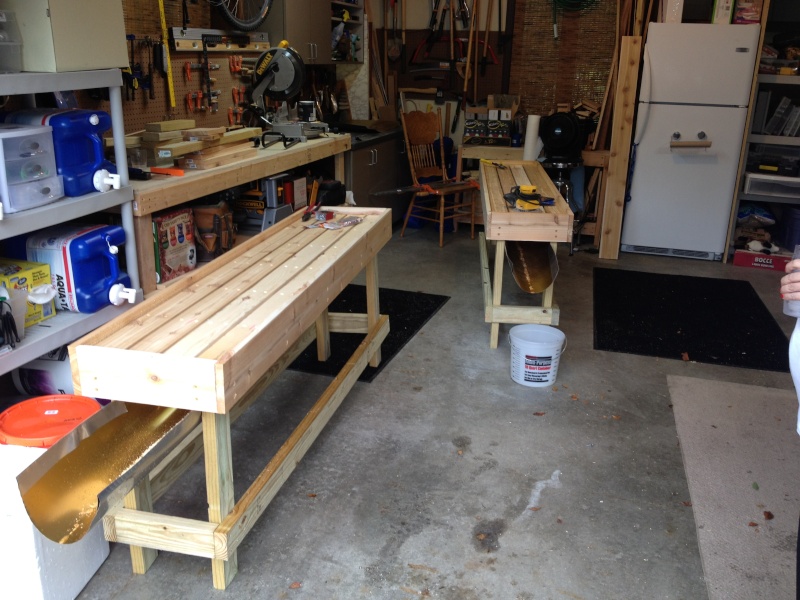 Lather, rinse, repeat & voila you have two tables now. You can place them lengthwise on your balcony so the runoff all flows into one bucket.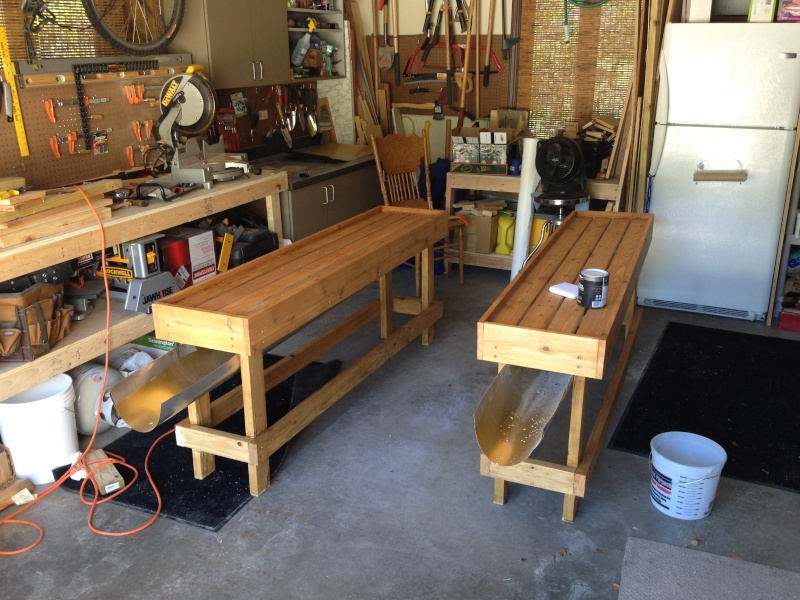 I applied deck stain for added protection from the elements.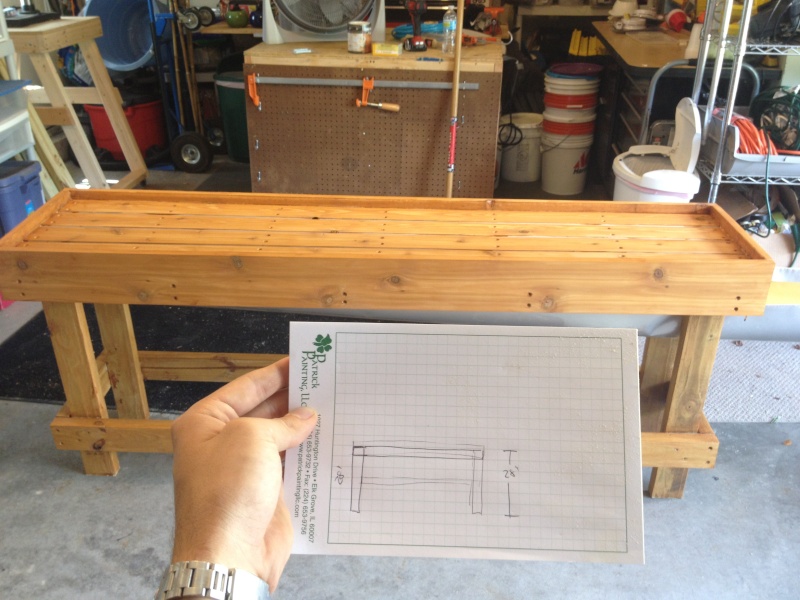 Looks just like my sketch.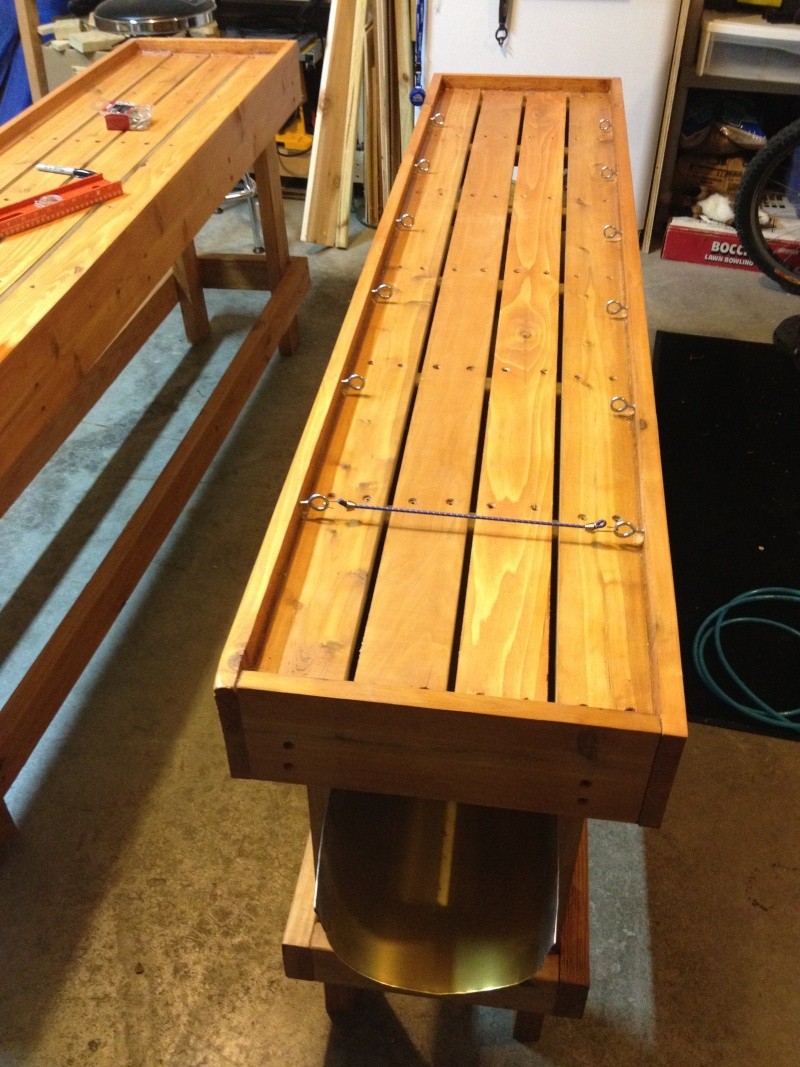 Since I live 400' up in the windy city, I thought it smart to pre-drill and then screw in some ibolts. Mini bungee cords can then be strapped over the pots to hold them in place. (note: I also cut down the flashing a bit)
Hope this helps. Let me know if you have any questions.
Those are really nice and well built, you should be proud.

John

John Lee

Member





your post makes it look so easy, yet they look amazing. Thanks for this, i'm sure many bonsai gardens can benefit from it!
Ambiant humidity is very important for trees with wind, i give you an advice : to protecting wood , to put a textile and volcanics stones on sheet stainless with slope for recovery rain water under your trees

abcd

Member





Great benches.

I live on the 17th floor of an apartment building and know how it is to upset the people below me too once in a while. Think I'll finally work on some proper benches over the winter with a design similar to yours. I (and my neighbours) thank you for the great design idea.

MikeG

Member





The water-catching rig is a great idea. My first concern when looking at the pictures before reading the text was that they were so narrow the might be a bit tippy when heavy trees are sitting on the top, but on a flat balcony floor and if they are maybe fastened to the railing, that probably won't be a problem.

I strongly suggest you soak these (legs and all) in Thompson's Water Seal or something similar; otherwise they'll start to rot almost immediately.
_________________
Jim Lewis - lewisjk@windstream.net - Western NC - People, when Columbus discovered this country, it was plumb full of nuts and berries. And I'm right here to tell you the berries are just about all gone. Uncle Dave Macon, old-time country musician

JimLewis

Member





great idea! would even be helpful to anyone who tries to conserve water, especially water with fert in it, as you could re-use the runoff... And they are very nice looking, good job

I would love to see a picture of your benches on your balcony with trees.
Best,
Todd

Todd Ellis

Member





Excellent job on them, looks like they will serve you well.

Orion

Member





The width of your benches, especially with the raised sides, serves to limit the size of the trees you can grow. Maybe not a bad thing, as I think about moving some of my larger trees into the greenhouse in a few months.

Billy M. Rhodes

Member





You can use baby oil [ mineral oil ] to water proof or paraffin wax [water thin] thinned in ordorless mineral spirits [ this is probably Thompson's water seal ]

Re-apply every year.
Later.
Khaimraj

Khaimraj Seepersad

Member






---
Permissions in this forum:
You
cannot
reply to topics in this forum