_________________
Jim Lewis - lewisjk@windstream.net - Western NC - People, when Columbus discovered this country, it was plumb full of nuts and berries. And I'm right here to tell you the berries are just about all gone. Uncle Dave Macon, old-time country musician

JimLewis

Member





I just bought a 'Raspberry Dazzle.' Has anyone had experience with this group?
Iris

bonsaisr

Member





Thnaks Jim. I picked up a few small Arapaho's and a Hopi with great trunk movement and fantastic bark this season. Love CM's...
bonsaisr wrote:I just bought a 'Raspberry Dazzle.' Has anyone had experience with this group?
Iris
I have a 'Cherry dazzle' but I'm still working on it and it's not it top form.
And fall color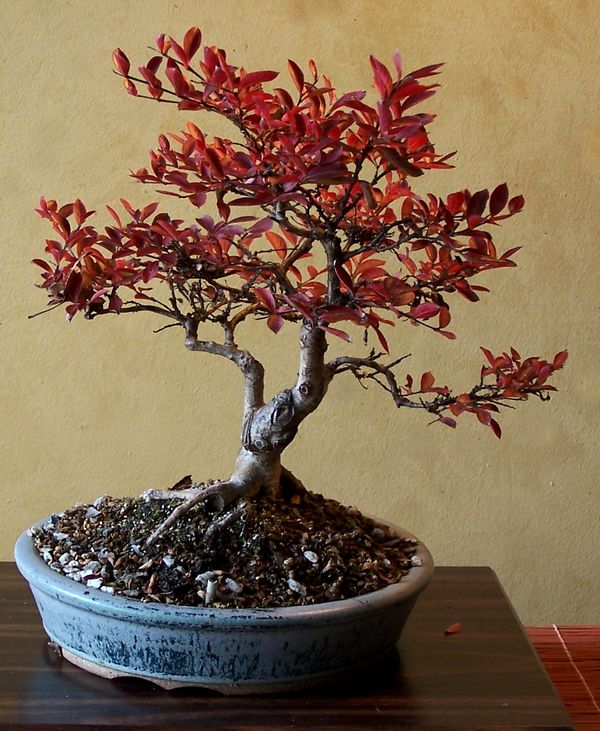 It seems to handle just like all other crape myrtles -- that is, very easily. No problem cutting roots and doing heavy pruning at the same time. Yours will need a some winter protection, though Iris. Mine freeze on my tables every winter and I give them no special winter care, but you're a bit cooler than I. Mine take the teens quite well, though.
_________________
Jim Lewis - lewisjk@windstream.net - Western NC - People, when Columbus discovered this country, it was plumb full of nuts and berries. And I'm right here to tell you the berries are just about all gone. Uncle Dave Macon, old-time country musician

JimLewis

Member





Thanks for the encouragement. Almost all my temperate trees winter in a sunporch. I try to keep the temperatures between 25 F and 45 F. Some winters, like the last one, involve turning on a heater on very cold nights and frantically opening windows on sunny days.
The Razzle Dazzle series are very new, since 2006. Raspberry Dazzle is patented. They were developed by the famous Michael Dirr, building on the work of the National Arboretum. Raspberry Dazzle is a seedling of Pocomoke. They are a hybrid swarm of Lagerstroemia indica x fauriei.
Iris

bonsaisr

Member





Iris,

If your 'dazzle' is still in a nursery container you will find it will respond better if it is taken out and placed in bonsai soil in the spring before you do any hard pruning. I found that 'up our way' they are slow to respond to hard pruning until the heat of summer kicks in, then they go bananas. You will be hard pressed to keep up with all the new shoots they want to throw out.

I bought a Ruby Dazzle from Bill this time last year and the above is what I learned throughout this growing season after taking the stock back to only stubs and trunk. Very responsive to root and top work being done at the same time, likes water and fertilizer. Just be patient and wait for the heat to kick in and you'll see excellent growth.

Mine winters in with the rest of my deciduous trees..no issues.

-Jay

drgonzo

Member





Thanks. I hope I can find room for it as is. I think it has flower buds, but I will be surprised if it blooms this late.

bonsaisr

Member





They (the dazzles) may be late bloomers. None of mine bloomed this year, despite my being unable to keep them trimmed.
_________________
Jim Lewis - lewisjk@windstream.net - Western NC - People, when Columbus discovered this country, it was plumb full of nuts and berries. And I'm right here to tell you the berries are just about all gone. Uncle Dave Macon, old-time country musician

JimLewis

Member






---
Permissions in this forum:
You
cannot
reply to topics in this forum