Hi,
I wanted to start off by saying I don't have much or any bonsai experience (my only tree is a 1 year old store bought juniper).
Today I was calling around town to find places that sell bonsai, and I stumbled across a landscaping contracting business that had 3 "not doing so good" bonsai trees from some hotel client that hadn't cared for them properly. Long story short, the guy said he would give me one since he was basically going to throw them away when they died. He couldn't remember what type of bonsai it was but ended up calling me back before pickup to say it was a Fukien tea bonsai. However, I'm not sure that's what it is from pictures I've seen online... so I guess the first step is helping me identify it.
I drove to pick it up after work and was quite disappointed. To me the tree looked like it was dying. It was in a 6 inch high regular pot in potting soil and it was flooded. The soil was very wet. The leaves were limp and so were the younger branches. The tree also had very limp white flowers. Just by gently touching and tapping these limp leaves, most of them fell off. Whatever you see in the pictures is what's still on after i touched the leaves. I did not prune at all. I would describe the hardness of the tree when I got it as that of a piece of ginger that's been lying around for a while... When I unpotted the plant, it was sitting in one giant soaking ball of potting soil. The roots were all super thin and bunched together in a wet lump of mud. I gently tried to separate them but they were too fragile so I gently rinsed off as much dirt as I could. Sorry no pics.
I don't have bonsai supplies yet, and the only product I could find tonight that had any chance of helping was some Schultz Orchid potting soil. It drains super well from what I can see and has the essential ingredients, just not in the right proportions I guess, and I kelp the same pot. The wood chips are also too big but I figure it's temporary, and the pot allows me to get away with it until I can get my hands on Turface-MVP tomorrow if anybody can recommend a good mix with that as a base. That's the only base I've been able to find around here.
The pics bellow are the tree now. This is about 5-6 hours after I re-potted it. To me the leaves look a little less soggy than when I picked the tree up, and the difference in the trunk is noticeable. It feels like a really hard tree now. The soil is nice and moist, but not wet at all. I've been giving it light using a 6500k fluorescent light bulb. Is that OK? Will it actually make a difference? Heck, I don't even know if this tree is alive, or sick, or drowned or what...
Here's the pics now.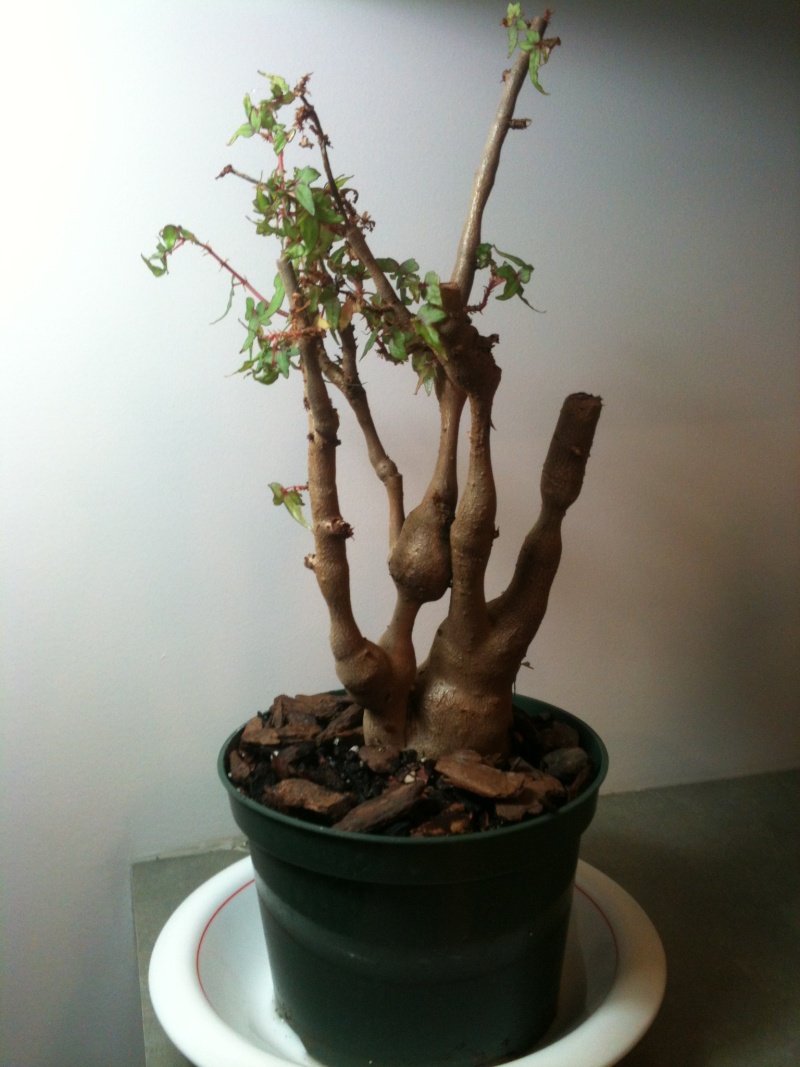 Last edited by EpicusMaximus on Sat Sep 01, 2012 6:40 am; edited 1 time in total (Reason for editing : repetition)

Khaimraj Seepersad

Member





So what happened to it? Begonia partita is a synonym of B. dregei. See thread on B. 'Lacy Dregei.'
Iris

bonsaisr

Member





it was near dead when I got it, and died shortly after I posted this.

I was in water clogged soil from the person that left it for me.

That's too bad. The tubers tell you it is somewhat xerophytic & needs to dry out.
Iris

bonsaisr

Member






---
Permissions in this forum:
You
cannot
reply to topics in this forum