I bought this ugly juniper at a nursery for $5. I think it's a Sabina Arcadia.
It's obviously very ugly and needs help. It has 4 trunks and a visible cut to one of them.
I bought it because it was cheap and my first attempt to learn anything. What should I do with it? Maybe it could never be nice because it has too many trunks?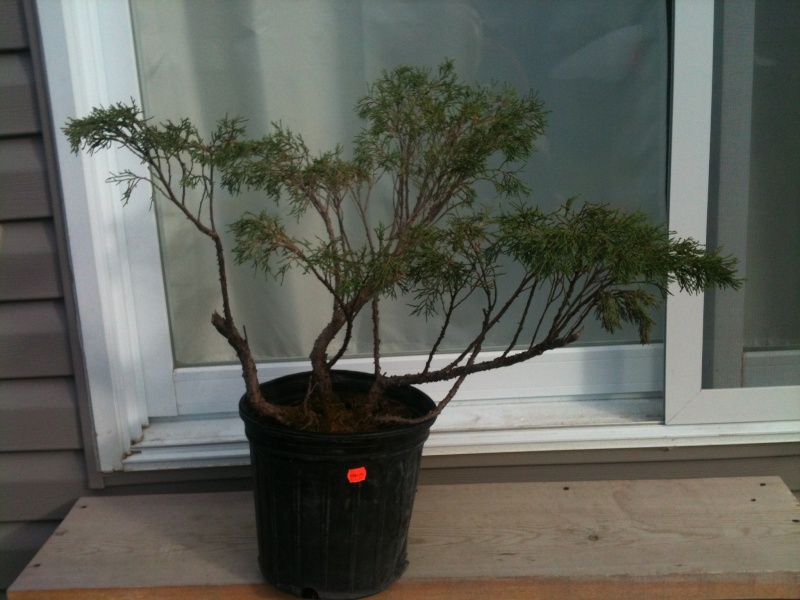 You could remove everything except the long branch to the right, wire that down and make a cascade. You could even jin some of the remaining stumps of trunks so don't cut the all the way back. Some of the trunks that are going to be removed could be wired into interesting positions first and then jined.
Last edited by Billy M. Rhodes on Wed Aug 29, 2012 8:10 pm; edited 1 time in total (Reason for editing : corrected spelling)

Billy M. Rhodes

Member





Thanks! I will do some reading on what you are suggesting since many of the terms are foreign to me.

I appreciate the feedback.
Well wikipedia answered my questions about the basics of Jinning.

Now, in regards to cutting the big branches, should I wait until spring, or do it in the autumn, or anytime of year?

dont commit to the first idea without looking at others, then pick what you feel will give you pleasure the most.

look up:
Raft bonsai - oval pot, movement from left to right - no need to rush the foliage , use it for practice and learning from.

enjoy the options

Marcus

marcus watts

Member





Thanks.

I'm waiting on general feedback in another thread about the soil mix I should use.

What do you recommend for a juniper in a pot, and in what proportions? Also, how would I adjust these proportions when growing something like a prunus x cestina?
I use a mix of 1/3 Turface (a baked clay product) 1/3 Lava or Pea Gravel and 1/3 Fafard Soil Conditioner. You want a well drained mix, more plants are killed by too much water and root rot that anything else.

Billy M. Rhodes

Member





Patience was (and sometimes still is) the hardest thing for me when I aquire new material. I killed may trees from impatience. I now have trees I got for a few dollars which were untouched for over a year before I decided on how I wanted to style them. I would suggest waiting for the right season for styling and repotting using a good mixture as Billy suggests.

David D

Member






---
Permissions in this forum:
You
cannot
reply to topics in this forum