I bought this tree Saturday. I think it will be a good one to experiment on. I was told its a fast grower so any mistakes I make should grow out after awhile. That will give me a chance to learn some styling techniques.
I love the double trunk on this tree. I haven't learned the correct terms yet so think of a clock. Can I make my front of the tree with the main trunk at the 2 o'clock position and the little trunk at the 7 o'clock position? I want to cut the smaller trunk down to the knob, which will cut off all of its top growth at this point. I would like to make the small leafless stump a jin? I hope that is the correct term. Eventually I would like to carve the smaller stump and hope that some growth will occur.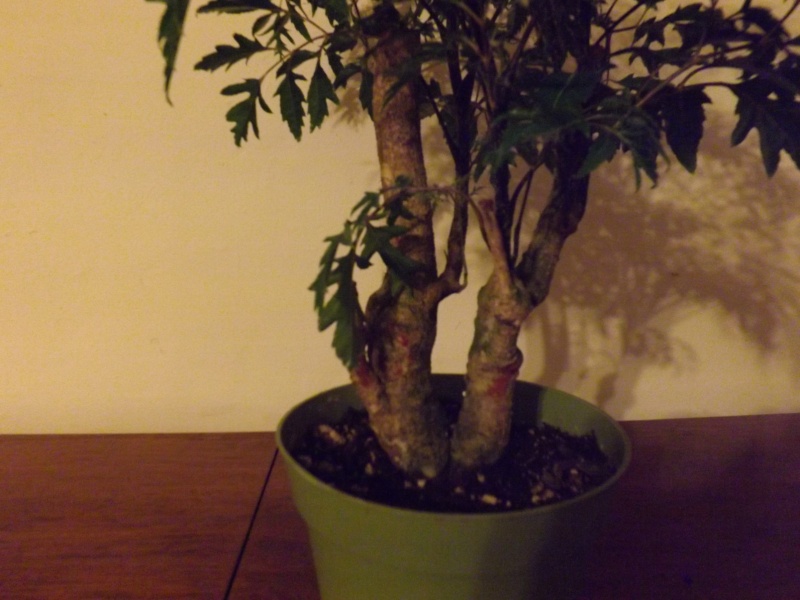 It took me awhile to figure out this camera but it is nice. I hope you like my pictures. I'm a novice at taking still lifes.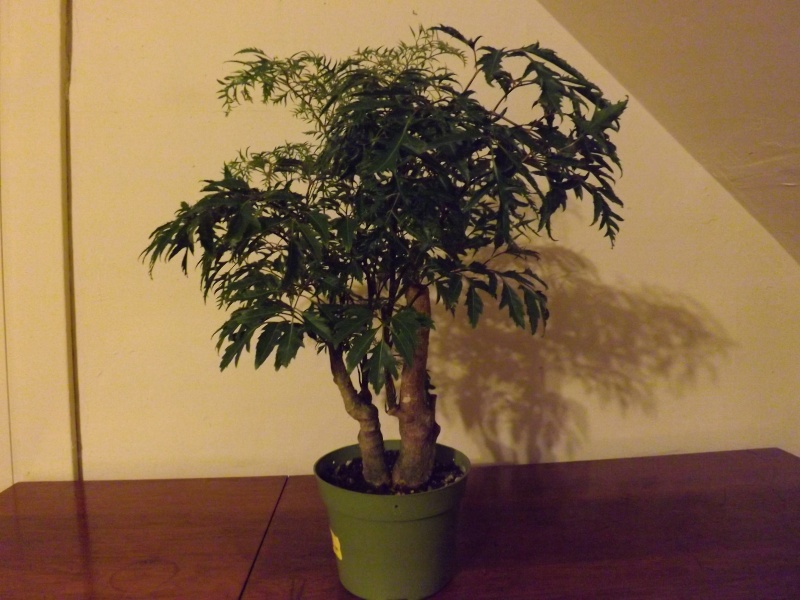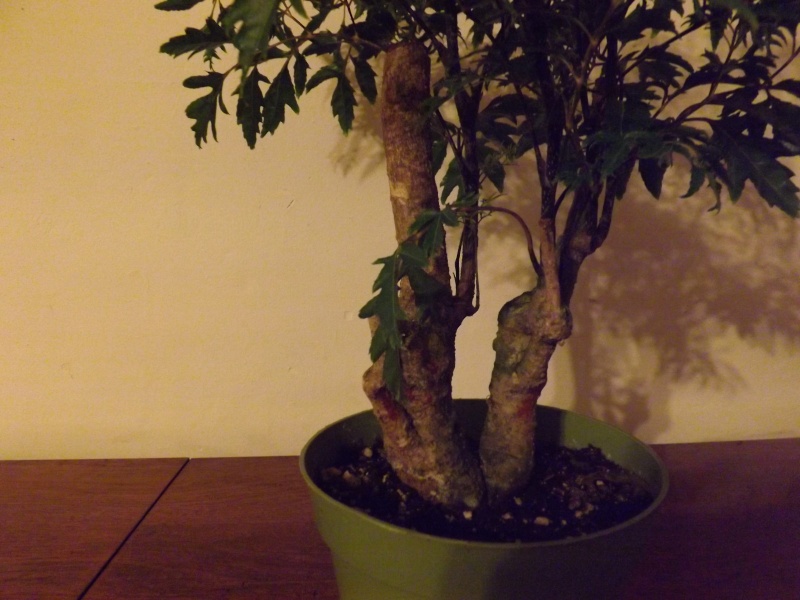 Looks like your tree has some good potential. In my experience I have found that the species is quite a slow grower; however it seems to bud back pretty well, albeit slowly. The species also has a tendency towards concentrated growth in apical regions; however, you appear to have some low branching on your tree which is a good thing as well. Good luck with your development. I am attaching a small ming aralia I have been working with for a while.
Regards,
Tom

Tom Simonyi

Member





That is a nice tree. The roots are awesome. Is that the broom style? Does Diet Rite pay you for showing their product?

Thank you, Chisky.....No, the tree is not a broom style....I suppose you could call it an informal upright....the rest of my family has been dissing it of late...my wife, bless her heart, always is honest regarding her critiques of my trees (which I very much appreciate btw). She characterizes it as ".....somewhat strange....looks like a bad fifties haircut...." I chose to work with the tree because of the branch movement and the lower trunk and rootage. Best of luck.

Tom

Tom Simonyi

Member





Chisky,
Thanks for showing. Beautiful aralia. Fast growers in the tropics and we have many leaf shapes.
i am really bad with a camera, but here is my image. This is called a Thread leaf Aralia, and I found it at an abandoned house. It's a cutting from the main plant.
I have trained it as a 3 dimensional shape, think of an upside down bowl, but as an image it translates poorly. I will ask my friend who can do a better job to take another shot.
By the way this is a wonderful shrub for Bonsai use.
Until.
Khaimraj
About 16" [ 40 cm ] tall

Khaimraj Seepersad

Member





I love the trunk and branches on your tree. How long did it take you to train them like that?
Chisky,

I haven't forgotten you,still awaiting my friend and his camera.

Was that question to me?

If it was - the Aralia, grows rapidly down here, and will bud all over the trunk as it wishes. This is a cutting I have grown for maybe 3 years. I didn't date anything, as I grew this plant out of curiosity, and not really with an idea that it could become anything.
However, it might just make a believable illusion.
Until the camera arrives, health to your efforts.
Khaimraj

Khaimraj Seepersad

Member





Here Brazil is called the Tree of Happines and we have 2 different varieties.
Female and male
We also have the variegated.
Shalom Luciano.

luciano benyakob

Member





I hope I don't get in trouble for this but how do you tell a boy tree from a female tree when they aren't flowering?

Khaimraj Seepersad

Member






---
Permissions in this forum:
You
cannot
reply to topics in this forum