Page 2 of 2 •
1, 2

Hii Ian

Sorry it's taken so long for me to get back to you, I've been up in Edinburgh all day doing the tourist thing with some friends that are staying with us at the moment. Everybody loves the maple, I do to but as it is pretty much as it was when I bought it, I've yet to form a real attachment with it. I think when I find the right pot and stand for it that might change. The trouble I'm finding is that really good handmade rectangular pots are in very short supply in the UK.

I hope you are recovering well from your op. How is your prize chuhin coming along,have you discovered exactly what pest attacked it?
I'm not sure at the moment if I will be attending the Ryan Neil event in January, I will have to e-mail Peter and see if there are any places left. Wouldn't mind a visit to your garden though when your having one of those fantastic club get togethers

Regards

Robert

robert nocher

Member





Hi AboveBeyond

The maple trunk diameter is 7cm just above the roots

robert nocher

Member





Hi Chisky
You and I have similar taste, that's my favourite also. I have only recently purchased these trees so they are about the same size they were when I bought them
Regards
Robert

robert nocher

Member





Hi Marcus,
Many thanks for your comments. The acer does have great potential and I look forward to discovering it in the future.
I am working on the cork barked elm to develop the branch structure at the moment; very satisfying work; it's mainly clip and grow with a little wiring to place the lower branches.
As for the corkscrew juniper, if I have a favourite this is it. The future of this tree lies in what I can do with sharis on that terrific twisting trunk. the corkscrew jins can always be removed in the future if I can't live with them.
I agree with your comments on typical shohin display.I think part of the problem is at the moment we are still heavily influenced by images from the Gafu Ten show books. Many of the flowering and fruiting trees displayed there will never perform to quite the same degree in our climate, so IMHO we should be concentrating on flowering and fruiting species that do well here; things like cotoneaster,blackthorn, hawthorn, cherry and crabapple.
As for the pomegranite, well the challenge there is trying to get it to fruit. I think I will have to resort to grow lights

Regards

Robert

robert nocher

Member





Robert,
I love your shohin collection very much. I have always had larger trees, but of late have rekindled my love of shohin and mame. I think what you have done with your twisted juni has improved its appearance 100%..... and looks very beautiful. I have about 8 of these in training myself, and hope to share them next spring when the wire will come off. The acer palmatum is a bit tall for me. I have done a quick virt to show what could be done very easily and in a relatively short time frame. I hope you don't mind me taking this liberty. Please post more of your shohin....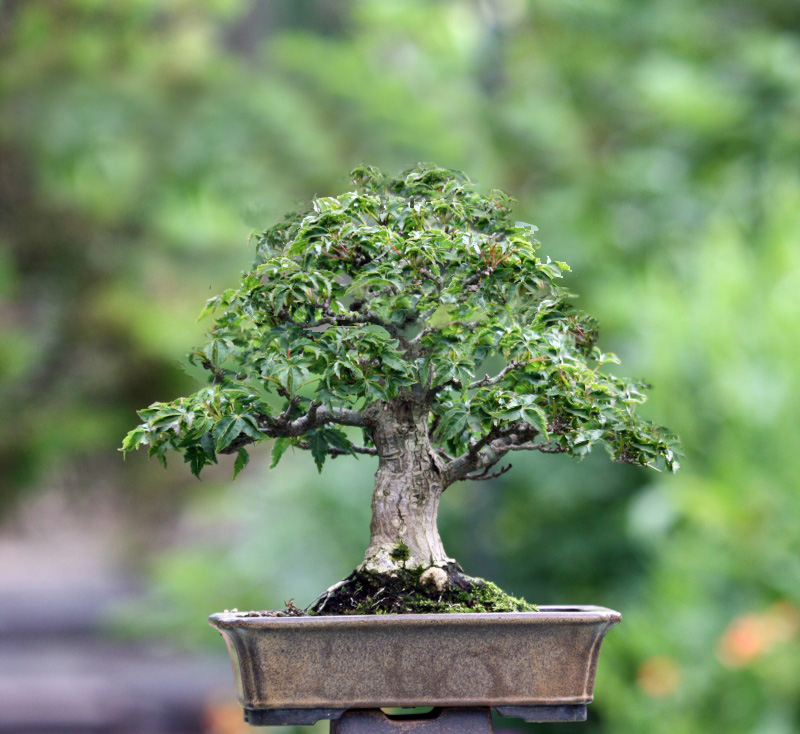 Last edited by Kev Bailey on Mon Nov 12, 2012 8:50 pm; edited 2 times in total (Reason for editing : adding pic)

shane martin

Member





Robert,
While Shane's idea is entirely doable in a couple of seasons, I think you'd be better suited just planting it 2-3cm deeper. You'll still have the flare at the base, with a nice nebari visible, and it'll be shohin size. I think the base may actually look a bit better, with the large roots gripping the soil, rather than appearing "mounded up."
I agree with Orion about the "corkscrew" junipers. Here in the states they aren't readily available, so they're still expensive and pretty popular. Our draconian import regulations(4 year quarantine!) make import of inexpensive Shimpaku prohibitive.
Ryan
http://japanesebonsaipots.net/
Hi Steve,
Thanks for your nice comments and thanks also for reviving my favourite post. I like your virtual of my shishishigira acer very much. Unfortunately this species grows extremely slowly in our cold climate and existing branches are difficult to bend without breaking off. Based on my observations of its growth this year I fear that it could take more years than I have left

to realise your vision for it but who knows, if it increases in vigour it could be a possibility
Here's a recent photo which shows it in autumn colour....

Here are a few more recent acquisitions. The first is a little Japanese Azalea 12 cm. high. I am not sure what variety it is as I have not seen it flower but it has a lovely trunk and should look good when it fills out a bit.


I've just found this fantastic little pot by Echizen Hosui which will set it off nicely in a year or two.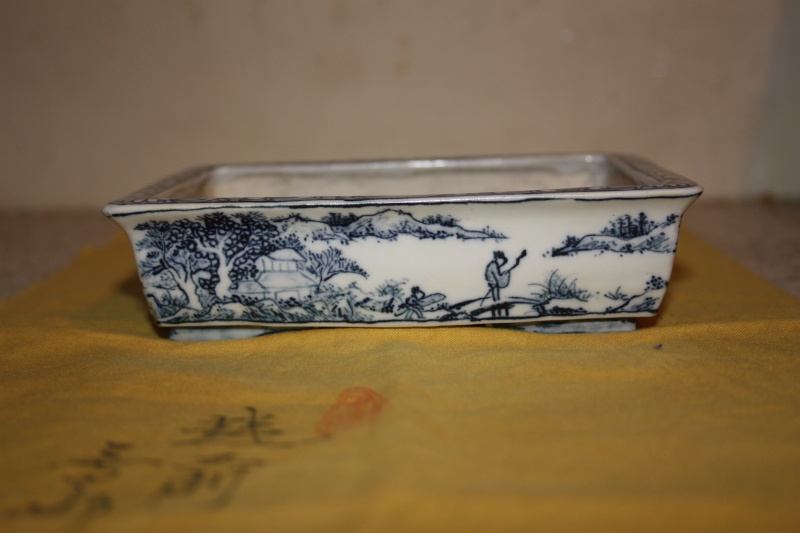 The next tree is a little black pine about 19cm. high. This tree was in pretty poor shape when I acquired it earlier this year and I suspect that it had recently lost its lower branches as the lower jins looked fresh and had not been treated with lime sulphur. This probably explains why it was so cheap. When I got it home and took it out of the pot I noticed that the root and soil mass was dense and impenetrable. I decided to put it in a slightly larger pot with some fresh soil and left it to recover.
The new candles were slow to develop but by the end of the season it was looking a lot better and I was able to do some initial wiring. I think it's now showing some potential and I am looking forward to seeing how it will perform next year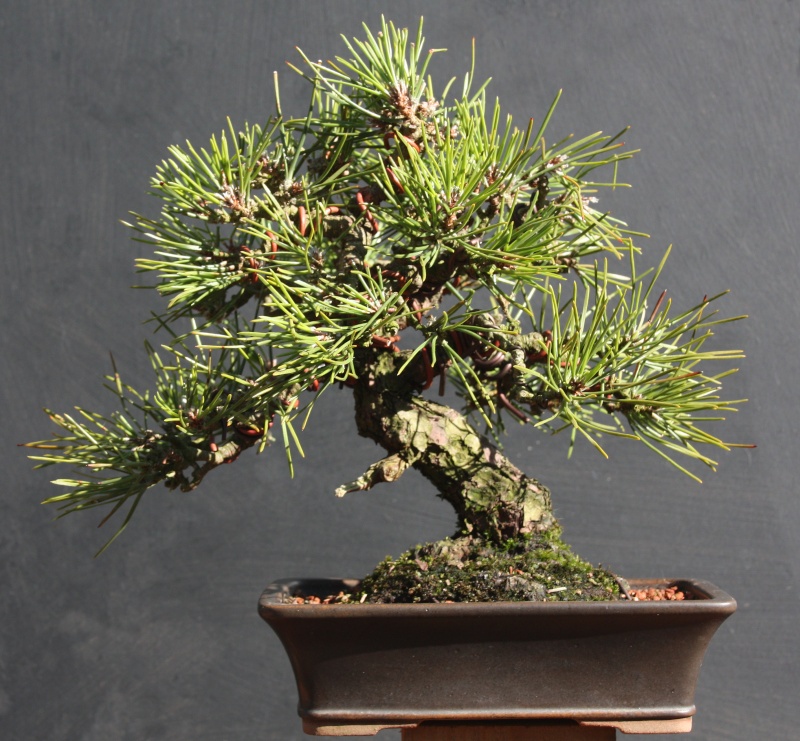 Hi Ryan,
Thanks for your comments, maybe the future for my maple will be to lower it in the pot as you suggest while at the same time trying to reduce the height of the apex.
By the way, corkscrew itoigawas are far from cheap over here thats why I was surprised when I heard that some considered them common
Regards
Robert Nocher

robert nocher

Member





Robert, I think you are right in saying it would take longer than suggested - probably five years or so. Having said that, I think Shane's virt is a good idea and probably what I'd be attempting.
And I'm only a few years younger than you.

_________________
"Espouse elucidation"
_____________________________________
my website

fiona

Member





Hi Fiona,
Thank you for those words of encouragement

Hi Shane,
First of all let me apologise for calling you Steve yesterday

I really should post before I have a drink

I have given a lot of thought today to your proposal for the future development of my maple. As I said yesterday this species is an incredibly slow grower, so it would seem that the practicality of your design is dependent on there being sufficient existing branches, in the right place, to support your idea within a reasonable time frame.
I took this photograph this afternoon and now that the leaves have dropped off it's much easier to see the branch structure. The horizontal red line in the first picture indicates the 20cm height limit for a shohin and the yellow lines indicate the chops that would be necessary to maintain the branches within the profile that you have proposed. At some stage in the future I would like to put it in a shallower pot so there is limited space to lower the trunk in the pot as Ryan suggested.

The second picture is a virtual of how it would look with the branches removed. It looks like it would be possible to develop a new apex within a four to five year period
Thanks again Shane for the input, its given me a lot to think about over the winter
Regards
Robert Nocher

robert nocher

Member





Hi Robert,
First of all don't apologize about calling me Steve....

I get it quite a lot for some reason....and I don't think I look anything like the actor/comedian. In regards to your acer... I do think it's worth doing personally. I think you will look at it in a few years and be glad you did take the plunge. I have been doing this wonderful hobby for 30 years down here in Australia and I'm very lucky that things grow very quickly, being in the sub tropics, however I this season I have found myself going back and making dramatic changes to trees that I styled over many many years. It's hard at first, but I'm already seeing the results. Looking at your virt without leaves, I think you could prune back one more node and your apex will have slightly finer ramification when it comes in. I know your thinking 4-5 years, but the fact that the growth you need is right at the Apex, can only be a benefit to you as this is where the tree naturally is directing all its energy. Also redirecting energy by keeping the rest of the trees growth in check will also speed up the process. It's a great little tree Robert.... I'm sure you will do a great job with it no matter what..... you have an awesome shohin collection which will only improve over time. Take care.... Shane

shane martin

Member





Page 2 of 2 •
1, 2

---
Permissions in this forum:
You
cannot
reply to topics in this forum