Hi All,
Last winter I decided to buy an overgrown poor-excuse for a bonsai. After trimming of a few buckets of foliage, I decided the tree was too tall, and needed a trunk reduction. In short: Today I removed an airlayer, and now I am back to the styling ideas. Note that the main trunk was not trimmed after the initial trimmer, so that a lot of energy was available for the air layer to take. In my view the tick trunk is not pretty and could be killed of, and left as a yin, naturally after lots of tapering. That leaves me to the little trunk, which I would like to give a more natural appearence. To this end I have already pulled down the lower branches, and thinned out the pads back to main secundary branches for wiring. But I am a bit at a loss for good ideas. Anybody here with some good suggestions on a style?
Some pics: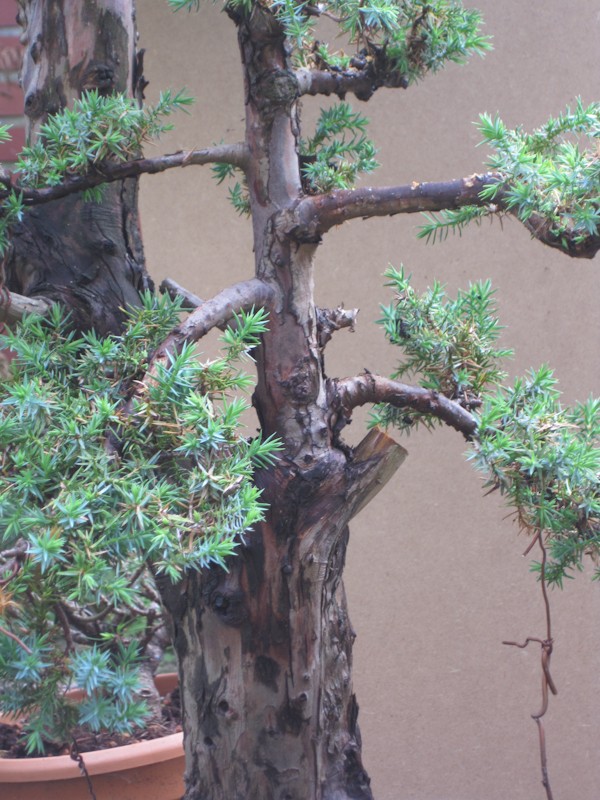 and the airlayer, a mame-to-be:

leatherback

Member






leatherback

Member





I like how it is coming along! I think the massive white deadwood is still a bit too thick compared to the live tree elements, despite your tapering efforts, but it will be better balanced as the tree continues to progress. Thanks for the update!

_________________
"Eschew obfuscation"

John Quinn

Member






---
Permissions in this forum:
You
cannot
reply to topics in this forum