Collected this from my yard 2 years ago. I believe it is an Ulmu laeis, Russian Elm.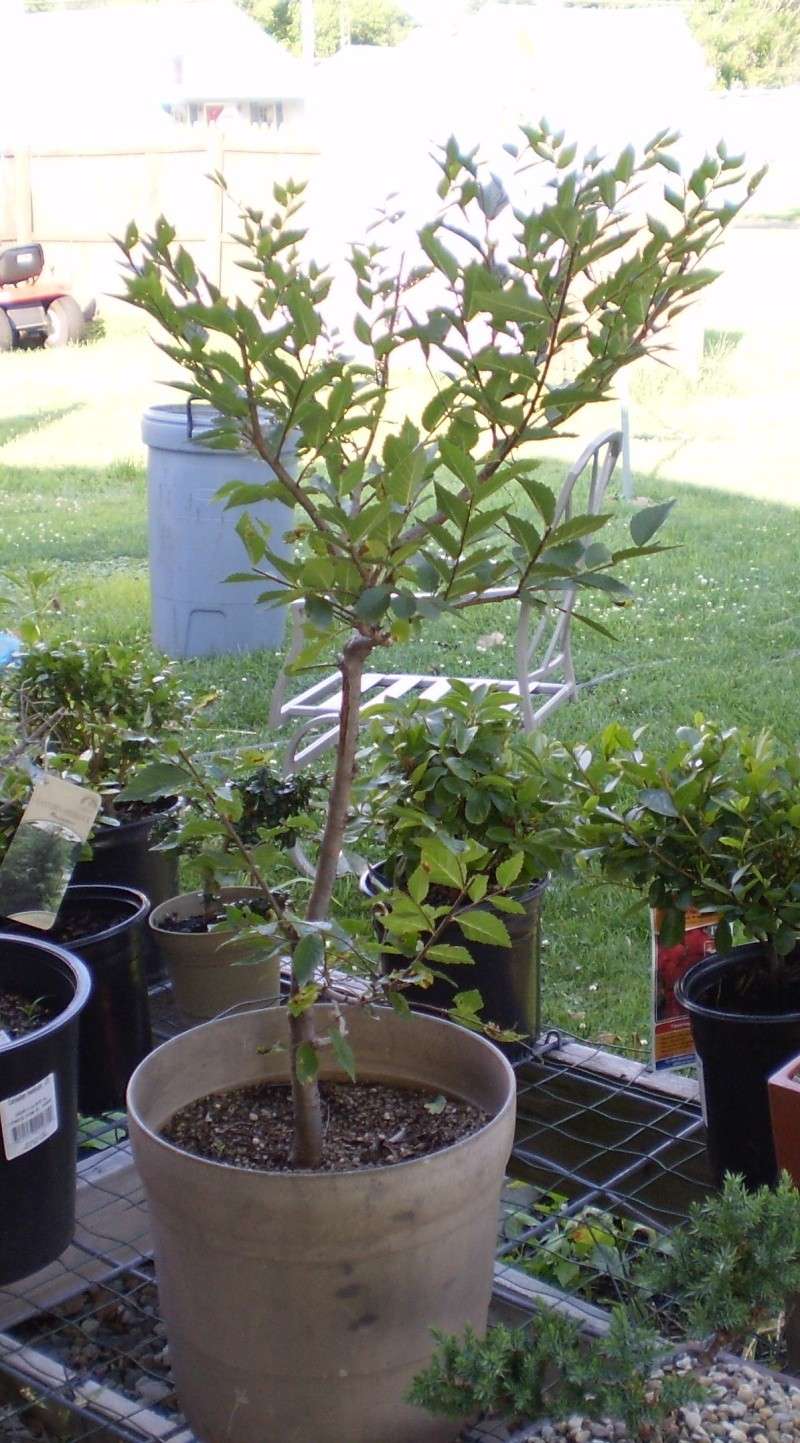 I have been letting it grow unchecked in the pot until this year. I have left the lower branches and have been periodically clipping back new growth to encourage branch divisions and back budding. The trunk is still spindley and uninteresting. I'm wondering if I should continue to sit on it and allow it to fill out or begin to train it.
I believe I could go several ways with this.
I could air layer it next spring to allow the top to grow on a shorter trunk.
I could lean it to one side as a slanting tree because the branching tends to be concentrated in such a way as to allow the growth to adapt to this style.
I could monkey with the trunk to attempt to put some movement in it.
Any suggestions?
I will try and take time to get some isolated shots of itfrom the angles I have been analyzing to see if it helps.
Thanks,
forbey

Jay Gaydosh

Member





I think i would layer the top off and use the bottom with one of the new shoots as a new leader.

Smithy

Member





friend i would suggest u to continue clipping the top and let all the other branches grow,not only that u will get good branches everywhere but that new shoots would also give out from places where there are no shoots.

gm.it.seacom

Member





I spoke with a local bonsai enthusiast (with much more insight than I have. He described hios recommendation.

First, he stated that the length of the trunk to height was way off proportion. He recommended sacrificing the top of the tree to bring the overall picture down to within proportion (just above the three lower braches).

After discussing the project further with him, I decided to attempt to air-layer the top to form a properly proportioned tree and then remove the remainder of the trunk to the previously determined location.

So, I should, by the end of next year, end up with two decent trees instead of just one.

Thanks,

forbey

Jay Gaydosh

Member






---
Permissions in this forum:
You
cannot
reply to topics in this forum