Page 2 of 2 •
1, 2

You're right that a photo doesn't tell the whole story, and that in person it can have a different feel. I really do like the tree, just as it is too, and would love to find one with that kind of bendy trunk! Have you ever tried an early-summer defoliation? I ask because a few years ago I had one of mine on display at a wildflower center for a month and it caught some kind of scale and began to look a little ratty. Unknown to me one of our Bonsai members defoliated the tree (this is months after its usual spring leaf drop and push of growth) and it ramified densely and came back with much smaller leaves. I would never have done this myself as I think of them as having one major growth season (Spring) until that time rolls around again. I don't do this to my tree every year, depending on its spring vigor, but maybe it's a way to get a little more push from the species.

Vito's trees spread far and wide. He and Bill Cody down here collected a little of everything, but mostly Cedar Elms and Ashe Juniper. We lost Bill a couple years ago, and Vito hasn't been in Bonsai for almost 10 years. The only local source for natives (besides digging yourself) is Jade Gardens Bonsai.

JMcCoy

Member





Dario - I'd love to see all your finds!!

JMcCoy

Member





Up until now, I haven't defoliated, primarily because I am kind of scared of doing it for the same reasons you mention--the growth spurt in the spring. However, I have been reconsidering this in the past few years and have tried a bit of localized defoliation on it--never all the leaves at once.
It does push backbudding and even smaller leaves-- leaves on this tree can be six inches long to half an inch with lobes, or without. It's strange-- I have been working on getting smaller leaves with a few quirky techniques I've found work on this species that I accidentally stumbled on.
In any case, the short answer on defoliation is "no" or "not really" I have heard others that defoliate their Southern Live Oaks with great success, however. I'm just overly cautious about drastic techniques.
I have no reason to think it won't work on this tree, though--technically it isn't really a southern live oak, but Escarpment Live Oak (quercus fusiformis) which is considered a hardier upland version of quercus virginiana, living mainly in drier colder areas of Texas and Oklahoma down through northern Mexico.
quercus fusiformis
FWIW, this is a pic of the side from last fall that kind of shows the tight twists in the trunk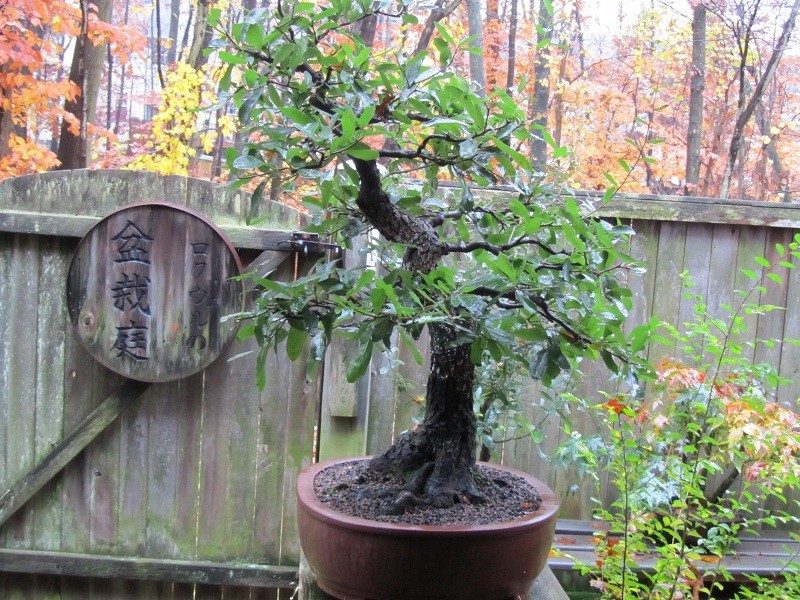 Love those twists.. and what a base! I mis-wrote.. my Live Oak suffered from Powdery Mildew, not scale. I've never had any infestation on mine except the mildew, which can be just as bad as Crepe Myrtles if it doesn't have enough sun (learned the hard way).

A friend of mine, who has been into Bonsai for about 30 years (and is sadly now leaving the hobby) said to me that if he had to do it over again, he would forgo collecting everything but Live Oaks, that eventually we'll learn their potential for being a top species. To me, they're frustrating to work with and not nearly as predictable as an elm, but maybe as they mature in bonsai as yours has, they "settle down".

I think fusiformis and virginiana would react the same way, and I have no idea which I have. Fusiformis is supposed to be smaller and as a full grown tree, larger acorns and more drought tolerant. The plant gods should DNA test to see if these are actually different species (or subspecies) or if the differences are weather and growth affected. I can tell you, down here, all live oaks are considered virginiana unless they're up on a dry bluff or just never reach "Live Oak" size, then we usually call them "Scrub Oaks" like they do in California.

JMcCoy

Member





I like the tree from this side and consider it an optional front, perhaps turned a bit toward the right so the big root doesn't poke you in the eye.

I do think fusiformis is a separate species. It's tighter in growth, acorns are a lot smaller than the main live oak (and this tree sets a few acorns most every year) It's also pretty darn hardy. I kept it in the backyard under mulch in a cold pit for its first few winters here in Va. We had temps well into the low teens (with a single digit night here or there) one of those winters. It was those low temps that scared me into finding alternative winter quarters for the tree. However, it didn't really show signs of stress after that hard winter.

Vito said he sold every live oak he collected in a few days. It was a coincidence I got this one, as it was the very last one he had.
Page 2 of 2 •
1, 2

---
Permissions in this forum:
You
cannot
reply to topics in this forum