I have always wanted to start a bonsai from seed ever since the first time I was introduced to bonsai, so I bought some seed from a couple of different online retailers. I have 10 japanese black pine seeds, and 5 blue japanese wisteria seeds. My question is when should I plant them. I would like to plant the wisteria now (didn't see anything in the packaging about stratifying), and plant the pine in April (since it supposed to stratify for 30 days, I figure it's a little late in the season to start on it now). Would there be any problem with this and also I am wondering about the care for the seedlings once they, hopefully, emerge (like do they get the same care as a plant that has been purchased, stay outside, watering, etc)? I hope I am not asking too many questions in one post, but seeing how long it will take to get a decent bonsai from seed, I would like to get started as soon as possible.
Plant the wisteria whenever you want. They'll sprout.
_________________
Jim Lewis - lewisjk@windstream.net - Western NC - People, when Columbus discovered this country, it was plumb full of nuts and berries. And I'm right here to tell you the berries are just about all gone. Uncle Dave Macon, old-time country musician

JimLewis

Member





JimLewis wrote:Plant the wisteria whenever you want. They'll sprout.
Nice. I was hoping to hear that. I didn't get much of any info in the wisteria packaging. Just some general planting directions that could be applied to any other seeds (except for WHEN to plant them).
Nyxm,
with the black pines, it is the soil mix that is really important, sterile and freely draining. Preferably sifted builder's gravel sifted, with [ on your side - peat moss ] or perlite.
I also tend to use earthenware clay pots, for their ability to remove excess water.
Try just planting say up to 5 seeds. Black pine seeds tend to germinate after 10/11 days and then need lots of sunlight.
No matter what you are told, for the first time, it is going to be an experiment.
Next year or so you can ask for the other technique used in Japan for better root placement.
Good luck.
Khaimraj
*Seeds from reputable suppliers are usually stored vegetable crisper of your fridge cold. This will satisfy the winter's rest part of the seed's life cycle.
AND yes this message comes to you from the West Indies [ Caribbean ] Black Pines, seem to need no winter's rest, and are happy down here [ for the last 20 years or so ------ check my name for a simple entry with black pines.]
The larger pot, part of this year's batch. The smaller cactus pot, a 3 year old.

Khaimraj Seepersad

Member





JimLewis wrote:Plant the wisteria whenever you want. They'll sprout.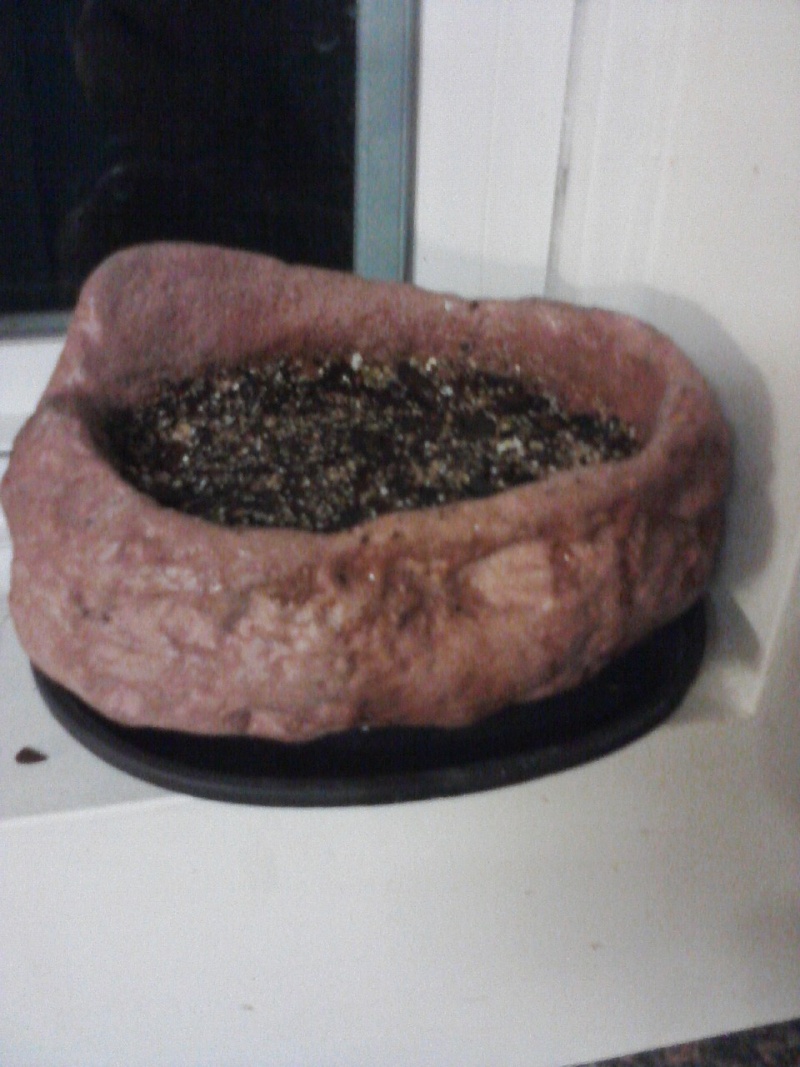 Let the waiting begin

Hello nyxm
To answer one of your questions, yes, seedlings generally need the same growing conditions the adult plants would need, with some slight modifications. Seedlings won't tolerate drying out for as long as the adult plants do, they simply won't have the physical mass to store water the way the adult plant of their species would. For this reason a little protection from dehydrating wind, or unusually hot sun can be helpful. Usually by the second year there should be no need for any protection from the conditions the adults would normally survive.
Growing from seed to exhibit worthy bonsai can be a very lengthy project. But I find great satisfaction in getting seedlings started train them for 3 to 5 years and then pass all but a couple on to other bonsai people as starter plants for their bonsai. It is a good way to get some hard to find species also.
Read some of the articles out there on growing from seed and techniques for working with untrained stock. I particularly like Brent Walston's articles at
http://www.evergreengardenworks.com
Especially his articles about developing trunks and his black pine articles.
Growing from seed is worth the effort, especially if you are clear you are not going to have instant exhibition trees. I really like propagating uncommon stock to pass on to others. Years ago produced small batches of american persimmon, bald cypress, a wild from seed version of juniper horizontalis (waukegan barrens geographic race), osage orange and other species, mainly to pass on to others. Most I did not even keep one for myself or the ones I kept perished after one mistake or another. So as an activity in of itself, raising trees from seed is a rewarding thing to do.

Leo Schordje

Member






---
Permissions in this forum:
You
cannot
reply to topics in this forum