Need a little help on who these pot makers are and possibly their worth. I bought this pot with a batch of 20 more. I am struck that has 5 mark, 4 in one of the sides of the pot and one at the bottom. If someone can tell me who is potter and its meaning is as much appreciated.

Jose O. Rivera

Member





Very odd location for impressed seals to be placed.

I THINK(!) the marks are Chinese. There's a good chance I'm wrong tho.
_________________
Jim Lewis - lewisjk@windstream.net - Western NC - People, when Columbus discovered this country, it was plumb full of nuts and berries. And I'm right here to tell you the berries are just about all gone. Uncle Dave Macon, old-time country musician

JimLewis

Member





i agree that they look Chinese, but I can't translate. When the Chinese resumed making bonsai pots in recent years they frequently put chops of some kind where they were visible. I have some with the marks on the rim.
They have since learned that most Americans don't like that and tend to put them only on the bottom now.
Really old Chinese pots aren't usually marked.


Billy M. Rhodes

Member





Don't know the potter, but it's Yixing.
Ryan B wrote:Don't know the potter, but it's Yixing.
To expand, Yixing is a pottery center in central China not far from Nanjing. They make all kinds of pottery including the famous teapots. And like everything else there are levels of quality and workmanship.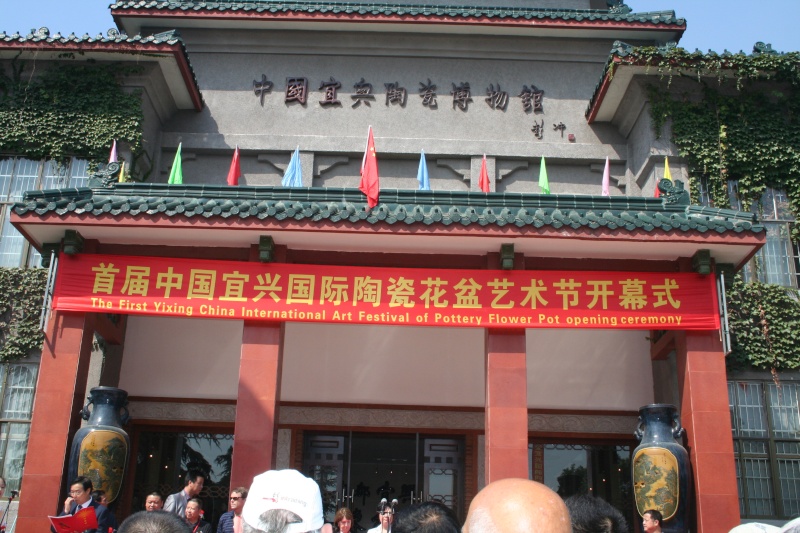 I don't know if this was just for our BCI group, but it looks like they might make it an annual thing. As you can see the locals also attended. This was part of the BCI Tour in the fall of 2010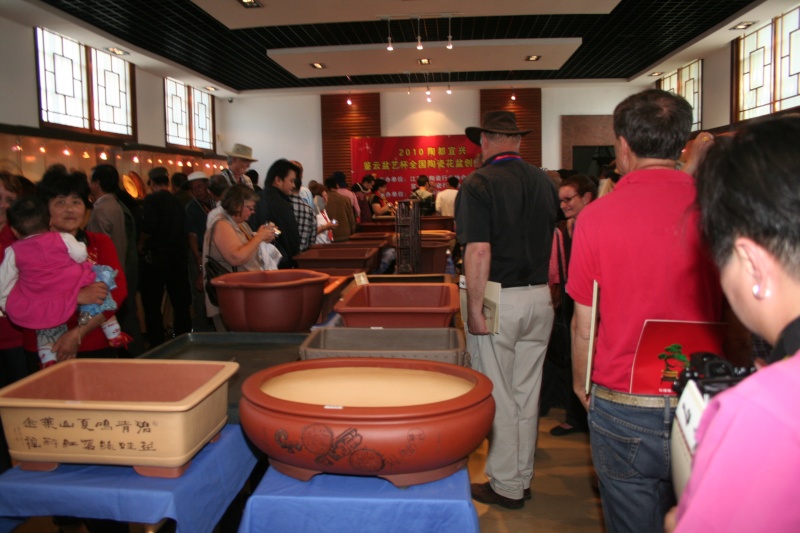 This is inside, those are all old Chinese pots. Maybe antiques?

Billy M. Rhodes

Member





Last picture reads, Yixing Chong Hua or Yixing China. This pot is modern and is worth thirty to fifty US dollars.

Pots in Billy's post are not antique. They seem to be samples of the type of variations in pottery available in the kilns. The clay type is not representative of chinese antique pottery. By the way, the kilns of Nanjing have been operated continuously and have not ceased operations. Some of the traditional dragon wood fire kilns have been replaced by gas kilns.

Chinese pottery is NOT geared towards the US market. Southeast Asia is the main consumer of yixing pottery.

jrodriguez

Member





Another member of the tour and I discussed the age of the pots above. He observed that the bottoms of the feet showed wear consistent with older pots. I was basing my comment on his opinion.

Billy M. Rhodes

Member





thank you very much for the help friends.

Jose O. Rivera

Member





I cant seethe feet in any of the pictures well enough to make a call. I call shenanigans on your friend Billy. Patina is lacking as well. Double shenanigans.
Ryan
http://japanesebonsaipots.net/

---
Permissions in this forum:
You
cannot
reply to topics in this forum