Absolutely

....first picture is also my front. How big is the stone?...it looks, like indoor yoseki will do this stone better.
Good find.
Kind regards Yvonne
No don't bring it home, wait a sec, I'll PM you my address, just ship it there... k?


Xavier de Lapeyre

Member





Hi Karthik... One of the nicest things that stones can convey is truth as well as the beauty of nature. On a forum that relies on photos to perceive a stone's truth, the beauty & truth can be manipulated. I appreciate your openness to truth through photos as it is the best path for deep appreciation.

This stone is probably not a keeper, though you could appreciate it privately until finding a better example. In suiseki collecting, there is the notion of appreciation of three sides-- 1. front-back, 2. left-right & 3. top-bottom. While stone has a visible front-face for appreciation, it should be judged by its owner for faces including those which cannot be seen from the front. Perhaps the most common problem regarding the "rule of 3 sides" is hiding an undercut wall on a stone's backside while the frontside extends toward the viewer. An extremely flat, diagonal wall on far right backside of this stone similarly disrupts other natural contours.

I would consider using that flat-end as the base of an upright stone if other problems are not revealed by that adjustment.

Hope that helps.

Chris Cochrane

Member





Wow, I feel lost now. I thought the stone looks nice. I am not understanding it's tautological significance but I'd plant a trident maple on it!

bdavid82

Member





Hi Chris
I can not think on anyone on this stoneforum, who send us manipulated photos of stones.....If you are talking about stones in suibans can I understand, if you would , like me, prefer to see the raw stone on a table. But it is not unusual to use a deep doban, and stones displayed in a such, is fully acceptable.
I agre with you..this stone is shown in a nice way, easy to see

Hi Karthik
This stone has many traight lines. And the straight vertical drop from the platou, does not clash with the vertical drop from one, or both, of the backside lines of the stone, the backside has a nice bend, and all edges is nicely eroded by nature, the last backside is hidden in this photo, but I am sure, if this side is a bit undercut, does it not "hurd" this type of stone. I would not want this on a mountainstone, but on a stone like this, is it not a big problem...I can not really see the backside as a flaw.
The stone itself has a nice wanted owerall shape for a suiseki, and the front is comming towards the viewer in a nice friendly way, showing softcornered snow.
What I am not so pleased about, is the crystallines commong from the top....to me would the stone have been much better without, as it would have made the stone more quiet....The lines are not waterfalls or rivers, as they continue on the backside, and therefor is the naturescene lost...for this reason would I not make a daiza for the stone, but keep it in the garden,as a nice stone.
Kind regards Yvonne
Hi Karthik... You must decide. This stone has a gently curving front. For a substantial length, it has an absolutely flat back. According to suiseki standards, the stone should reflect harmony between its opposing sides. The flat, (in this case vertical) backside on the right-end of the stone is not in harmony with the stone's front.
I agree with Yvonne that the white inclusions are not ideally placed to suggest water or snow. For me, it is the contour as a plateau suiseki which is most basic to appreciation of this stone. The contour should be easily recognized as lacking.
Here a comment from Martin Pauli. He is a reliable source for discerning suiseki appreciation...
Three Surface Method (sanmen no ho)

This is considered to be the most basic approach to appreciating suiseki. Three surfaces (sanmen) refer to the front & back, the left & right, and top & bottom of the stone. A balance among these different surfaces is considered to be basic when viewing and judging a stone.

When viewing a stone from the vantage point of these three surfaces, there should be a balance in terms of mass and shape. An outstanding stone is also one in which there is a harmony regarding the size, thickness and shape of the three surfaces.

For an example, if there is a mountain foot on the front of a distant mountain stone (toyama ishi), there ideally should be a foot section on the back as well.

If the right side of the mountain protrudes out, there must also be an extension of some degree on the left side as well. The bottom of the stone is good when the stone "sits" well in the center in relation to the whole. However, these are all ideals. In actual practice, the three surfaces should basically display a representative form and a certain degree of unity.

(excerpt from:

Martin Pauli's blog (linked HERE)

Chris Cochrane

Member





Sorry....but I just dont see the same as Chris......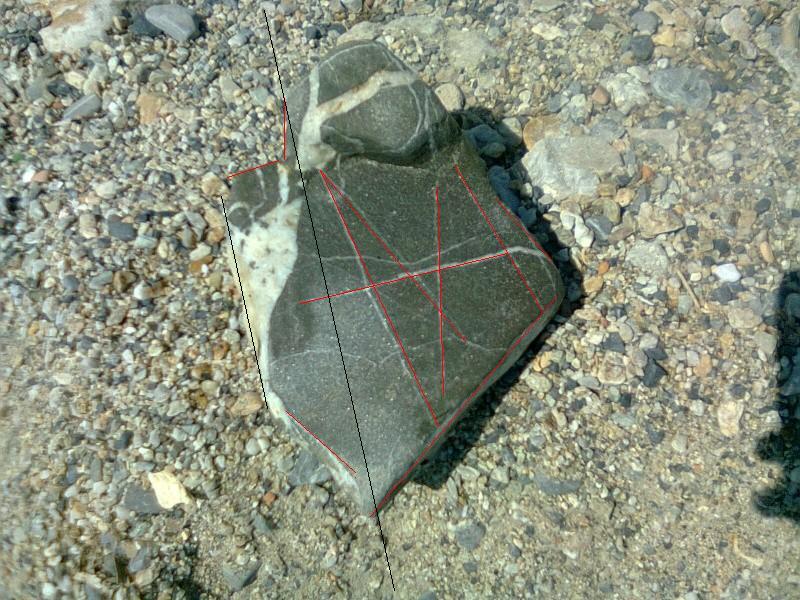 The first black line is showing the straight front, maybe a little hidden, because of all the white "snow"
but still straight.
The second long black straight line is showing the frontcorners were cornerlegs is to be placed......it also show the viewer, that the backside has a sharp curve, with nicely dulled edges.
Kind regards Yvonne
Karthik!
When in doubt, bring it home, then decide view stone or suiseki?...

stand, suiban or yard! which ever no loss, as if left behind forever!
some problems, but as a raffle prize or friendship gift I would be thrilled.
"Leaverite" I Think Not, rules yes if you choose to apply them...

Did you or did you not! bring it home? That's the question!
Last edited by stonener on Mon Aug 13, 2012 8:32 pm; edited 1 time in total (Reason for editing : +)

---
Permissions in this forum:
You
cannot
reply to topics in this forum