I have been a scientist for most of my life, working alone in laboratories, most of which have been windowless. My current lab. is no exception. The first picture shows a little "ficus" my daughter bought me at a local craft store sometime ago...low maintenance, but also no growth :-) Believe it or not some of my co-workers have asked me how old it is and how I have managed to keep it alive.
I decided to opt for a live tree...a burtt-davyi... from what I have read and learned from others (Jerry Meislik in particular) the species prefers to be on the dry side. I chose a deeper container to allow for when I am out of the lab. for extended periods. It seems to be acclimating well....new buds have begun to pop.
I am nearing retirement, and figure for the last few years working alone, I can now have a living companion that I can really get along with and enjoy.
Tom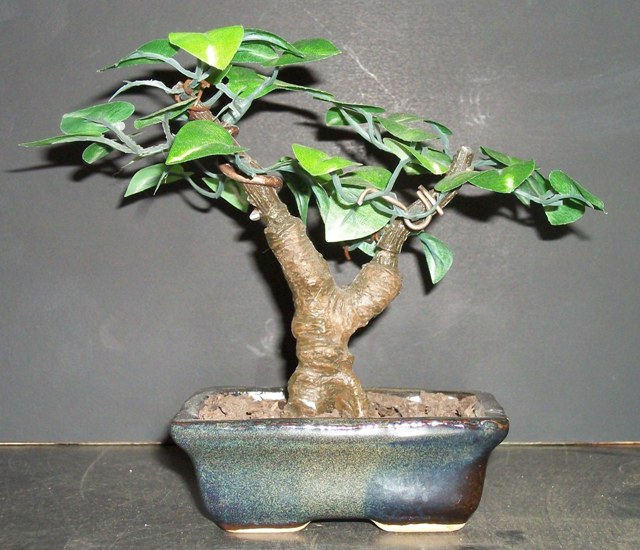 Tom Simonyi

Member






Tom Simonyi

Member





Tom

The light looks strong and the timing might be OK, but I think would opt for 12 and 12.

One issue I see is that all the light is from above, could you set up reflectors/mirrors to get light to the sides?

Billy M. Rhodes

Member





TOM,, This one i like a lot ! good shape and branching with a good trunk also.. where here do you find these trees !!! there is nothing in huntington to look for.. looks good. take care john
Billy M. Rhodes wrote:I think would opt for 12 and 12.
Why? Since artificial light is only a tiny fraction of sunlight, we set the timing for the maximum possible. I once tried to go to 19 hours, but some of my orchids showed signs of sleep deprivation. I went back to 18 & have used it ever since.
Billy M. Rhodes wrote:One issue I see is that all the light is from above, could you set up reflectors/mirrors to get light to the sides?
Yes, that is one of the issues plaguing under-lights growers. You have to adapt your wiring and styling to this. The best reflective material actually is semi-gloss or flat white paint. Some growers do add supplemental lamps at the sides, but it gets very complicated. The best option is to paint the plant room white and put the bonsai outdoors for the summer. In the case of someone who needs to have a bonsai at work (I used to have a small fluorescent setup in my office), I always advise having several in a better setup at home, & rotating them a week or two at a time at work.
Iris

bonsaisr

Member





Before I retired, I would rotate trees in our front lobby every week.
I started using my office, but a VP said I should share.
I did have to select carefully, I didn't bring Water Jasmine, the smell was too strong for some employees and maybe clients.

Billy M. Rhodes

Member





May I ask a question?
Is this light too low over the plant?

my nellie

Member





It will depend upon the heat generated by the bulb and that is a function of the light source. It looks like a cool florescent bulb and these can almost touch a plant without burning. Hot incandescent or other light sources, metal hydride, etc. would have to be further from the plant.
The problem with any artificial light source is that it is artificial and does not have the full spectrum of the sun. We can purchase various light sources that contain different wavelengths for different purposes, but none can replace sunlight totally.
A bulb such as the one used in this post is probably just a regular desk lamp with the cool florescent ring and needs to be close to the plant to give it enough light. The plant will still suffer. For example, I have grown tomato seedlings under florescent light and the plants begin to look more purple than green before they are set out. The plants will recover and grow fine once they get real sun.


Billy M. Rhodes

Member





Time will tell with this tree....thanks John for the kind words....send me a PM and I will let you know the details of the purchase.

Best regards,
Tom

Tom Simonyi

Member





After a couple of months in the lab. th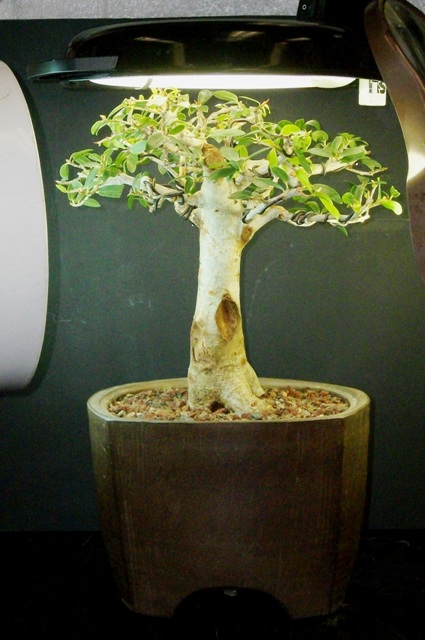 e tree has adjusted well....new buds are now quite evident.

Tom Simonyi

Member






---
Permissions in this forum:
You
cannot
reply to topics in this forum