Well I was at lowes the other day looking a their plant stock to see if they had anything I would be interested in. Well I came across this red lace leaf.maple that had all of the leaves sun scorched to the point of no return. Well I asked they worker there if he was still selling th tree and if so would it be discounted for the obvious damage to the leaves. He said yes and asked if 5$ sounded fair. I quickly replied yes took the tree to the counter and bolted out the door before they changed their minds on the price. Mind you this is about a 100$+ tree. So I took the tree home because I knew that the tree should recover well if it was healthy before the leaves burned up. But I have never owned a red laceleaf maple or have ever desired to because of fragileness of the cultivar. But I couldn't pass such a great deal up on such a mature and well branched tree. But due to my lack of knowledge about this specific type of acer pal. I am not so sure that the leaves will come back as a false spring due to the nature of how they were lost. So my question is do I have a possible problem or am I over thinking things? The ranchers are still very flexible and seem to be very intact with healthy buds. I pruned out all of the branches that were either damaged or seem to be completely dead, which we about 5% of the branches total. I currently have it under the proper shade, about 40-50% shade so no further damage is done. It is a graft, the best one ever ever seen in my life and I've seen a lot of grafted trees in my day. I'm also in zone 6a if that's of any concern. So did I waste nice bucks or was it a great investment?


thatboy5454

Member






thatboy5454

Member





First let me say for 5 bucks thats an awesome deal, make me want to go to my lowes and start trying to talk them down lol, of course usually by august they have let all the maples bake so I always pick one up to play with then.

Second, while I love to collect maple cultivars for both my garden and now bonsai, I am in no way an expert. That being said, I have rescued more than a few j. maples in similar looking condition and have always had good results in bringing them back to health. Seeing the state of the canopy, or lack there off I don't think I would mess with the roots, but it may be a good idea to "up" pot or slip the root ball into a slightly larger container with well draining soil, water and care for it as you normally would and see what happens. With the last two laceleaf I picked up in similar states they really did not leaf out again for the summer (although it was a little closer to august/sept) and there was a tiny bit of die back in some of the youngest branches/twigs, but by the following spring they were full of buds and ready to go. Kind of a waiting game at this point, just keep caring for the tree, provide it a nice partially shaded area and dont let it dry out in the summer heat. Best of luck, awesome deal either way.

Steven

Member





What you're seing with this Maple is probably the end result of extreme over watering and lack of free draining soil, could also be compounded by over fertilizing (see all the osmocotes?) These are both problems that are ubiquitous with stock from a box store. When the leaves just crisp up and drop without turning black or brown (notice how the fallen leaves still have some color?) this means your root system has been compromised. Simple wind or sun scortch doesnt cause this sort of extreme defoliation.

If the soil is moist now (looks like it to me) Don't water at all until it dries out. There is a way to bare root and get the tree into turface to save its roots but thats risky and needs to be done correctly in order to work. Ultimately if that were my tree and I only dropped a fiver for it, I would just leave it alone in semi shade and wait ....and thats it. Maybe get all those osmocotes off the soil surface.

No fertilizer, no water until quite dry, no slip potting.......just wait. Pray to the god of Japanese Maples that it breaks a bud here or there.

-Jay

drgonzo

Member






Jay, going from what I see at the big boxes here I would say the problem is the exact opposite of overwatering. They look nice when they come in, then they get set out on the concrete in full hot blazing sun or on the edge of a windy parking lot. Watering is hit and miss at best, and the longer they sit the worse they look. The worse they look the less attention they get. In my experiences sun and wind scortch and lack of water do cause this extreme defoliation. I doubt there's a soil problem too.

If it were mine, and at 5 bucks I REALLY wish it were mine, I'd sit it in a protected spot and keep it moist - not wet. I think it will recover in no time.

Just my 2 cents.

Russell Coker

Member





Those ideas sound about right. Kind of what I was thinking of doing. From the watering to the protected areas. Just wanted to be sure that I had the right techniques in mind to nurse this tree back to health. I'm going to post some pictures of the roots today. When I brought the tree home I inspected what I could visibly see of the roots. They looked semi healthy. There was a good sign though as far as the roots go. There were feeder roots coming out of the bottom of the rootball which I will take pictures of as well shortly. Some of the roots seemed burned by fertilizer though. Not so much root rot from what I can see. I would expect some from how massive the rootball is and the condition of the soil. It is very compacted which is why I thought over watering as well as improper light was the cause of the leaves to die in a mass. I wasn't too sure thought but after thinking of it, it makes sense that over watering coupled with improper light would increase transpiration from the leaves all at once to the point that the leaves couldn't handle both debilitating problems at once which is why there is no apparent leaf scorch but massive defoliation.

thatboy5454

Member





My experience with Lowes/Home Depot trees is also that they are more often underwatered than overwatered. I've snagged quite a few leafless bargains over the years...most have responded very well. I'd definitely have taken a shot at this one for $5...

coh

Member





here are some updated picturs of the roots and what remains of the leaves also i put a bud pictre in as well. i have selected one to pay attention to closley so see if there is any change in bud activitiy in the daysto weeks to come. kthe bud since i brought it home has turnd a little greener. im ging to take that as a good sign, but as you all can see, the roots have bound themselves to mainly one area in the pot. the roots arent completely bound but im sure with as many roots as there are and adding on the point that the soil has become very compacted there isnt much room for progress this season as far as the roots go. i couldnt get a good picture of the bottom but thats where most of the root rot is because its so bright out today and with the shadow it doesnt show well. also from what i know about roots they seem a little streesd by color of what i normally see with healthy maple roots, but like i said previously this is my first time owning a laceleaf maple. maybe the roots are perfectly fine, but i lack the experience with this type of maple to say for sure.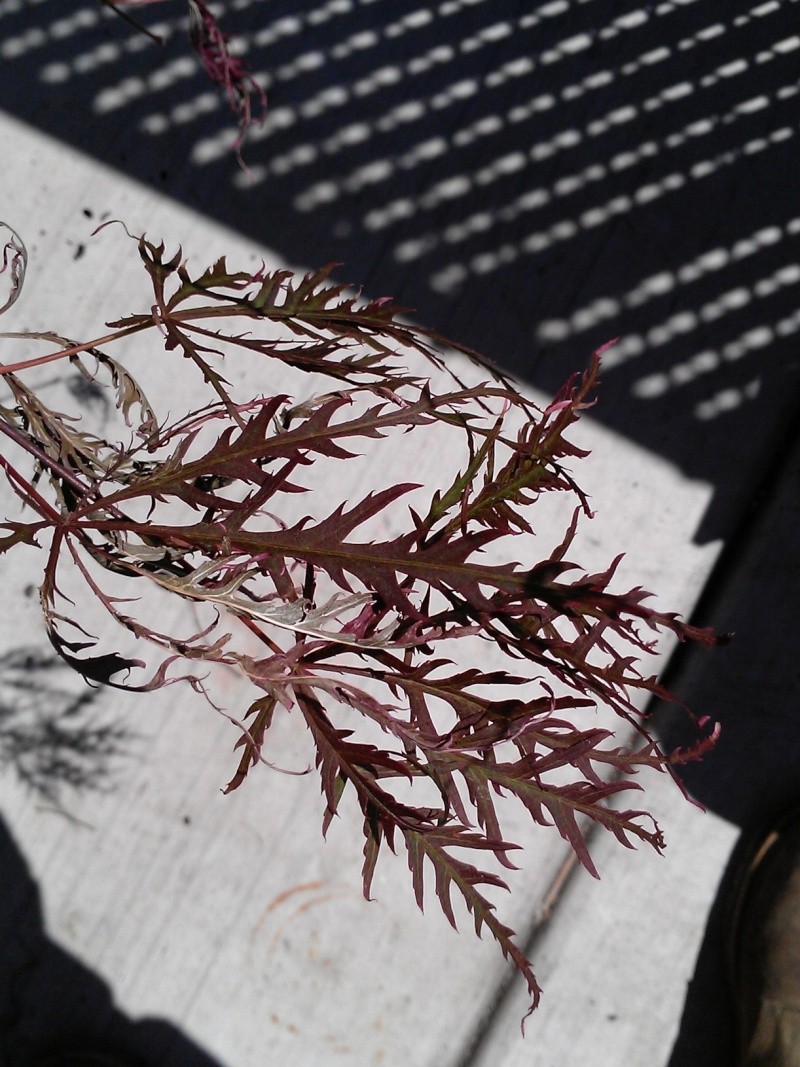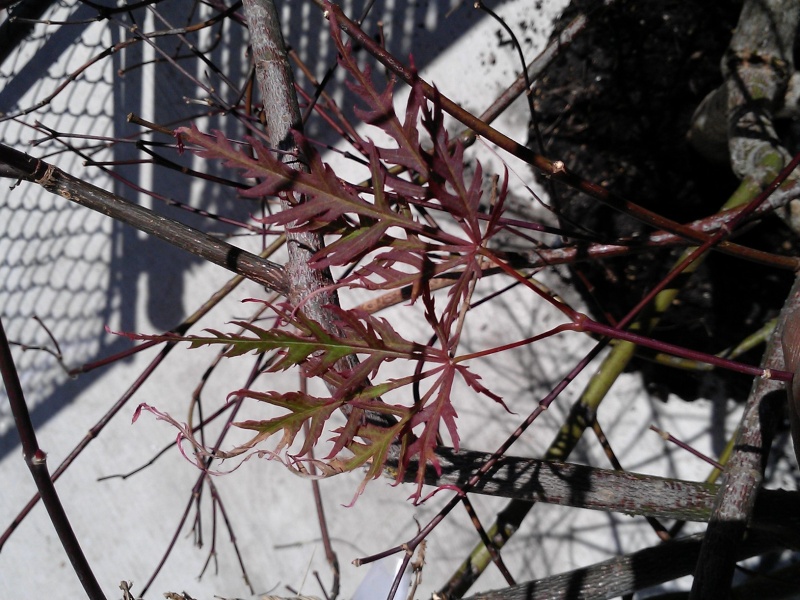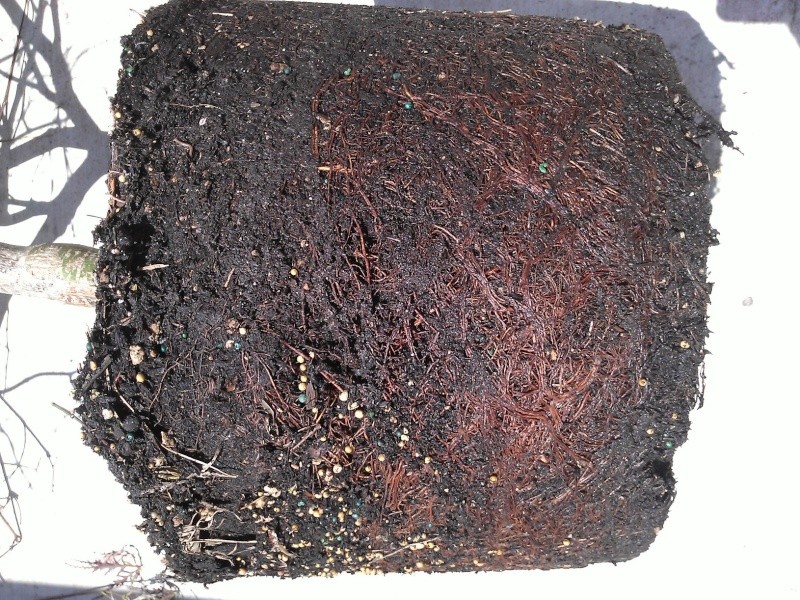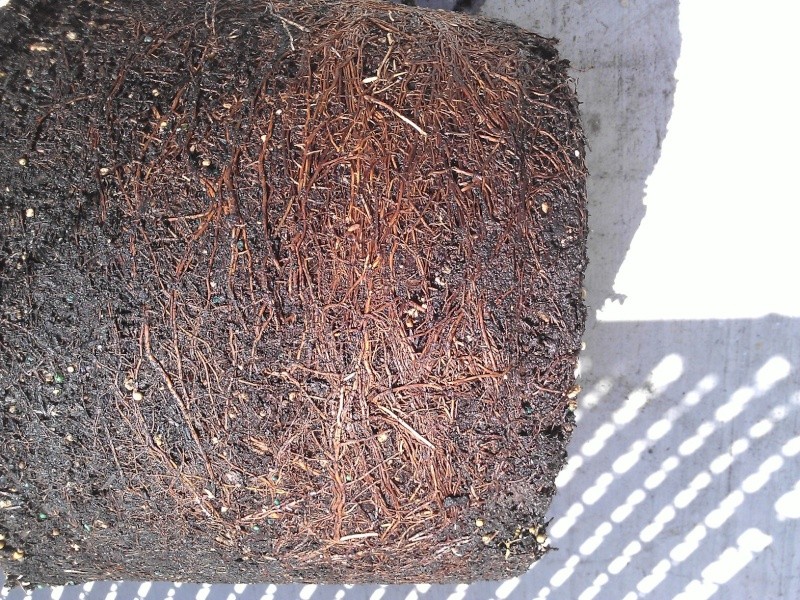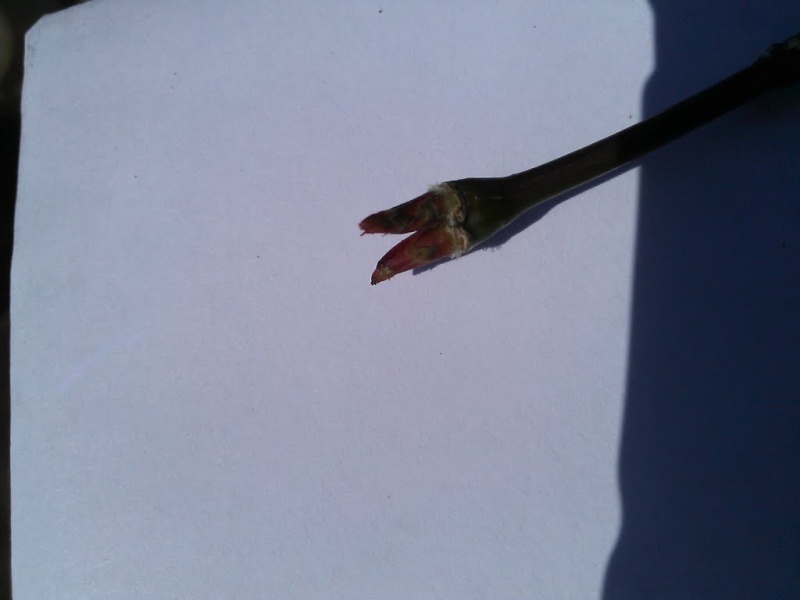 thatboy5454

Member





Look at all the osmocotes! I think we may have found part of the problem. I would take a root rake and gently loosen up the soil around the root ball (get the osmocotes out of there) and slip pot it up into some nice soil for the new roots to grow into as the next flush of growth extends, hopefully....

Those roots that are ringing the outside of the rootball will undergo extremes of heat and drought particularly in a black plastic container, that coupled with WAY too much fertilizer and certainly it could have been very exposed must have toasted it. I almost weep for these huge Bloodgoods I see getting fried out on the sidewalk at Lowes.

-Jay

drgonzo

Member





Yea I have been thinking about doing so. I don't have a container that will fit the rootball currently. But I was thinking of washing away some of the soil on the outer diameter of the rootball and placing a more coarser soil in replacement to help with aeration possibly. I'll consider this over the course of the soil drying out that way I don't over water the stressed tree in the process. It should also encourage those feeder roots to extend more I hope. Especially with being in the shade. I currently have the pot covered in a second layer of sun protection as well.

thatboy5454

Member






thatboy5454

Member






---
Permissions in this forum:
You
cannot
reply to topics in this forum